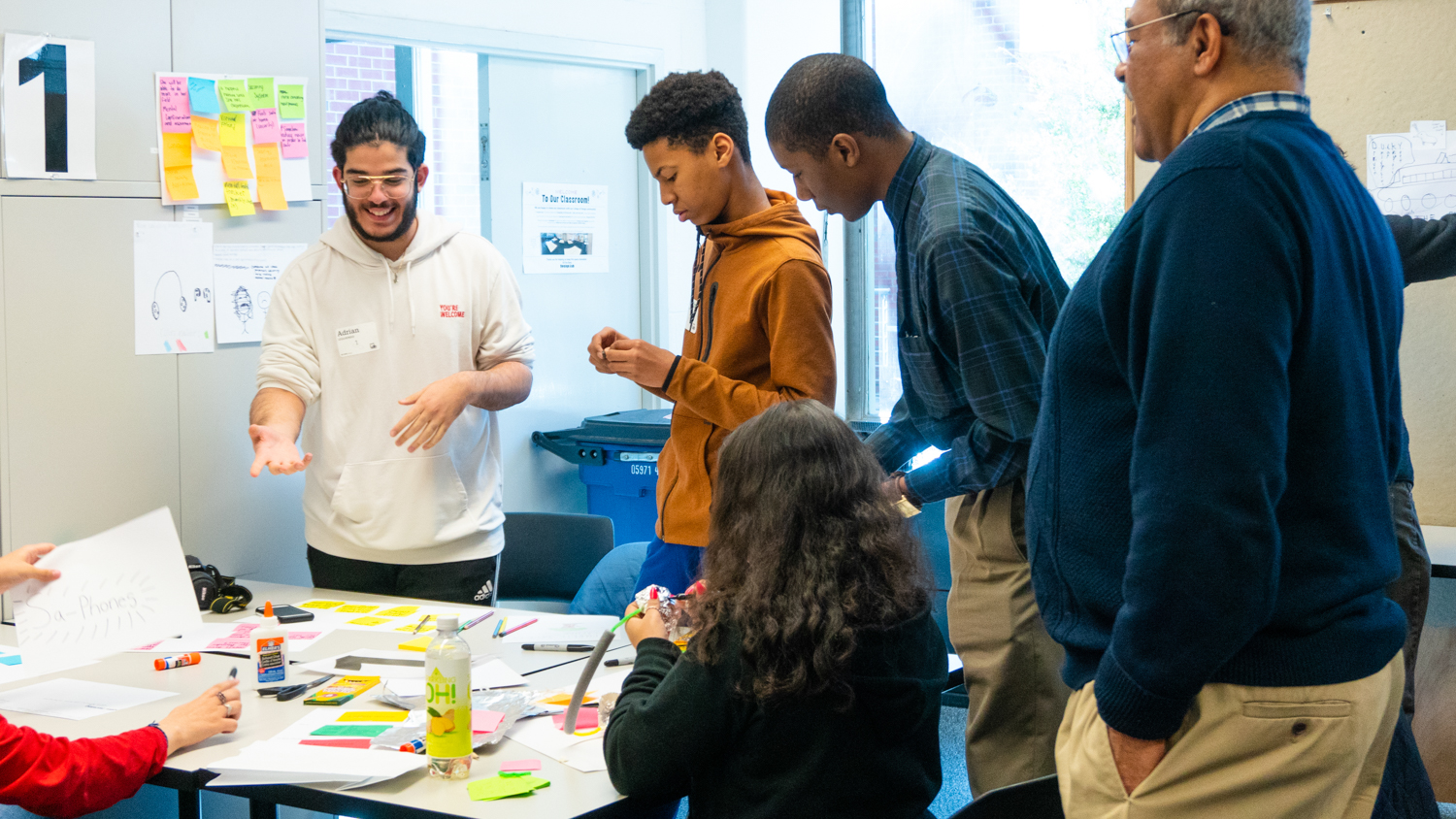 The Design Lab offers Weekend Workshops for high school students at our Design Lab studio here at the College of Design. Our workshops are brief, immersive design education experiences, offering a wide range of opportunities for teens interested in design. From skill-building to design thinking to concept-based projects to interdisciplinary design mash-ups and more, our talented instructors guide students in developing knowledge and experience in their focus area. Please continue to visit our website from time to time to learn about new workshops and programs we're offering.
Spring 2023 // Weekend Workshops
Registration Opens Friday, February 10 at 9:00am // See the Link Below to Access our Registration System
The Design Lab is excited to offer six discipline-specific, in-person, Weekend Workshops this spring. Each workshop will take place on Saturdays from 9:00am – 4:00pm with a one hour break at noon for lunch. See the weekend workshop schedule below. Students can register any time between February 10 and one week in advance of each workshop, and students can register for as many weekend workshops as they are interested in.
Workshops will introduce students to design thinking and the design process through challenge-based activities. Through these workshops, students will have the opportunity to develop a better understanding of our designed world and find answer to these questions: What is design? How do designers think?
Weekend Workshop Schedule // Spring 2023
Saturdays from 9:00 am – 4:00 pm
Prior to Registering, Please Read the Following:
Registration Process and Policies
Registration Process and Policies
Registration will open on Friday, February 10, at 9:00am.
The registration fee for each online workshop ranges from $65 – $85. Payment is due upon registration. Students may register for multiple weekend workshops at a time. All forms and payment must be completed in order for registration to be finalized.
Registration will remain open for each workshop up until 6 calendar days prior to its date (ie. registration will close for a workshop on the Sunday prior to when it's being held).
Those who have completed registration and payment will receive a confirmation email immediately. And all registrants will receive an email at least 5 business days prior to the start of their workshop with further information on procedures and protocols.
Each workshop will take place on Saturdays from 9:00am – 4:00pm with a one hour break at noon. Lunch will be provided for all workshops; our staff and instructor will accompany students to Clark Dining Hall, near our location on campus.
Students should arrive between 8:45am – 8:55am and students must leave or be picked up no later than 4:15pm. Drop-off, Pick-up, and Parking information will be shared after registration is complete.
Cancellations for In-Person Weekend Workshops: We must receive request for cancellation in writing via email to designlab_k12@ncsu.edu. Cancellations made 10 calendar days prior to a workshop are eligible for a full refund. Cancellations made 5 calendar days prior to a workshop are eligible for a 50% refund. If a student is unable to attend a workshop due to a positive COVID-19 test result, or another illness, registrants can request a full refund OR request to have their program fees donated to our Design Lab outreach funds. If the workshop is cancelled by the Design Lab, full refunds will be issued. Refunds can only be issued by the same means of the original payment.
If you have any questions, please email designlab_k12@ncsu.edu.
In-Person Workshops // COVID-19 Procedures & Protocols
COVID-19 Procedures & Protocols for In-Person Workshops
UPDATE (as of Spring 2022): To participate in an 'In-Person Weekend Workshop,' NC State University is no longer requiring registrant's parents/guardians to complete the online attestation form to attest that their child has either been vaccinated against COVID-19 or has completed a COVID-19 surveillance test within 72 hours of the workshop and received a negative test result from a PCR test.
In accordance with NC State University's Protect the Pack protocols and procedures, beginning March 7 face coverings will be optional in most campus indoor locations, including classrooms and other instructional settings. Face coverings will only be mandatory where required by state or federal law or regulations, including the following locations: clinical and health care settings; identified research laboratories (this does not include teaching labs); public transportation, including Wolfline buses.
Although face coverings will no longer be required in most campus spaces, all university community members are encouraged to continue wearing them indoors, especially in instructional settings. Our instructors and staff will continue to wear face coverings during Weekend Workshops.
For more information, please review the Community Standards that are in place to help keep our NC State community safe from the spread of COVID-19. We appreciate your understanding and cooperation as we protect the pack.
If you have any questions, please email designlab_k12@ncsu.edu.
[Registration Opens on Friday, February 10, 2023 at 9:00am]

Design Lab Newsletter Signup
To receive monthly updates on our programs, including information on Design Camp, please sign up for our newsletter.
"*" indicates required fields