Today, more than ever, the influence of design matters. It impacts the world we live in and everyday we are exposed to the importance of design. Inclusion and diversity in design is critical, as diversity provides broader ideas, understanding, and, ultimately, results in better decisions.
Reach Out is an annual outreach initiative led by College of Design staff at the Design Lab for K-12 Education. This program aims to expand the influence of design to build a more diverse student body at the College of Design, and to promote design as a future sustainable career path. This program consists of educational design programming for school teachers and students from underserved and underrepresented communities in North Carolina, and includes after school programming and field trip opportunities to expose students and teachers to the benefits of design thinking and design career paths.
Interested in being a part of our Reach Out initiative?
Are you an educator in a public school that receives Title I funding?
Are you an educator in a school located in a Tier 1 or Tier 2 NC County based on 2022 NC County Distress Rankings?
Are you an educator who works predominantly with students from cultural or ethnic backgrounds underrepresented in design and who might be interested in the field of design?
If you answered yes to any of the above questions, and you are interested in hearing more about College of Design outreach and engagement activities, please contact the Design Lab staff at designlab_k12@ncsu.edu. We'd love to include you and your students in our Reach Out initiative!
Reach Out Initiative |
Summer Program for High School Students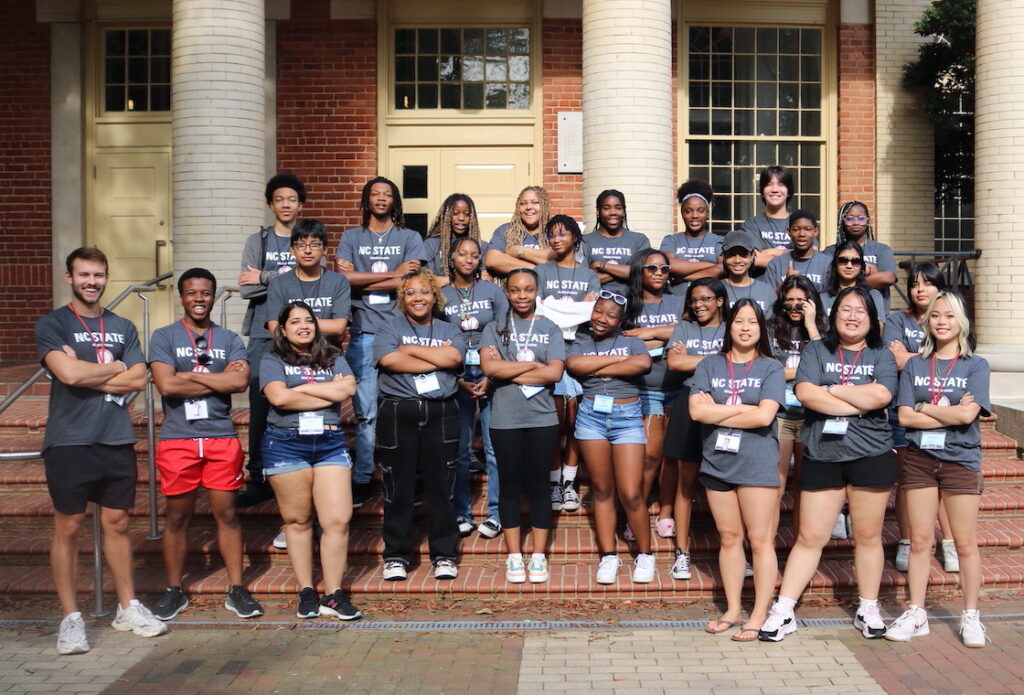 Rising 10th, 11th, and 12th Graders
July 30 – August 5, 2023
The Design Connections Experience is an immersive, week-long, interdisciplinary pre-college residential program that introduces students, from cultural or ethnic backgrounds underrepresented in the design profession, to the fundamentals of design and the process of creating an interdisciplinary design project in a studio environment. This week-long, Sunday to Saturday, residential experience will introduce students to fundamental design concepts and methods representative of creative activity across design disciplines. Students will think critically about design, art, and the world around them as they develop a skillful level of craftsmanship in the conception, development, and making of an interdisciplinary studio project.
Ideal for: This program is perfect for rising 10th, 11th and 12th grade students, from cultural or ethnic backgrounds underrepresented in the design profession, who are interested in experiencing an immersive college level studio experience and completing a week-long studio project.
Cost: Housing, meals, instruction, supplies, activities, and insurance are at NO cost to those accepted into this program.
Student-Staff Ratio: 5:1
Seats Total (does not reflect availability of seats): 30
Sample Program Schedule: Click Here
Deadline to Apply // Friday, April 28, 2023