Research
The Office of Research, Extension, and Engagement is committed to fostering research and scholarship through collaboration with faculty and students in concept and partnership development, proposal development and submission, regulatory and post-award management.
Navigation
Contact the Research and Extension Office
Soolyeon Cho, Ph.D.
Associate Dean of Research, Doctoral Programs and Global Engagement; Professor of Architecture; Director of Building Energy Technology Lab (BETlab)
Pre-Award and Post-Award Services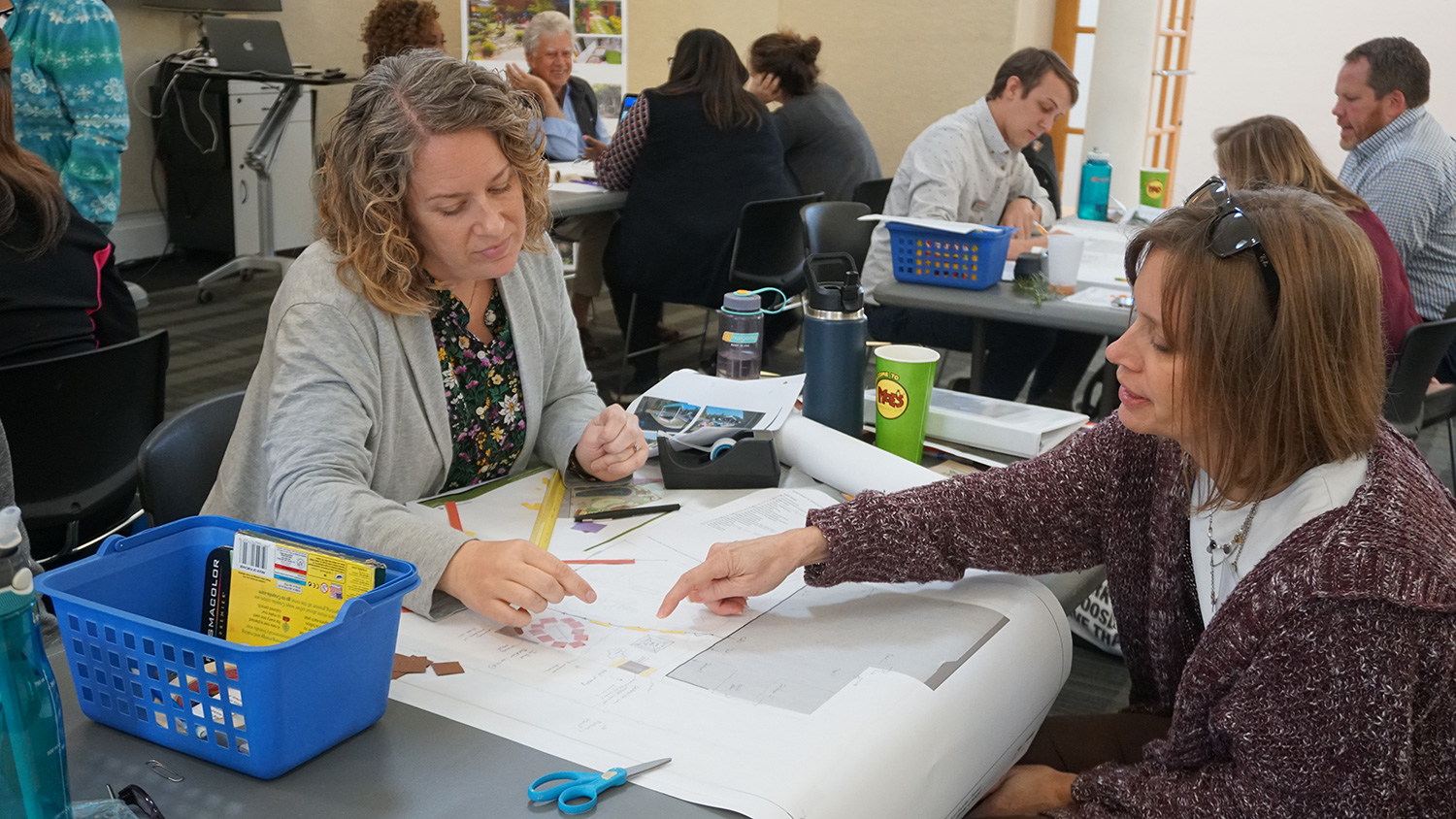 Pre-Award Services
Post-Award Services
Request for Proposals (RFPs)
Internal RFPs
Research and Innovation Seed Funding Program (RISF)

NC State's Office of Research and Innovation (ORI), in partnership with the Kenan Institute for Engineering, Technology, and Science (KIETS), established the RISF program in 2010. The primary goal of the RISF program is to assist NC State researchers in developing collaborative interdisciplinary programs of strong intellectual merit that have a high potential for significant future external support from government agencies, corporations, industrial consortia, and/or foundations. Proposed projects should be high-risk/high-gain and initiate new areas of research or enhance existing research areas at NC State.
The definition of "interdisciplinary" is dynamic and the topic of continual revision. For the RISF program, interdisciplinary research is defined as "research that integrates information, data, techniques, tools, perspectives, concepts, and/or theories from two or more disciplines to advance fundamental understanding or to solve problems whose solutions are beyond the scope of a single discipline or area of research practice", according to the definition used by the National Academies. The term disciplines can be construed as meaning branches of scholarship (formal sciences, natural sciences, social sciences, applied sciences, design and humanities). Conceptual interdisciplinary research (the exchange of ideas across fields to enhance understanding) and instrumental interdisciplinary research (using tools from other fields) are both acceptable.
Proposals which seek funds to enhance scholarship or faculty professional development are not eligible for this program. See http://research.ncsu.edu/rdo/funding/internal-funding/ for internal funding opportunities that address these topics.
NOTE: A minimum of 25% cost match is required from internal or external sources and should be included in the total project budget. For example, if $75,000 of RISF funds are requested a match of at least $18,750 is required, resulting in a total project budget of $93,750. Also, Single-PI applications are discouraged.

Deadline: October 16, 2023 by 9am via InfoReady
External RFPs
North Carolina Biotechnology Center – Innovation Impact Grant

The Innovation Impact Grant (IIG) program supports the purchase of shared use research equipment for core facilities at academic or nonprofit institutions that foster innovation within North Carolina's life sciences ecosystem.
NOTE:

Priority will be given to proposals that will have a high impact at the applicant institution as well as the broader life sciences research community.
Up to $150,00 may be requested, a cash match is required.
IIG FAQs can be viewed here: www.ncbiotech.org/grant-faq

Deadline: October 4, 2023 at Noon!
Guidelines/Instructions: https://www.ncbiotech.org/sites/default/files/2023-07/FY24%20IIG%20Guidelines%20.pdf\
Important Dates
SREE & Honorary Awards
The College of Design has a Scholarship, Research, Extension and Engagement (SREE) Committee consisting of four faculty on two-year appointments. This committee serves as an advisor to the Associate Dean for Research, Doctoral Programs and Global Engagement on research, extension, and engagement-related scholarly efforts and administration. Two faculty members who serve on the University Research Committee also coordinate and provide input to the Associate Dean of Research, Doctoral Programs and Global Engagement on a regular basis.
Current SREE Committee Members:
Helen Armstrong (Graphic Design and Industrial Design)
Lesley-Ann Noel (Media Arts, Design and Technology)
Wayne Place (Architecture)
Gavin Smith (Landscape Architecture and Environmental Planning)
University Research Committee College of Design Faculty Representatives:
Deborah Littlejohn (Graphic Design and Industrial Design)
Gavin Smith (Landscape Architecture and Environmental Planning)
Recent Funded Research Awards
| Faculty Member | Agency | Award Amount | Award Title |
| --- | --- | --- | --- |
| Prof. Rosa McDonald | NCSU Faculty Research & Professional Development | $9,998 | Measuring the Efficacy of Vegetation to Reduce Visible Light and Solar Radiatio |
| Prof. Iyare Oronsaye | NCSU Faculty Research & Professional Development | $10,000 | AI-Assisted Automation for Converting Books into Animated Projects: Empowering |
| Prof. Donghwan Moon | NCSU Faculty Research & Professional Development | $10,000 | Mapping as Spatial Agency: Learning from Maya Community in Kenya |
| Prof. Nilda Cosco | NC Department of Health and Human Services | $658,195 | Relaunching & Extending a Supportive Network for Naturalized Outdoor Play and Learning Environments for North Carolina Child Care Facilities |
| Prof. Gavin Smith | Department of Homeland Security | $1,737,016 | RSL-FIMA-Mitigation Directorate Building the Capacity to Develop, Implement, and Manage Building Resilient Infrastructure and Communities (BRIC) Grants and Assist Communities Adapt to a Changing Climate by Harnessing the Abilities of U.S. University and Institutional Systems |
Please note: this is a list of the five most recent awards to the College of Design. For a full list of awards, please contact the College Research Office.
Current Select Funded Research Projects
*For full list of awards, please contact the College Research Office. A select list of funded projects is below:
Project Title: Pollocksville Floodprint: Implementing a Flood-Resilient Main Street
Lead PI: Travis Klondike
Abstract – The CDDL will provide community technical assistance and administrative support to ensure that project reporting and fiscal oversight activities are executed in accordance with requirements set forth by the grantor. This includes but is not limited to the completion of progress and final project reports; reimbursement requests and, as needed, the facilitation of payments made to vendors for professional services and project implementation activities per the approved budget. The CDDL will assist the Town of Pollocksville in completing the following tasks: draft and issue RFQ/RFPs; coordinate design reviews; oversee compliance of permitting activities; conduct site visits with selected vendors.
Project Title: 2023 LAF Case Study Investigation (CSI) Program
Lead PI: Prof. Carla Delcambre
Abstract – During the program the Research Fellow will collaborate with one or more assigned participating landscape architecture professionals (Sasaki) and will manage a Research Assistant's production of a Case Study Brief (or Briefs) for LAF's Landscape Performance Series (LPS).
Project Title: Uplift NC
Lead PI: Prof. Kofi Boone
Abstract – The goal of UPLIFT NC is to boost tourism to rural and under-resourced North Carolina communities. We do this by providing tourism practitioners and local leaders with the knowledge and resources to strengthen and connect tourism sites, services and businesses in targeted regions within the State. This includes natural, recreational, cultural, agricultural, culinary, built as well as other tourism experiences and services.
Project Title: Early Childhood Outdoor Play and Learning Environments – Train of Trainers (ToT) Course
Lead PI: Dr. Nilda Cosco
Abstract – Early Childhood Outdoor Play and Learning Environments – Train of Trainers (ToT) Course is a North Carolina State University non-credit program developed to: a. Train future instructors / trainers and subject matter experts on the importance of early childhood outdoor play and learning environments. b. Train existing instructors and subject matter experts to increase their knowledge repertoire to include early childhood outdoor play and learning environments. c. Support future trainers to empower their organizations and/or communities to promote, develop, implement, manage, and evaluate high quality outdoor spaces for young children. d. Equip future trainers with knowledge, skills, and resources readily transferred to practitioners in multiple fields as strategic tools to achieve long-term, sustainable change in their contexts. The course will equip participants with knowledge, skills, practical examples, and content resources to support their confidence to promote the creation of healthy outdoor environments and programs in childcare settings. Collaborative mechanisms will be established with the funding organization to meet shared goals and objectives.
Project Title: Seeding Resilience in Princeville II: Community-driven Adaptation to Climate
Lead PI: Andrew Fox
Abstract – "Seeding Resilience" will convert vacant town-owned parcels to green infrastructure and community gardens. It will also employ local youth to build a recreational trail adjacent to a new farmers market in a park adjacent to the Tar River. This project is part of an ongoing, multi-faceted resilience engagement with and for the Town of Princeville, NC, the nation's first town chartered by African Americans following emancipation. Princeville has been subject to repeated devastating floods. In this proposal, project partners build on their history of learning and cooperation with the residents of Princeville to implement a second round of community enhancements aimed at increasing resilience of property and people. The project incorporates lessons from initial collaborations that established overarching goals for the partnership: follow community-driven decision-making at every stage; move decisively from planning to implementation; build local knowledge and economic opportunity; and develop replicable strategies that address community environmental, economic, and social needs.
Research Initiatives and Labs
Our applied research guides key policymakers and informs how communities and products are designed. And compelling design methods like data visualization and virtual reality tech help bring important concepts to a wider audience.
Partner With Us
We're always looking for unique partnerships in alignment with faculty expertise and partner interest. Through our work, we empower industries, government agencies and communities across the state, region, and the nation by applying smart, sustainable solutions in response to grand challenges.
For partnerships and further inquiries, please contact Soolyeon Cho, Associate Dean of Research, Doctoral Programs and Global Engagement at soolyeon.cho@ncsu.edu.