Matthew Peterson, Ph.D.
Bio
Matthew Peterson is a researcher and educator with a professional background in graphic and interaction design. He examines the role of visual form in prompting and guiding experiences. He is active in the Ph.D. in Design program and is seeking Ph.D. students with interest in cognition and STEM education, and with skills in VR development, web development, or illustration.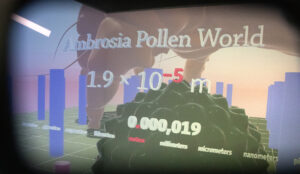 Dr. Peterson is currently co-principal investigator (Co-PI) with PI Karen Chen (Engineering) and Co-PI Cesar Delgado (Education) on a $1.34 million NSF grant (
#2055680
): 
Virtual Reality to Improve Students' Understanding of the Extremes of Scale in STEM.
 This grant develops Scale Worlds, a virtual environment that connects scientific and standard notation to embodied experiences of growing and shrinking, far beyond the realms of everyday experience. Middle school students will be able to travel among 31 distinct "scale worlds" separated by powers of ten, encountering entities such as viruses, insects, and stars. The grant will be active fall 2021 through summer 2024. Dr. Peterson previously received a $4,000 Faculty Research and Professional Development Grant in 2018 that supported the prototype version of Scale Worlds (shown above). Ph.D. in Design student and Master of Graphic Design graduate Grace Wonaphotimuke served as developer from design specifications.
Much of Dr. Peterson's work concerns the impact of imagery on learning in STEM. He is first author of 
a recent article
 in the 
International Journal of Science Education,
 "A Taxonomy of Cognitive Image Functions for Science Curriculum Materials" (Peterson, Delgado, Tang, Bordas, & Norville, 2021), which deconstructs and reconfigures science textbook imagery for cognition. He was Co-PI of a $13,000 TIER-ED Pilot Projects grant from the University of Illinois (Wise & Peterson, 2020) that used eye tracking to explore the impacts of incrementally revealing elements of complex science imagery.
Dr. Peterson's work on image function includes a more nuanced exploration of visual metaphor. He is author of 
an article
 in the 
International Journal of Advertising,
 "Aspects of Visual Metaphor" (Peterson, 2019), which builds on previous work to provide a robust typology on substructures of visual metaphor for advertising researchers. He has worked with collaborator Kevin Wise (Advertising) at the University of Illinois on the experimental study of visual metaphor (e.g., 
the article
 "Memorable Metaphor," Peterson, Wise, Ren, Wang, & Yao, 2017).
Dr. Peterson teaches primarily in the Master of Graphic Design program. Most recently this has included the final-year graduate studio, an educator preparation course, and a thesis development course. He recently delivered 
a keynote presentation
 at A Symposium on Design Graduate Education, "Making the Master's Degree in Design More Essential within the Social Sciences," which situates the Master of Graphic Design thesis within broader research practices.
Education
Ph.D. in Design NC State University College of Design
Master of Graphic Design NC State University College of Design
Bachelor of Graphic Design NC State University College of Design