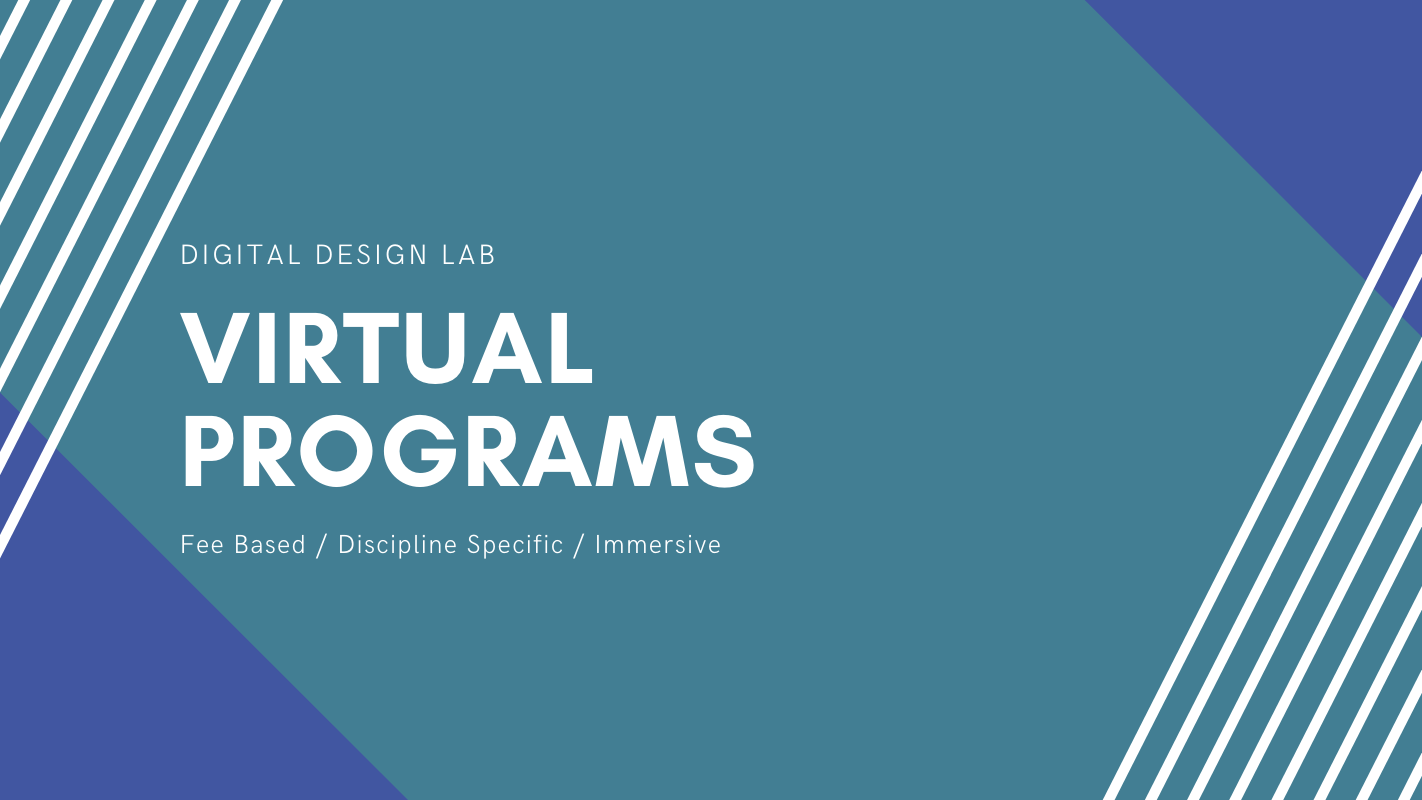 Digital Design Lab
Expanding our reach to the K-12 community at large through remote learning programs.
Welcome!
NC State Design Lab now offers virtual programs that:
incorporate design thinking and processes.
are engaging and drive curiosity and promote self-motivation.
allow students to step away from their devices and complete hands-on tasks.
require the use of common household items and/or affordable and easy to obtain materials whenever possible.
provide participants an opportunity to practice and improve self-evaluation skills.
Spring 2021 // Weekend Workshops
The Design Lab is excited to offer six online, synchronous, discipline-specific weekend workshops in March and April. Each online workshop will take place on a Saturday from 9:00am – 4:00pm with a one hour break at noon, and be held virtually through our learning management system.

Workshops will introduce students to design thinking and the design process through challenge-based activities. Through these workshops, students will have the opportunity to develop a better understanding of our designed world and find answers to these questions: What is design? How do designers think?
Registration Window
January 19th – March 12th

Students can register for as many weekend workshops as they are interested in. Students will receive a certificate of completion after completing a weekend workshop. 
Weekend Workshop Schedule
Saturdays from 9:00am – 4:00pm
Prior to registering, please read the following:
Registration Process and Policies
Registration Process and Policies
The Registration Fee for each online weekend workshop is $65. Payment is due upon registration. Students may register for multiple weekend workshops at a time. All forms and payment must be completed in order for registration to be finalized. Incomplete or unpaid registrations will not receive access to our online learning management system.
Registration closes on Friday, March 5th.
Those who have completed registration and payment will receive a confirmation email immediately. And all registrants will receive an email on March 8 with directions, an access code, and information for enrolling in our learning management system.
No refunds will be issued for any cancellations requested by registrants. If the workshop track is canceled by the Design Lab, full refunds will be issued.
Registration is NOW OPEN on our Digital Design Lab Registration page.
Supplies and Equipment
Supplies and Equipment
Fees do not cover supplies, equipment, and materials. A supply list specific to each workshop can be found in the weekend workshop descriptions. Registrants and their parents/guardians are responsible for procuring the supplies needed for each workshop.
All workshops will require the following:
A laptop or desktop computer with a reliable internet connection and access to a web browser
Access to a webcam (or device that can function as a webcam – either built-in, or external)
A Sketchbook or notebook for collecting ideas
A digital camera (can be a phone camera)
On occasion, students may also need:
Access to a printer
Access to a scanner, or scanner app
More details on equipment and digital platforms to be used are provided with individual workshop descriptions. It is the responsibility of participants and their parents/guardians to ensure their equipment and software is compatible and ready for use, and that any equipment and platforms for the purposes of Digital Design Lab weekend workshops are used in a safe and appropriate manner.
Financial Assistance
Financial Assistance is available for students in need who are motivated to learn about design.
To request financial assistance for Digital Design Lab workshops, you MUST submit the Financial Assistance Request Form BEFORE SUBMITTING your workshop registration in order to have your request reviewed and be provided with a fee waiver code.
To request Financial Assistance, submit the form through this link and wait for an allocation email before proceeding with this registration.
The deadline for Financial Assistance + Scholarship applications for our spring 2021 Weekend Workshops is February 26, 2021.
Would you like to support our Financial Assistance Fund?: As an initiative that is funded by its program fees, without the generosity of donors, financial assistance scholarships would not be possible. If you have the means to contribute to scholarships that give Digital Design Lab access to those in need, please visit our Giving Page.