Airports of the Future: Global Design Thinking
The studio has been honored by the European Cultural Centre's Best Architecture University Project Award 2018, for recognition of their studio work, "Airports of the Future: Global Design Thinking," and for contributing to the research, highlighting the significance of airport space, and the value of the experiential journey.
The Airport Design studio is an advanced course on architectural design that introduces students to the complex nature of monumental structures, such as airports. Airports have been one of the fastest growing building types in the world over the last 100 years. Airports are the entry portals to every great metropolitan area, which makes them symbolically very important.
Airport design is a grand opportunity for our students.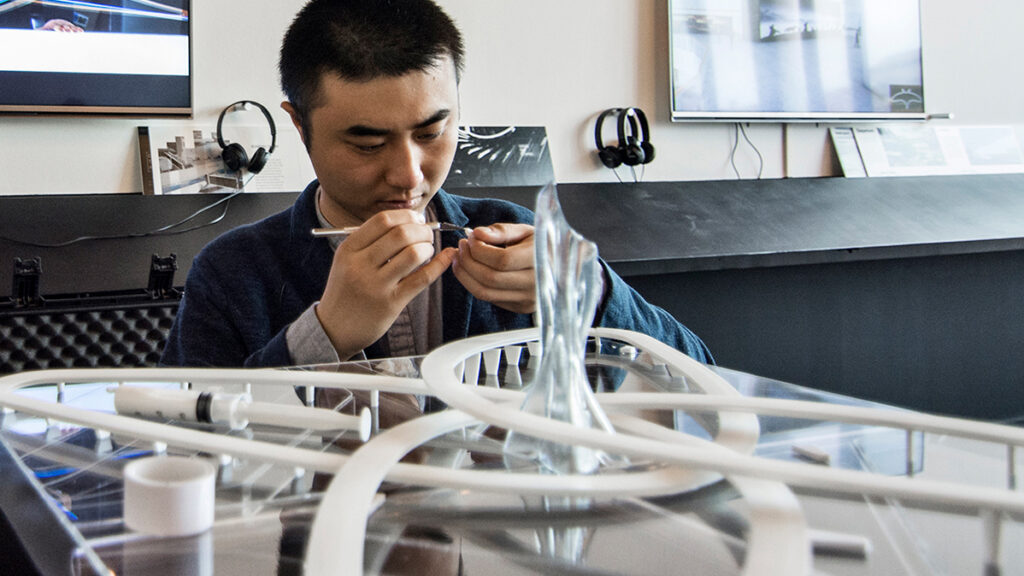 Airports set the initial impression of the city for most visitors and they are often the single most important representation of the cities that they serve.
Airports challenge designers to come up with the poetic idea of space that will leave a lasting positive impression on the public.
Long-span spaces help visitors "breathe" and assist in way-finding.
Grand spaces present structural challenges and daylighting opportunities that can enrich and provide inspiration for the design concept.
Airports are very challenging to design, being both functionally complex and technologically sophisticated.
Airport design is very consistent with the theme of the 2018 Architecture Biennale, which is, 'Freespace,' a word that describes a generosity of spirit and a sense of humanity at the core of architectures agenda, focusing on the quality of space itself. This year's studio class has also been crafted to the international venue by having each student team design their airports for different locations around the planet. As a part of this process, the design teams are doing background research on the culture, climate, and terrain of the location that they chose. In addition to the themes of Freespace and globalism, the students are considering future evolution in air flight.
The studio has been taught for the last five years by Professor Wayne Place in conjunction with Fentress Architects, the designers of many world-famous international airports, including Raleigh-Durham International Airport Terminal 2, the new Tom Bradley Terminal in Los Angeles, and the Inchon Airport, which has been voted for several years running the best airport passenger experience in the World. The students have a great opportunity to engage with Curt Fentress and other key members of his staff, all of whom are focused on airport design. This provides our students with profoundly rich, real-world learning experiences and opportunities to make connections with professional mentors.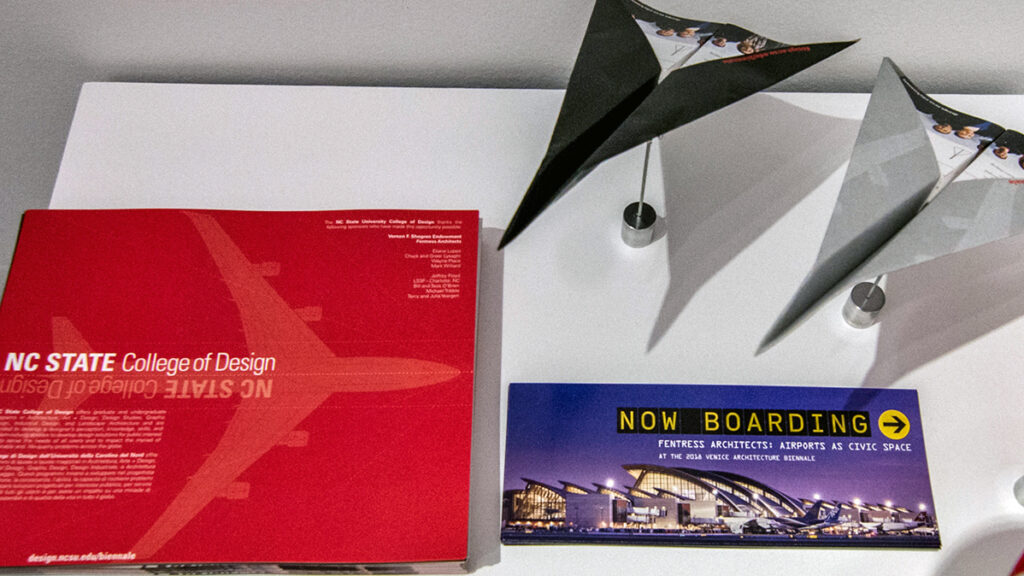 Be a part of the 2018 Venice Biennale, make a paper airplane and experience the wonder of flight!
Thank you to our generous sponsors
The College of Design is grateful for the following sponsors who have made this opportunity possible:
Fentress Architects
Vernon F. Shogren Endowment
Additional sponsors:
Jeffrey Floyd
LS3P (Charlotte)
Chuck Lysaght
Bill and Tess O'Brien
Wayne Place and Eliane Mandu Lopes
Michael Tribble
Mark Williard
Terry and Julia Yeargan