Postponed: the 23rd Annual Designlife Gala
Here at NC State, we have been closely monitoring the status of the coronavirus (COVID-19) within the local area and abroad. The health and safety of our campus community, and maintaining academic continuity, remain NC State's top priorities.
NC State has implemented actions to keep our community healthy and to limit the potential spread of COVID-19. One of those actions prohibits gatherings of more than 100 people for university-related events.
In light of this restriction, Dean Mark Hoversten, along with members of the Leaders Council, have regretfully decided to postpone the Designlife Award Gala on April 4, 2020.
While we look forward to the gala each year to celebrate a noted member of our community and come together in fellowship, the health and well-being of our attendees are of the utmost importance. We hope to be able to toast to another year of good design in the near future.
We will keep in touch about additional plans pertaining to the Gala as they become available. Thank you, as always, for your continued support of the College of Design.
Introducing our 2020 Designlife Award Recipient: William V. "Bill" Bell
The Designlife Award Gala will take place on Saturday, April 4, 2020 at 6 pm at the Angus Barn Pavilion. The event will include dinner followed by dancing.
Eight-time Durham Mayor William V. "Bill" Bell will be honored for his design legacy at the 23rd annual Designlife gala for leading the transformation of the city of Durham from a fading tobacco town into a thriving cultural community. Read more
Read more about the Designlife Award
View the list of 2020 Gala Sponsors | The 2020 Gala Invitation
Visit the College of Design's flickr account for images from the 2019 Designlife Award Gala!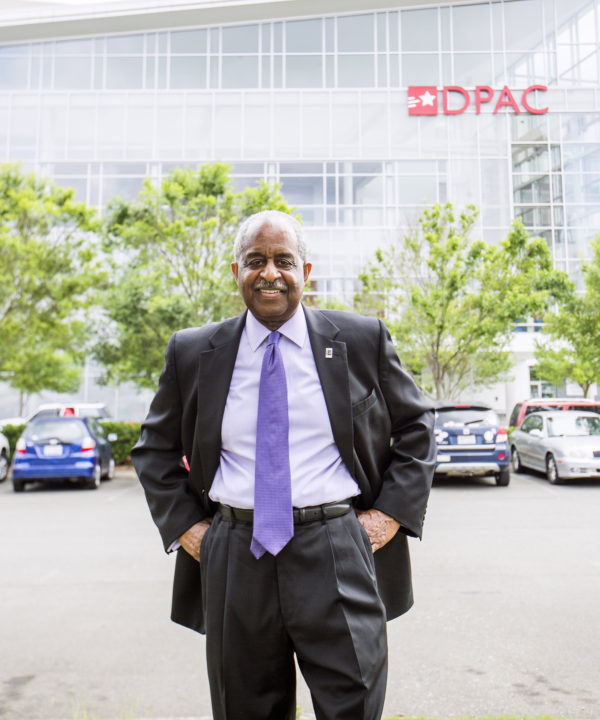 Previous Designlife Award Recipients
2020 – Bill Bell
2019 – Stephen Hill
2018 – Frank Harmon
2017 – Marvin Malecha
2016 – Charman Driver + Frank Thompson
2015 – Steve Schuster*
2014 – Mitchell Silver
2013 – Clancy & Theys
2012 – Philip Freelon*
2011 – William Ivey Long
2010 – Greg Hatem
2009 – Tom Darden
2008 – Jim Goodmon
2007 – Ann Goodnight
2006 – Lawrence Wheeler
2005 – Gail Lindsey*
2004 – Richard Curtis
2003 – Myrick Howard
2002 – Thomas Sayre
2001 – Betty Ray McCain
2000 – Mary Ann* and Samuel Scherr*
1999 – Harvey Gantt
1998 – George Matsumoto and Duncan Stuart*
* denotes deceased
Designlife Gala sponsorships support the Design Professional Outreach Fund. All funds are managed by the NC State University Foundation.