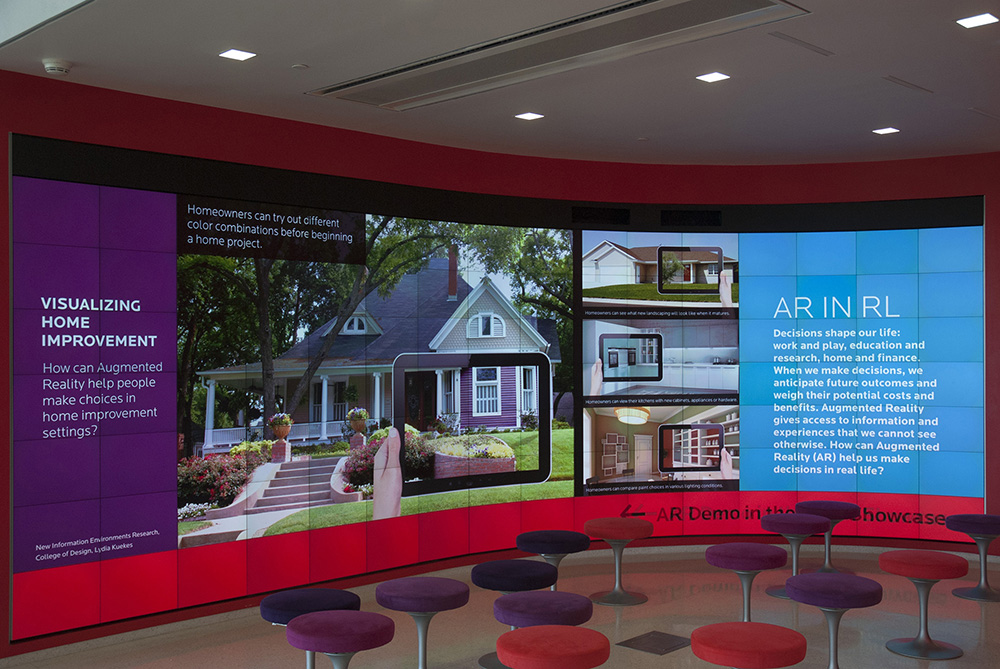 Curricular and Extracurricular Opportunities
Visiting Artists and Scholars
To supplement graduate-level courses, the program invites visiting designers, design researchers, and design scholars to speak and work with students either on campus or virtually.  The MGXD faculty often invite in colleagues from their networks to meet with graduate students specifically.
Past lecturers and or workshop leaders have included Jan Van Toorn, Irma Boom, Erik Spiekerman, Victoria Vesna, Andrew Blauvelt, Ian Bogost, Anne Burdick, Johanna Drucker, Hugh Dubberly, Elliott Peter Earls, Shelley Evanston, Stuart Ewen, Jessica Helfand, Terry Irwin, Suguru Ishizaki, Brenda Laurel, Peter Lunenfeld, Ellen Lupton, J. Abbott Miller, Sharon Poggenpohl, Michael Rock, Katie Salen, Jon Sueda, Elizabeth Sanders, Louise Sandhaus, Martin Venezky, Susan Yelavich, Stuart Candy, Paul Pangaro, Deborah Forster, Michael Yap, Benjamin Gaydos, and Caroline Sinders.
Research Assistants
A few opportunities to work with faculty as Research Assistants on both theoretical and applied projects are available. RA positions vary in scope and frequency based on faculty research funding and are offered by that faculty.
Teaching Assistants
The Department Head may offer qualified entering MGXD II students assistantships between March and July prior to their first year. Otherwise, qualified students may apply in the Spring semester for an Assistantship in the following academic year. Positions are awarded based on GPA, experience, and departmental needs. MGXD III students are typically not eligible for a TA position, with some exceptions. 
Preparation for Teaching at the College Level
The Master of Graphic & Experience Design program offers one of the few teaching seminars in the country. Designed to prepare graduate students for academic careers, the course covers topics such as curriculum and course development; classroom pedagogy; critique strategies; program assessment; balancing the teaching / research / service obligations of faculty; and grant writing in support of faculty research.
MGXD Publications
Students contribute to and participate in the production of MGXD publications, including Yes And, the public graduate blog, And So, the online graduate journal, as well as an annual MGXD bulletin that features student and faculty essays and design work.
Off-campus Events
Regular field trips and local / regional lectures and conferences complement course content. An off-campus retreat held at the beginning of each academic year convenes graduate students and graduate faculty for a weekend of workshops, discussions, good food, relaxation, and fun.
Hunt Library
Graduate students regularly create content for the Hunt Library's state-of-the-art digital platforms, such as the Teaching and Visualization Lab, Creativity Studio, and the iPearl Immersion Theater.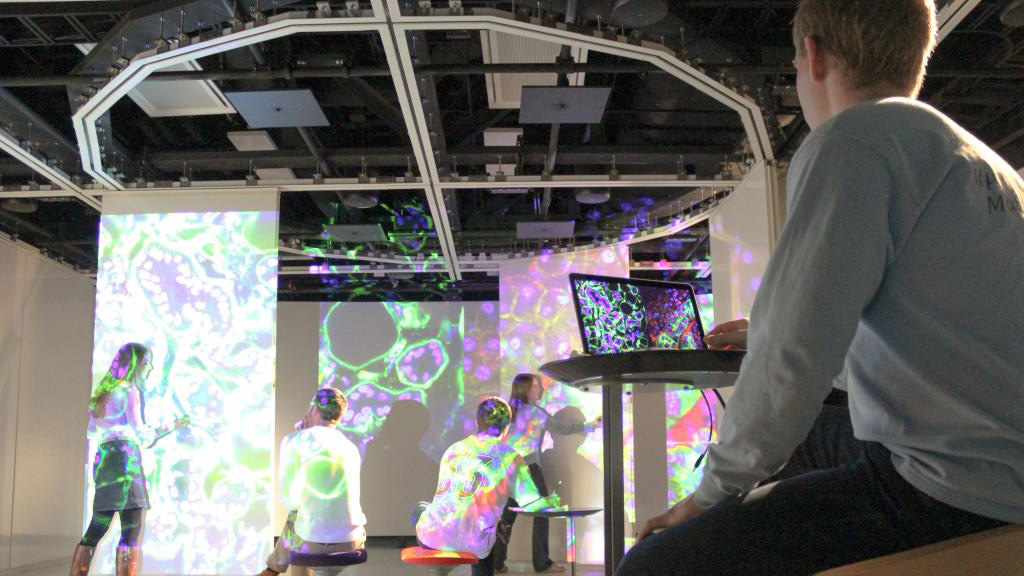 Hunt Library Creativity Studio
One end of the Studio features two high-definition blended laser projectors and a curved screen ideal for immersive presentations. The other end features a single high-definition projector optimized for standard instructional uses.