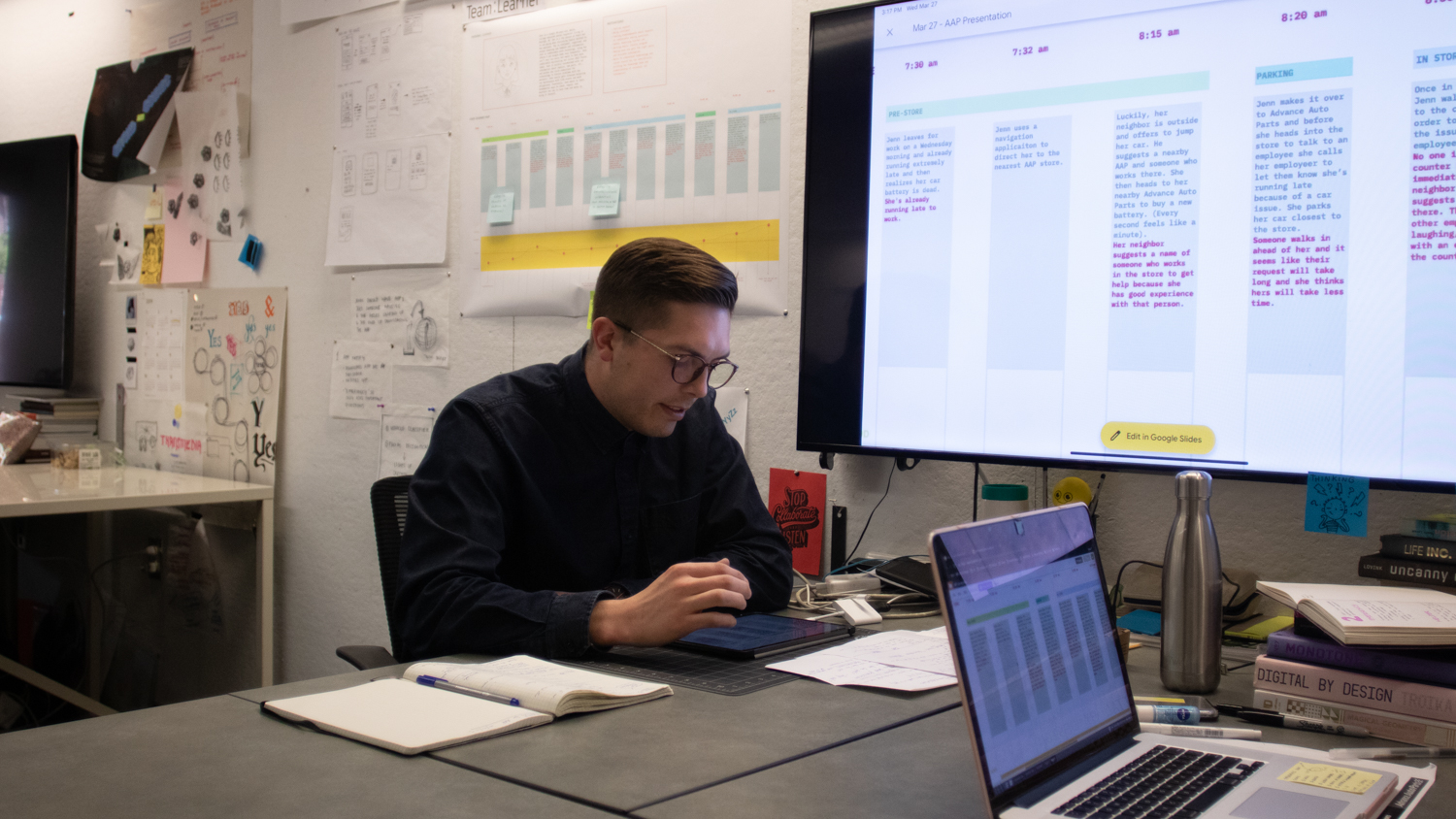 Graduate Courses and Curriculum
The MGXD (II) degree requires successful completion of 48 total credits, however students typically take advantage of additional coursework during their time at NC State.
The core curriculum consists of a 9-credit studio and a 3-credit seminar — either Design Methods, Design Frameworks, or Final Project Research — in each of the first three semesters of study. Students are encouraged to augment their study during this time with 400 or 500 level design coursework that enhances skills and/or investigates topics of interest. For instance, the program offers seminars on Graphic Design Pedagogy, Design Discourse and Typography, and Special Topics in Social Innovation. Students are required to enroll in a 3-credit 400 or 500 level elective within another college at NC State or at nearby Duke University or UNC/Chapel Hill under NC State tuition. The fourth semester is devoted to the final project for 6 credits, under the supervision of three Graphic Design faculty members comprising each student's graduate committee.
Curriculum Displays
Note: The titles of the GD courses listed here differ in titles (and descriptions) that are listed in the NC State course catalog because the department is in the process of revising the courses.
MGXD II – 4 Semesters
First Year, Fall Semester, 12 Credit Hours
GD501 Graduate Design Studio I (9 Credits)
GD572 Research Methods for Design Seminar (3 Credits)
First Year, Spring Semester, 15 Credit Hours
GD502 Graduate Design Studio II: Technology Futures (9 Credits)
GD571 Frameworks for Design Research Seminar (3 Credits)
Elective (3 Credits)
Second Year, Fall Semester, 15 Credit Hours
GD503 Graduate Design Studio III (9 Credits)
GD581 Final Project Research Seminar (3 Credits)
GD573 New Information Environments (3 Credits)
Second Year, Spring Semester, 9 Credit Hours
GD588 Final Project Graduate Design Studio IV (6 Credits)
Elective (3 Credits)
Sample Electives
(Must be 500 level inside the College of Design (COD); 400 level outside of the COD)
GD592 Curriculum, Pedagogy, and Academia
GD510 Special Topics in Social Innovation
GD517 Special Topics in Typography
PSY420 Cognitive Processes
PSY400 Perception
COM436 Environmental Communication
COM444 Film Production
ENG517 Advanced Technical Writing & Education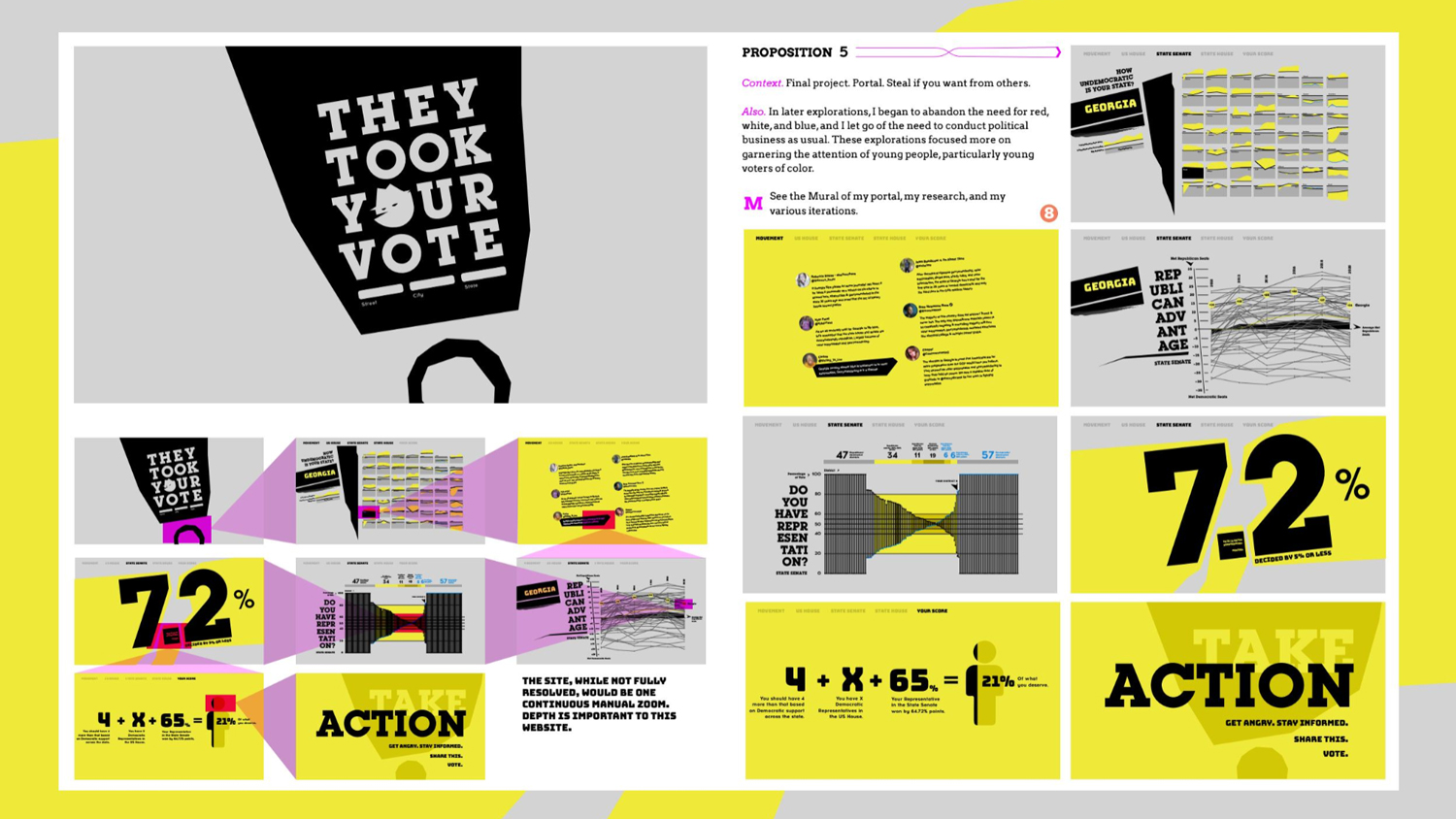 See work from the GD501 Studio Salon
MGXD III – 2 Semesters
Note: After completing these two Track III semesters, students move into the Track II curriculum. The full course of study for Track III students is three years.
Fall Semester, 12-15 Credit Hours
GD500 Foundations of Graphic Design (6 Credits)
GD592_001 Tech Tinkering Seminar (3 Credits)
GD303 Graphic Design Theory (3 Credits)
Optional: Graphic Design Elective (3 Credits – See Below)
Spring Semester, 12 Credit Hours
GD400_001 Advanced Graphic Design Studio (6 Credits)
GD592_002 Design Discourse and Typography (3 Credits)
Graphic Design Elective (3 Credits – See Below)
Graphic Design Electives
GD203 Graphic Design History
GD317 Typography II
GD417 Typography III
GD592 Design Pedagogy
GD510 Special Topics in Social Innovation
GD517 Special Topics in Typography