Design Thinking in Health / Thinking Health in Design
3rd Annual Doctor of Design Symposium on Design Research
The 3rd annual DDes Symposium took place from 9:00 am – 1:45 pm and featured several panel discussions centered around our two key topics: Design in Health Education and Health in Design Practice. Ellen Lupton, Senior Curator of Contemporary Design at Cooper Hewitt, Smithsonian Design Museum in New York City, and the founding director of the Graphic Design M.F.A. degree program at Maryland Institute College of Art (MICA), was the lunch keynote. There were also sessions addressing design thinking tools and policy implications for health in design.
Panel 1 – Design Thinking in Health
The morning will start with moderated Panel #1 "Design Thinking in Health". Dr. Matt Trowbridge, Dr. Bon Ku, and Jacqui McLaughlin spoke for about 10-12 minutes each followed by Q&A.
Moderator: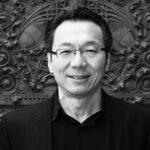 Tsai Lu Liu, Professor of Industrial Design, is the Head of the Department of Graphic Design and Industrial Design at the College of Design at NC State University. Before teaching industrial design, Professor Liu managed new product/service design and marketing for 12 years in the toy, healthcare, gaming, semiconductor, and communication industries.
Speakers: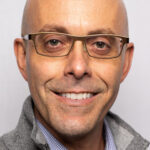 Matthew Trowbridge is a physician, public health researcher, and Associate Professor at the University of Virginia (UVA) School of Medicine. Dr. Trowbridge's academic research focuses on the impact of architecture, urban design, and transportation planning on public health. . Dr. Trowbridge is principal investigator for the Green Health Partnership between UVA and the U.S. Green Building Council.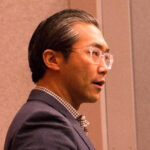 Bon Ku is the Director of the Health Design Lab at Thomas Jefferson University where he created the first design thinking program at a medical school. He is a Professor of Emergency Medicine, the Assistant Dean for Health & Design and a practicing clinician. Dr. Ku was a regular panelist on the television show Chasing the Cure and co-wrote the book, Health Design Thinking, with Ellen Lupton.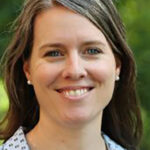 Jacqui McLaughlin, Ph.D., received her undergraduate degree in biological engineering from North Carolina State University, her master of science in biomedical engineering from the University of Memphis/University of Tennessee, and her doctorate in educational research and policy analysis from North Carolina State University. She spent one year as a postdoctoral fellow with the Office of Strategic Planning and Assessment (OSPA) at the UNC Eshelman School of Pharmacy and currently serves the school as an associate professor in the division of Practice Advancement and Clinical Education and as the director of CIPhER.
Keynote Presentation: Design for Everybody: Creative Ideas for Wellness and Inclusion by Ellen Lupton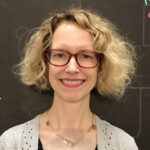 Ellen Lupton is a writer, curator, educator, and designer. She is Senior Curator of Contemporary Design at Cooper Hewitt, Smithsonian Design Museum in New York City. Lupton is founding director of the Graphic Design MFA Program at MICA (Maryland Institute College of Art) in Baltimore, where she has authored numerous books on design processes, including Thinking with Type, Graphic Design Thinking, Graphic Design: The New Basics, and Type on Screen.
Panel 2: Thinking Health in Design
Panel #2 is a flip of the first panel along the lines of "Thinking Health in Design," or how we should be thinking about health in the design fields. Michael Grove, Jessica Bellamy, and Myron Floyd spoke for about 10-12 minutes each followed by Q&A.
Moderator: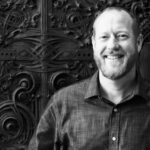 David Hill, FAIA, is a Professor of Architecture and Co-Director of the Coastal Dynamics Design Lab at the College of Design where he has taught full-time since 2007. While at NC State, David has led graduate and undergraduate design studios, digital representation courses, and seminars that focus on integrative digital simulation processes, architectural prototypes, and design strategies for coastal regions.
Speakers: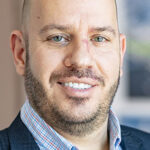 Michael Grove is the Chair of Landscape Architecture, Civil Engineering, and Ecology and sits on Sasaki's Board of Directors. Leading much of the firm's work in Asia, he offers unique insight into the unprecedented transformation and urbanization of the region. Michael is a fierce advocate for the vital role that landscape architects play in shaping contemporary cities. Informed by a rigorous inquiry of economic, ecological, and cultural influences, he believes that the role of the designer is to make cities livable, equitable, resilient, and just.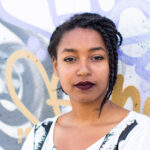 Jessica Bellamy is an award-winning international speaker, workshop facilitator, motion infographic designer, and research analyst. She and her colleague Josh Poe are the founders of the Root Cause Research Center which is a grassroots-led institution that collects data, creates data visuals, and trains impacted community members in research and data storytelling.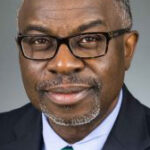 Dr. Myron F. Floyd currently serves as Dean of the College of Natural Resources at NC State University. An elected Fellow of the Academy of Leisure Sciences and the American Academy of Park and Recreation Administration, Floyd is widely recognized as a leading scholar focused on understanding race and ethnic patterns in outdoor recreation behavior. His most recent research examines how public parks and greenspaces and other features of the built environment contribute to physical activity in low-income communities of color.