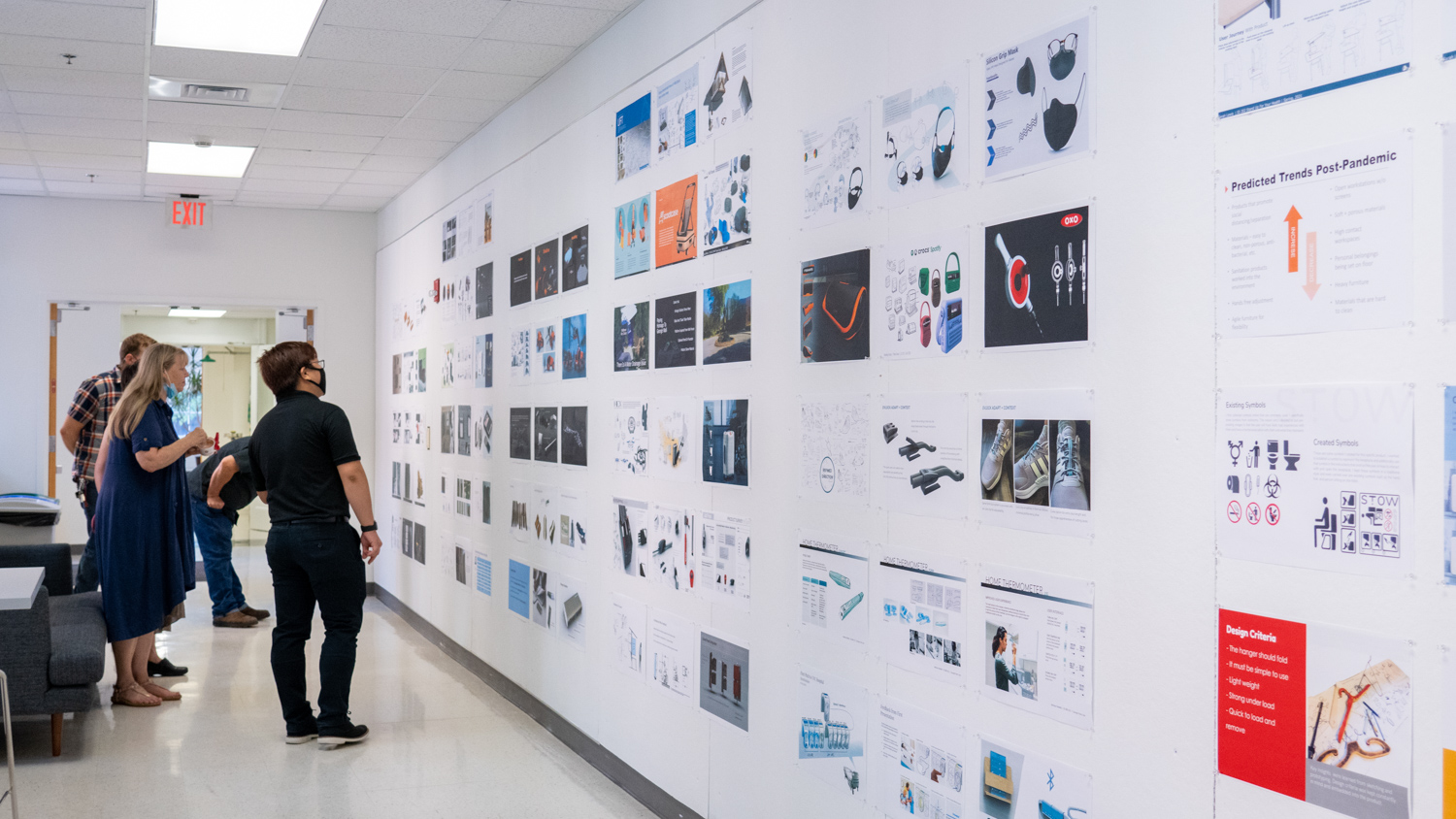 Master of Industrial Design Admissions
Important Dates
January 15: Priority application deadline for domestic and international students (fall admission)

Late applications will be accepted on a case-by-case basis.

March 1-31: Notification to students regarding admission status (applicants check their status through the online system)
March 1: University deadline for international applications for fall admission
April 15: Deadline for students notifying the College of Design that they intend to matriculate in fall
June: Pre-registration of incoming graduate students for fall courses
August: New College of Design graduate student orientation
Mid-August: First day of fall classes
Academic Qualifications
Minimum 3.0 GPA from all previous study at the college level
GRE scores are required for some majors and/or tracks. Please review the appropriate application requirements for selected major.
English Proficiency Requirement for International Applicants.

Acceptable minimum online TOEFL score:

Combined score of 80 and at least 18 on each individual component

OR minimum IELTS score for international students

Overall band score of at least 6.5 in each individual component

OR provide Duolingo score of 110 or better
OR be a citizen of a country where English is the official language and the language of instruction in higher education.
International students who have successfully completed at least one year of full-time study at a four-year US college or university do not have to submit TOEFL and/or IELTS scores. To request a waiver, contact the Graduate Admissions Office.
A fee of $75 for US applicants ($85 for international applicants) is due at the time of application.
No admissions decisions will be made on the basis of email correspondence. All applicants must use the online system and provide the following:
Personal Statement stating career objectives, prior experience, intention of graduate study, and their relevance to the selected program at NC State University
A portfolio of work as per the requirements of your desired discipline
Uploaded unofficial transcripts for each institution attended (official transcripts will be required if admitted)
Three uploaded letters of recommendation from people who know your academic record

TOEFL or IELTS scores for international students only

TOEFL institution code for NC State is 5496

Residency statement for US citizens only (more info)
Personal resume

Include under "PDF Documents" in the online system
Portfolio-Specific Admissions Criteria
The Masters of Industrial Design does not require GRE scores.
Specific suggestions:
Three-dimensional ability
Analytical and conceptual skills
Drawing and compositional skills
Organizational skills
Communication skills
Aesthetic sensibility
Environmental, technological, social and design awareness
Inquisitiveness, inventiveness, and imagination
Futuristic perspective
Mechanical aptitude
Leadership qualities
Portfolio may include:
10-15 examples of work
Examples of three-dimensional work
Development sketches to show process and concepts
Photographs, slides or computer output
GRE Scores are not required for Industrial Design candidates. Materials suitable for inclusion in your portfolio may include work samples such as condensed presentations that you have previously made for a project at a conference or to a client, photographs you have taken that highlight your skills in composition or interesting content, development sketches of how you have or would address a problem (think process rather than final solution), documentation/photographs of things that you have made (perhaps from a hobby), materials from previous coursework, and case studies highlighting your thinking and problem solving that are presented as narratives or storyboards. While some writing may be necessary to frame the problem and support the story; however, this is not a research paper. All materials must be your original work. Organize your portfolio in a cohesive manner to convey how you see and tackle problems and convey that you understand how things work. These may or may not be a physical problem with physical solutions.
Got Questions?
Complete the graduate student interest form and a member of our team will be back in touch.