Overview
The Master of Industrial Design degree is intended as preparation for students assuming responsible roles in the profession of industrial design. Currently, within the profession and in industrial design education, this degree is considered the terminal industrial design degree. The program teaches from a generalist viewpoint and deals with all aspects of machine-made products and their relationship to people and the environment.
The Department of Graphic Design and Industrial Design at NC State University has a unique tradition of offering graduate design education to students whose undergraduate degrees and employment experiences may be either within or outside of the field of industrial design. This strategy allows us to admit two complementary profiles of students:
One is a student experienced in design who is entering graduate school for the purpose of developing a specialized area of expertise or as a means of undertaking a career in design education.
The other is a student with evident design ability, who is selecting design as a career choice after previous study and experience in another field.
Together these two admission profiles result in a rich and diverse graduate program environment conducive to the exchange of accumulated knowledge and experiences. This approach has allowed us over the past 25 years to educate a number of graduates who have gone on to distinguish themselves as industrial design practitioners and educators.
Though our program is relatively small, it has the benefit of close connections between the students and the faculty, and provides an environment where the students learn from each other as well as from the resources of the department, college and university.
Our Master of Industrial Design is accredited by NASAD and ranked among the top graduate programs in the US.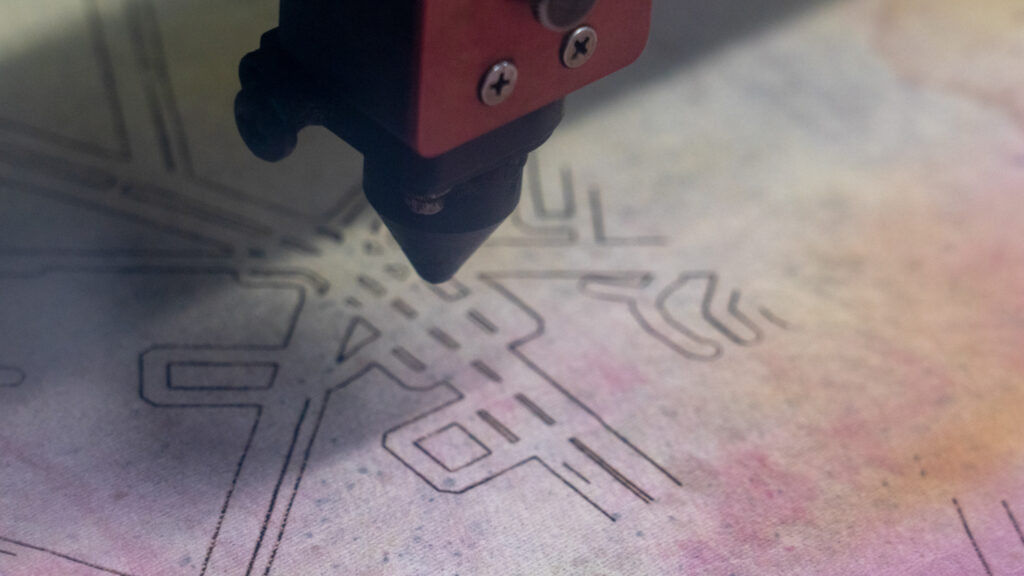 Master of Industrial Design (Track 2)
For students with an undergraduate degree in industrial design
This is a 48 credit hour program for a candidate with a four-year undergraduate degree in industrial design or a related design field.
For curriculum display, visit Master of Industrial Design (Track 2) courses and curriculum page.
Master of Industrial Design (Track 3)
For students with a non-industrial design undergraduate degree
This track is a program for a candidate with an undergraduate degree in a non-industrial design area. If you are a Track 3 student there are two sets of requirements you must observe while pursuing your studies:
A minimum of 30 credit hours in your year one studies after which you will have a graduate faculty review before moving into second-year graduate-level coursework.
Following year one, a minimum of 48 hours of graduate-level courses.
For curriculum display, visit Master of Industrial Design (Track 3) courses and curriculum page.
Learning Outcomes
In order to combine critical elements associated with advanced, highly skilled, analytically-based studio work in design, industrial design graduate students will engage in, lead, critique, and document individual inter/intra-disciplinary team investigations and project solutions through these endeavors:
Students are expected to utilize research methods from professional design practice and other related fields in their design process; to make judgments about the appropriateness of specific research methods and strategies for the specific nature of a design task; and to refine or develop research design methods as necessary.
Students are expected to utilize research and design methods and tools that are appropriate to supporting collaborative work, engaging human-subject research, and addressing complex problems.
While addressing the potential for economic, social, cultural, and technological impacts of their designs, students are expected to conceive and produce studio work that includes speculative and propositional as well as concrete, functional solutions which are three-dimensionally prototyped.
Students are expected to demonstrate verbal, oral and visual communication skills throughout their design development process including interpersonal, formal and informal presentations and critiques.
Students are expected to demonstrate an advanced professional competence in a specific design specialization or depth of knowledge through a significant body of design work associated with studios and their final project.
Students are expected to use analytical tools, design processes, technologies, and information gathered from primary and secondary sources to develop concepts, reveal patterns of information, create rationales for specific design solutions or within projects, and to engage in both solution development and evaluation.
Evidence for each outcome will be collected from the MID students' studio project reviews and final project proposals, reports and presentations.
Studio Experience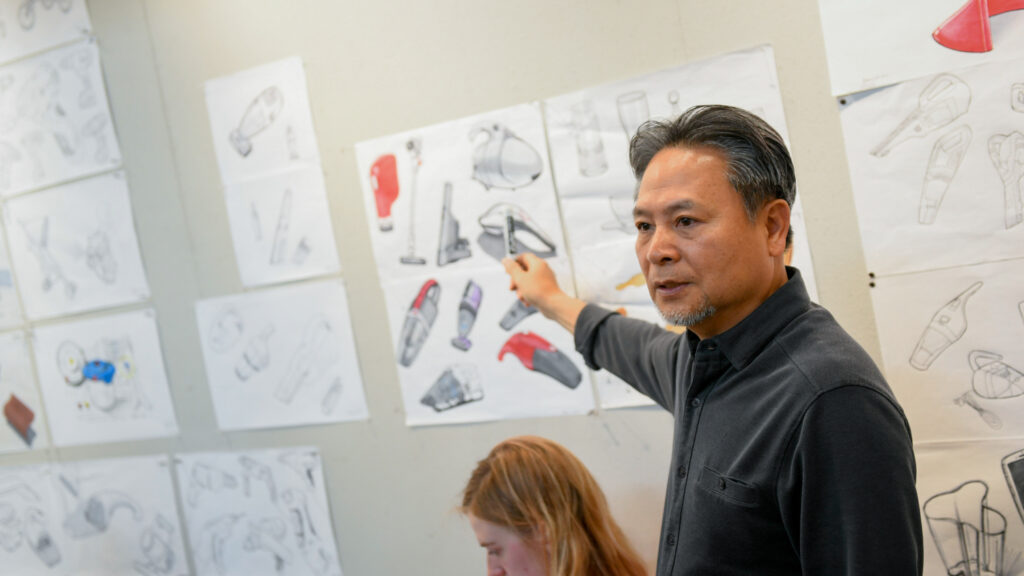 At the master's level, the industrial design studio experience centers both on design methodology and intellectual inquiry. The studio courses require that students synthesize knowledge gained both through instruction and investigation, and apply that knowledge in the development of ideas and the task of problem-solving. The master's level student is expected to demonstrate a mastery of subject matter in their field, both in practical application and scholarly investigation.
Industrial design graduate students also have the opportunity to participate in industry collaborative studio projects sponsored by corporate sponsors such as Bosch Siemens Home Appliance, Eastman Chemical, JLG, and Bioventus. Sponsored projects provide students with the experience of designing in a real-world setting and interacting with professional designers, engineers, and business executives.
Students are expected to maintain regular attendance in the graduate studio. Your presence in the space affords you the opportunity to interact with your peers and to immerse yourself in the graduate program. You are expected to maintain a professional workspace that is populated with current, process work yet clean. Faculty may schedule periodic visits, critiques, or presentations during these times. Students holding teaching assistantships must work around this schedule in the execution of their duties and notify faculty of assignments that take them out of the studio space during regular hours.