COVID-19 Resources for Students, Faculty, and Staff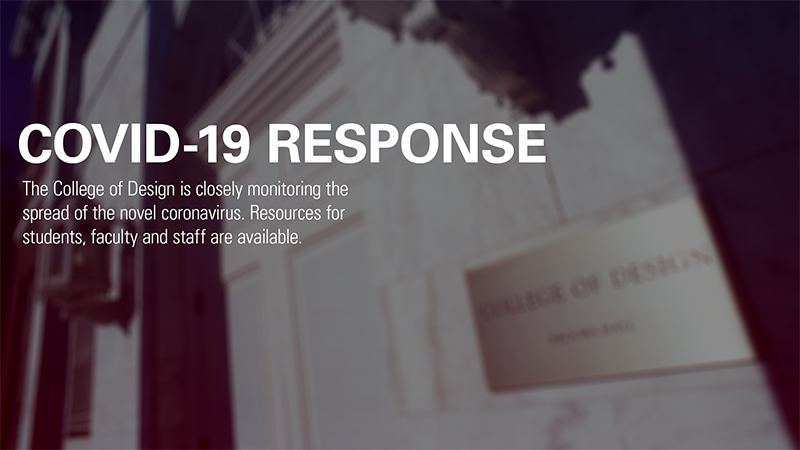 As we continue to monitor the evolving situation with the Coronavirus (COVID-19), please continue to check www.ncsu.edu/coronavirus for the most up-to-date information. Please visit the pages below for more detailed information.
At this time, all nonmandatory employees for the College of Design will be working remotely. Please utilize our faculty and staff directory to get in touch with professors and colleagues.
College of Design Event Information
As a result of the recent decisions from the university about COVID-19, the College of Design has chosen to cancel all events through the end of the summer. This includes events with attendance of over 100 people such as the Art2Wear fashion show and Designlife Gala.
Design Camp
For up-to-date information on Design Camp, please visit https://design.ncsu.edu/designlab/covid-19.
Student Meetings & Gatherings
As per the university, and in an effort to encourage social distancing, we ask that you conduct any meetings with other students virtually using available technologies such as Zoom or Google Hangouts. We also want to remind you that as per the university announcement, NC State is prohibiting on-campus events, meetings and gatherings of more than 100 people. The university provides solutions and resources through the Office of Information Technology.
Commencement
At this time, the university has postponed the spring commencement ceremony. Please read a message from Chancellor Woodson here.
For ongoing COVID-19 related updates, visit the university commencement website.
University Information
The best way to keep up with university updates is to regularly check www.ncsu.edu/coronavirus/. This site also includes a growing collection of Frequently Asked Questions, important health-related information, links to community contacts and other helpful resources.
Any student who has the disease's most common symptoms (fever and cough or shortness of breath) creating concern about potentially having COVID-19 and who have risk factors of travel to a COVID-19-affected area or direct contact with a COVID-19 patient, can make an appointment with NC State Student Health. Students need to call ahead at 919-515-7107 (do not use the online form) and let the appointment staff know their risk factors immediately.
Campus community members with other questions related to COVID-19 can call the Wolfpack Response Line at 919-512-3272.