Research + Innovation
Celebrating A Decade of Collaboration with Eastman  
Compostable takeout containers. Cosmetics packaging. Ready to assemble furniture. These are just a few of the sponsored studio projects the NC State College of Design has conceptualized for real-world applications with industry partner Eastman.
As the College of Design celebrates its 75th anniversary in 2023, it is reflecting on some of its most notable collaborations. Eastman, who chose NC State out of 200 colleges and universities, launched their innovation center in 2012 to conduct joint cutting-edge research in chemistry, materials sciences, and other scientific disciplines. They have maintained an active partnership with the College of Design over the past ten years.
The initial goal was to work with colleges across the university – engineering, management, and design – to vet new technologies for the market, ramping up a process that previously took 2-3 years into a semester-long project.
Students in the College of Design looked at brand-new technologies at Eastman, and helped Eastman understand the ways the technologies would be beneficial in key applications. As a result of these collaborative studios, the partnership developed nine invention disclosures, five applications and one patent.
"Having a comprehensive, pre-established agreement makes it easy to start new projects in a timely manner," said Jeff Carbeck, vice president for corporate innovation at Eastman. "The relationships we have built over the years enables Eastman to target effective connections."
Throughout the partnership, Eastman supported four studio classes in 2013 and ten more courses since then. Design students work hand-in-hand with Eastman scientists, engineers, and business development experts to explore new applications of various materials, discover new ways to enhance customer experience interacting with these materials, and create design concepts that could lead to future business opportunities.
A Budding Partnership
As the relationship between industry and academia continued to grow, Eastman built the Eastman Chemical Company Center for Excellence, located on NC State's Centennial Campus. Personnel relocate to Raleigh to further cement the close working relationship between Eastman and NC State.
In spring 2013, the first studios in industrial design explored the markets and user needs of key Eastman technologies and prototyped potential applications for use. Exploring Eastman's Chrysalis application, which can create hollow, rigid sheeting, the students looked at the opportunities through an architectural lens and found a saturated market. This investigation led the students to explore new product applications for Chrysalis such as heated flooring, water collection and irrigation systems, greenhouse glazing, body armor, emergency shelters, packaging, furniture, medical products, exhibit systems, and hydroponic gardens.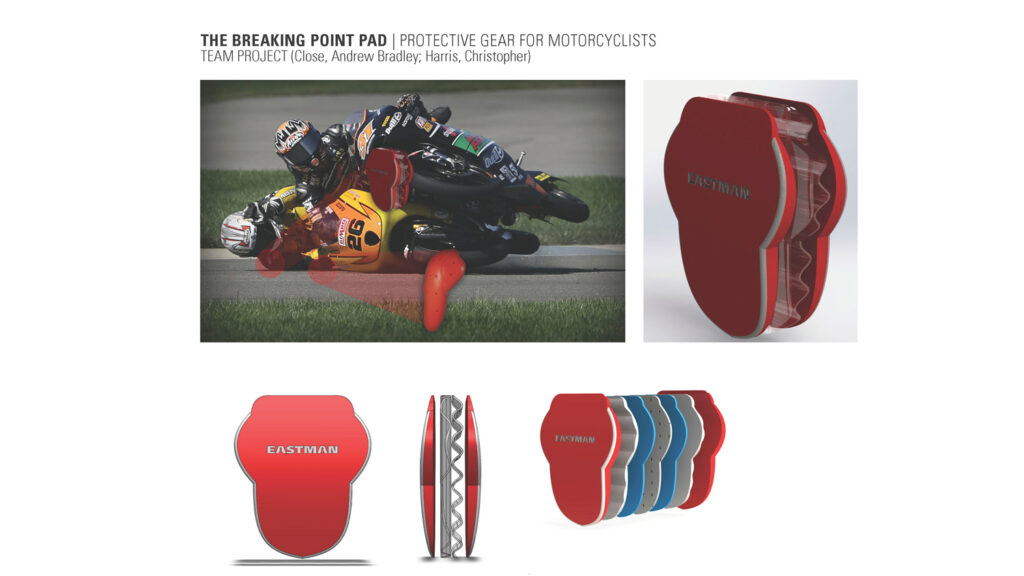 "The project teams understood from the very beginning the value of user study and market research in order to create solutions that are not only relevant but also meaningful to users," says Tsai Lu Liu, department head of graphic design and industrial design. "Exciting insights were discovered through abundant user interviews, field visits, group meetings, and observations. The students' journeys of inquiry, focused on the elevation of people's experience with these materials, delivered a valuable learning opportunity to both the design students and Eastman engineers."
Another studio explored the same Chrysalis technology but applied to cold-chain shipping. Students explored the use of thermal isolation panels to develop packaging with built-in refrigeration to change the logistics of shipping pharmaceutical products that need to remain cold in transport, such as blood, vaccines, and other medications.
Using Eastman's Cerfis™ technology, which is a polymer coating system for wood products, students iterated designs for modular outdoor furniture, enhanced hospital furnishings, ready-to-assemble furniture, and sound-dampening panels for residential applications.
As part of the inaugural studios, executives from Eastman and the NC State leadership attended Innovation Day in May of 2013, where students exhibited their final projects.
Continued Collaboration
At the College of Design, Eastman Executives participated in training focused on design thinking in fall 2014 to increase awareness of how technology could leverage design. The hope was to further develop the nexus of work between considering the design connection to human experience, viability and execution through technology, and the market viability through business.
Two new projects emerged related to the use of acetate tow, where the industrial design students worked to understand how to revive a dying supply chain and to prevent defects in films being rolled onto a plastic core, demonstrating how students are able to shift their ideation from material use to process applications. Eastman asked students to examine supply chain, production cycles, and interventions for manufacturing. In the end, this enabled Eastman to examine how machinery not in current use could be used in other applications.
A New Chapter of Innovation
In 2018, a renewed interest between the College of Design and Eastman led to sponsored studios that explored key Eastman materials and alternative applications for those materials, including compostable containers, refillable cosmetics packaging, and small household appliances.
"When a relationship provides value to each participant, it's easy for it to persist," says Dawn Mason, global external innovation manager at Eastman. "We hope that our interactions with the College of Design will continue to challenge us with thought-provoking results that enable us to continue to enhance the quality of life in a material way."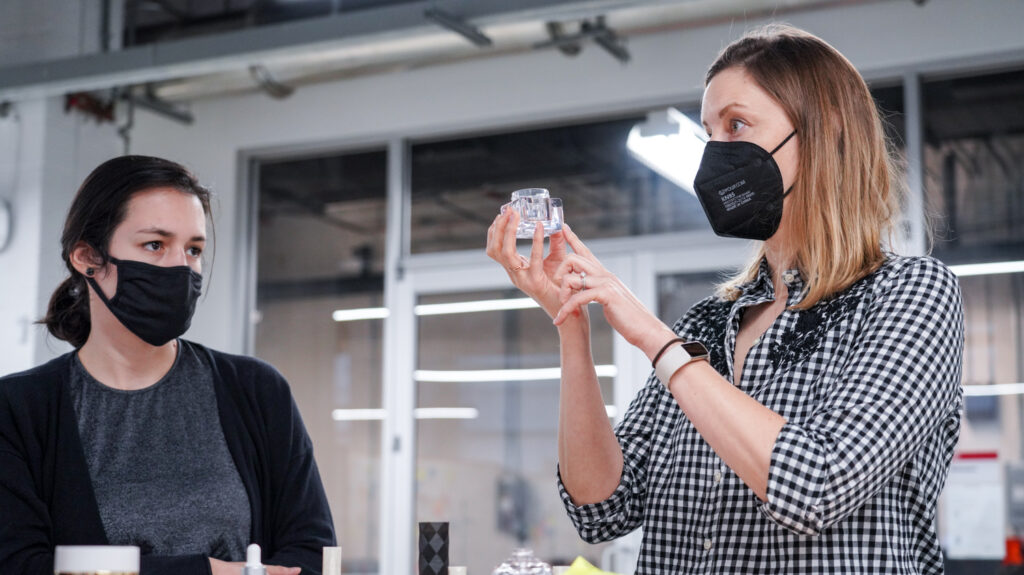 When the industrial design program moved to new studio spaces at 111 Lampe Dr, the Eastman team invested in the capital project with a named sophomore studio space.
In fall 2022, students explored Eastman's interlayer films to identify ways to enhance the user experience, from sound-dampening glass to heads up displays.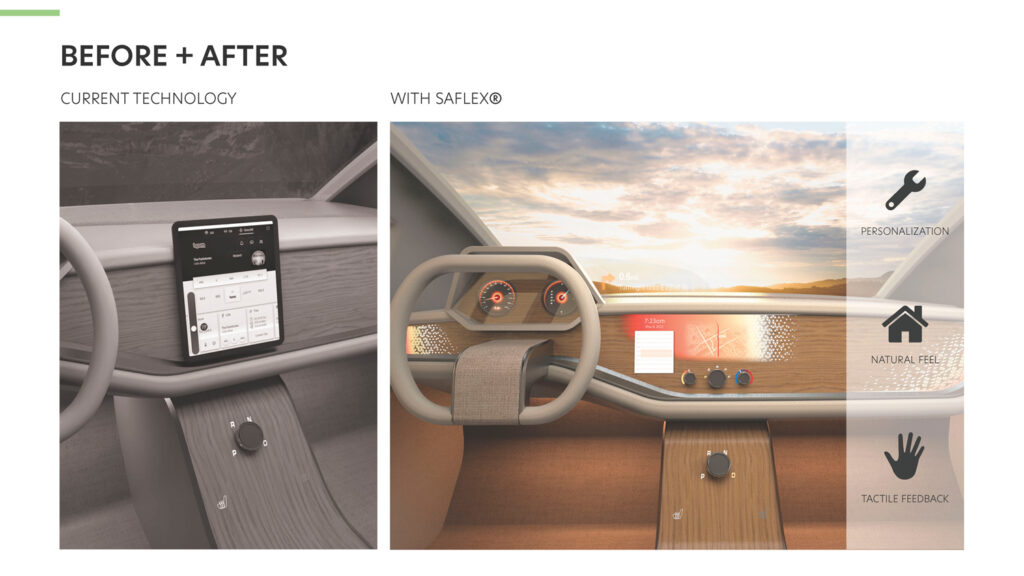 "Recently, students explored ways in which dynamic glazing technologies can enhance the consumer experience in electric vehicles and next-generation tech for homeowners and office workers. Additional vehicle features offer the driver warning on their surroundings for side mirrors, heads-up displays, and dashboard consoles. These concepts will be useful in providing input to an overall Dynamic Glazing strategy for Eastman."
After a decade of partnership, College of Design students and Eastman executives continue to find innovative ways to partner, bringing analysis of the user experience into Eastman's existing technologies and applications and continually identifying new uses for existing products.
"If you think it can't be done, you should give it to a student because they don't know that it can't be done," Mason said of a previous studio. "And that sentiment continues to ring true today."