Research + Innovation
Sustainability by Design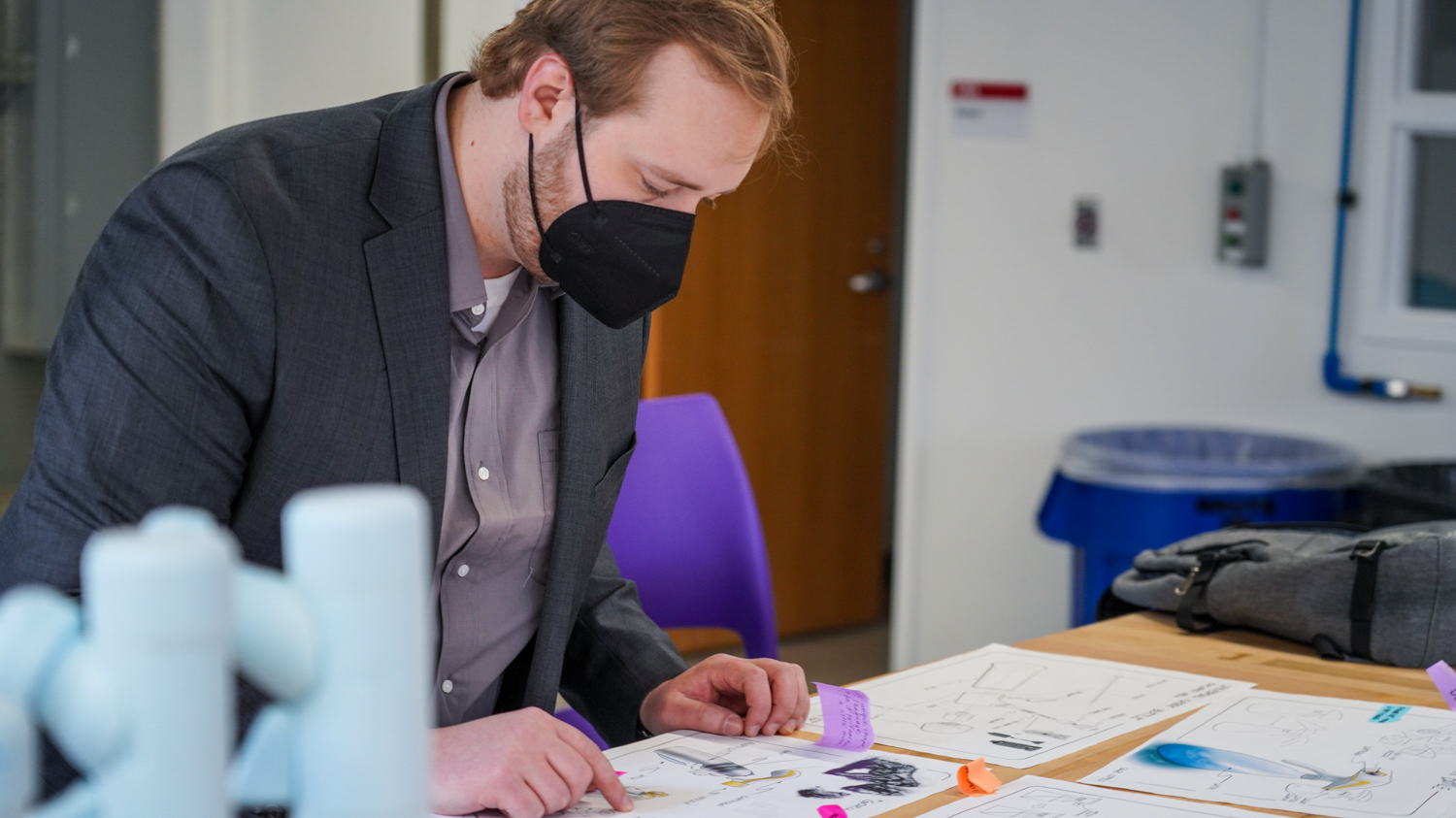 by Morgan High
Students are gaining real-world experience while reducing waste in a new project sponsored by Eastman. The company challenged NC State industrial design seniors in the College of Design to create consumer products with sustainability top of mind. 
The students' design concepts will help Eastman have deeper conversations with consumer brands who want to be more sustainable but may not know exactly how to launch such products. "The goal is to help more brands adopt sustainable materials in order to make a significant impact on the environment," said Anders Ludvigsen, market development manager at Eastman.
The project aimed to apply Eastman's Tritan™ Renew material in order to innovate consumer products like kitchen appliances and other household items. Tritan Renew is a highly durable, BPA-free material made with 50% certified recycled content that breaks down waste plastic back into its basic chemical building blocks, allowing plastics to be recycled again and again.
"The students were tasked with applying the material to an existing product in order to improve its function, appearance and carbon footprint," said Kathryn Wozniak, NC State Assistant Teaching Professor of Industrial Design.
At the start of the fall 2021 semester, Wozniak's class received the project criteria from Eastman and spent the next 16 weeks conducting in-depth consumer research and developing product strategies.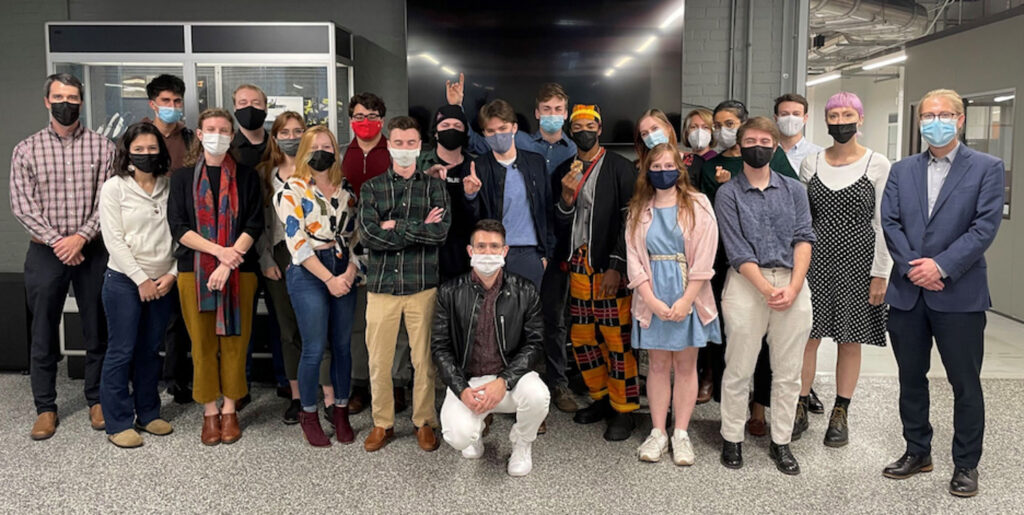 "The story and renderings developed by the students are very polished – it's easy to forget that these products aren't actually available on the market today," said Dawn Mason, Eastman's global external innovation manager.
Working from a College of Design studio sponsored by Eastman, the students were mentored by their professors and Eastman scientists. The collaborative space, which is filled with designers, engineers, developers and business professionals working together, offers an interdisciplinary approach to research, design and build projects.
"The real-world challenges provided by Eastman motivate and inspire the students to elevate their design capabilities," said Tsai Lu Liu, the head of the Department of Graphic Design and Industrial Design at NC State's College of Design. "This allows our students to become more prepared for a design career where collaborative innovation is key to future success."
In-depth Consumer Research
Graphic design senior Sarah Boon's approach to rethinking the traditional coffee maker started by researching two audiences: 20 to 35-year-old green travelers and retail stores that sell camping and hiking products. She dug into consumers' increasing desire to buy from brands that have a positive social and environmental impact.
Boon looked to solve the problem for campers and hikers who need to brew coffee on the go – something that is easy to use, pack and clean. She developed a design solution that accommodates for different hand sizes, stores easily in a backpack and most importantly, makes a great cup of coffee with little effort. Because her product is made almost entirely from Eastman's heat and scratch resistant Tritan Renew material, it can withstand being tossed around a campsite and hold boiling water. She also made sure it could easily rest on uneven terrain.
Sage Cofield, an industrial design senior, tackled the universal spray bottle by recommending a subscription-based service where consumers could return old containers and receive new ones in the mail. His strategy incentivizes users to conveniently reuse and recycle the product – saving time and money. "Whether or not I go into a product management career, when I approach a design I'll consider the big picture more," he said. "Taking the time to study, plan and think about all the driving forces before executing offers clearer direction for a better outcome."
Dana Ayscue's research led her to design a blender with improved circulation that would be easier to clean and significantly quieter than traditional appliances. She analyzed 18 to 34-year-old consumers, which she found to be the most avid smoothie consumers and the demographic most likely to recycle. From there she developed a detailed prototype – with features like a pitcher and base with double walls and anti-vibration legs to alleviate noise. "I'm going to make sure I do plenty of research in the future," she said. "I learned that it really makes the design process easier and more powerful." 
"The students approached the challenge with a holistic view," added Ludvigsen. "It's not enough just to use sustainable materials – you must design the products to be sustainable across production, use, and disposal. We can't wait to share the students' ideas and perspectives with our brand partners."
Applied Learning
For Boon, the project was an introduction to working with a larger company with complex goals. "I had to design for potential product users as well as Eastman," she said. "This gave me experience working within real design constraints – like budgets, engineering processes and marketing tactics – that sometimes aren't considered in regular classroom settings."
Industry-sponsored projects allow students to learn how to balance the requirements of a client with the needs of a user. "Through real-world exposure, our students leave the design program well-equipped to make a positive impact on the industries that they join," added Wozniak. "Most importantly, students and professionals build meaningful relationships that will continue to grow for years to come."
Our students leave the design program well-equipped to make a positive impact on the industries that they join.
Cofield valued the time put in by mentors at both NC State and Eastman: "Getting first-hand exposure on how stakeholders approach design projects is incredibly valuable. Fewer assumptions are made when you're able to speak directly with the people that will be affected by your designs."
A Growing Partnership
The project supports Eastman's 2030 commitments to address climate change, mainstream circularity as an economic model, and help build a more inclusive and equitable world. For example, the company announced this year that it will invest up to $1 billion to create a plastics recycling facility in France. The center will use Eastman's molecular recycling technology to recycle up to 160,000 tons annually of plastic waste that is currently being incinerated. The initiative will contribute to the EU's sustainability goals by reducing carbon emissions. And global brands including Procter & Gamble and L'Oréal have joined the cause, signing letters of intent for multi-year supply agreements from the facility.
NC State and Eastman have been collaborating for more than a decade and have completed more than 100 projects together. In 2012, Eastman chose NC State as a strategic partner after a nationwide search. "After an extensive narrowing process from 200 to 10 down to 4 universities, NC State came out on top for many reasons: alignment in the university's offerings and our research interests, top-notch faculty and students, and proximity to our sites, to name a few," said Mason.
Since then, the company has invested nearly $20 million across 11 academic departments, supporting student and faculty development while advancing innovation within the company. And Eastman's innovation center on Centennial Campus provides powerful proximity. "Eastman is a case study in what it means to be a true partner," said NC State Associate Vice Chancellor for Partnerships Mark Schmidt. "Not only do they invest in research that solves global challenges, but they also put in the time to mentor students and give back to those in need by sponsoring campus initiatives like Feed the Pack."
"The relationship has continued because there is an overlapping cultural fit between the university and Eastman which has enabled the partnership to grow beyond just sponsored research," added Mason.