Student Experience
Not Just for Looks: Industrial Design Students Reimagine Cosmetics Packaging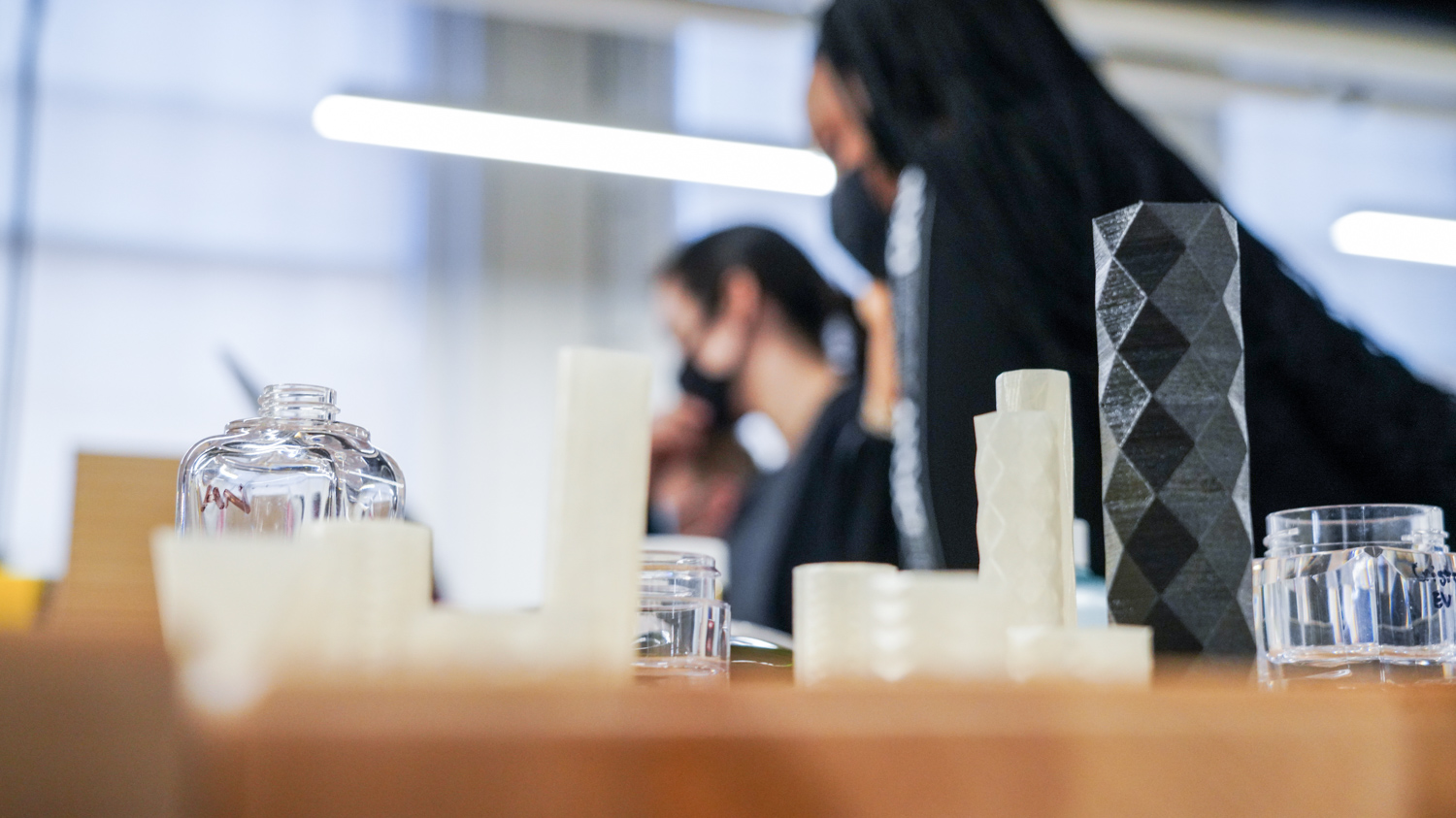 Industrial Design students at the College of Design worked with Eastman to create refillable, reusable and rechargeable ("R/R") packaging for the luxury cosmetics industry. The core objective of the studio was to design packaging with a high visual impact, superior durability, and decreased waste from plastic. Each design incorporated at least one of Eastman's Tritan™, Tritan™ Renew, Cristal™, or Cristal™ One materials.
According to Mintel's research on new product launches, the interest in reusable materials has increased significantly in recent years. But single-use items are still popular with consumers, who are often drawn to the product's visual appeal or ease of use.
Like many other consumer industries, the cosmetics industry has faced the issues of slow adoption, a lack of incentive, sanitation concerns and logistical challenges commercially to incorporating reusable packaging.
Increasing the availability of R/R materials supports Eastman's 2030 commitments to mitigate climate change and transition the global economy towards a circular model that leverages new technologies such as Eastman's molecular recycling to reduce plastic waste and keep materials in circulation.
"The 're-use' market is one of the most environmentally friendly options of a circular economy," says Global External Innovation Manager at Eastman, Dawn Mason. "Unfortunately, it's difficult to make 're-use' attractive when we are used to single-use packaging."
A Human-Centered Partnership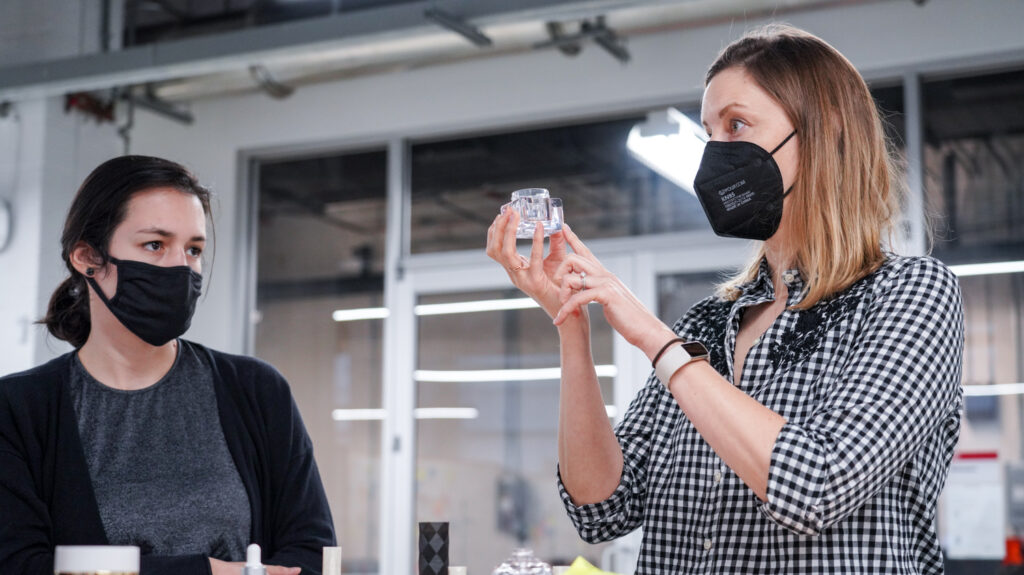 The NC State College of Design and Eastman have been collaborating since 2013, when they executed a master research agreement.
Through the partnership, students have access to engineers, scientists, and marketing professionals – resulting in greater preparation for careers in innovation and creativity. The Eastman team was able to help ideate and field student questions regarding materials and processes, as well as provide feedback to the students throughout the course of the semester.
"The number of creative ideas in such a short amount of time was impressive," says Eastman project leader, Rainey Garland. "Working with these students was a win-win. They learned about the needs of a real client, and we learned more about how design works – particularly how material choice and design go hand in hand."
Re-used. Recycled. Re-imagined.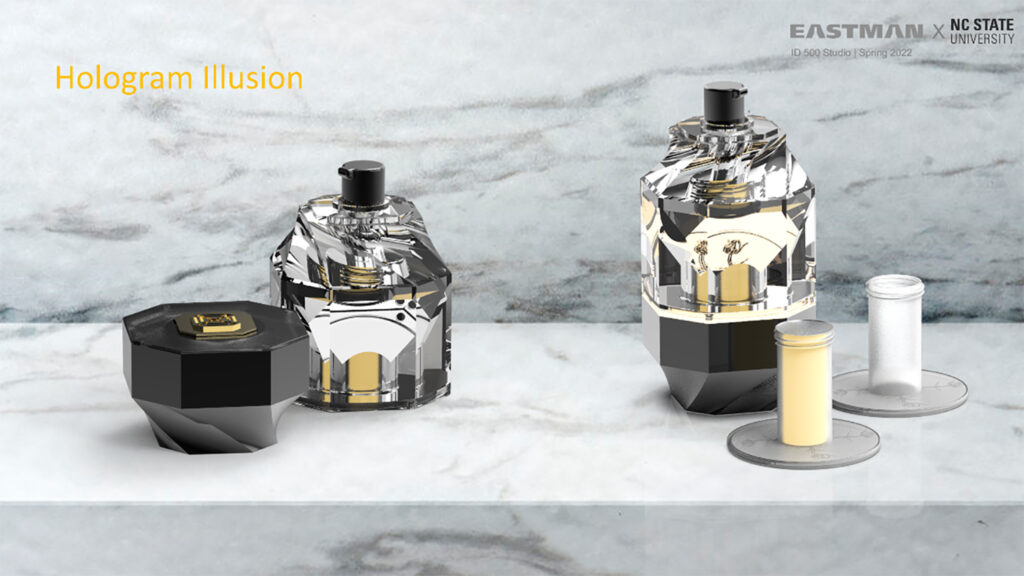 Aside from a few novelty items, reusable and refillable packaging for items such as lipsticks, perfumes and serums has historically had a hard time breaking through. In 2017, only 1.2% of all cosmetics packaging launches were classified as reusable and refillable. Over the next four years, the number of launches has doubled as trends in sustainability have increased. Eastman products have been a solution to these sustainability needs through launches of both the Cristal One family and Eastman Renew products.
When one sees what is possible, then it's an easier decision to choose a more sustainable material to meet customer needs. This is especially true if the customer has their own sustainability goals." – Dawn Mason
"It was really challenging to combine sustainability and luxury at first," reflects student Hsin Li. "However, because of Eastman's recyclable clear resin (Cristal One™), I was able to design recyclable vacuum pump refill charges that let the user directly recycle the charges without washing or cleaning after use. This can greatly incentivize consumers to recycle and refill the product without wasting materials."
Using the recyclable Cristal One material, Li created what he calls the "Hologram Illusion Bottle." The design consists of a reusable prismatic dispenser, and replaceable scent cartridges – each with its own unique decoration and artwork. Using a hologram effect, the reusable dispenser reflects the cartridge artwork toward the base, creating a more engaging and fun experience without creating excess waste.
Li credits Eastman's partnership for not only learning about design research but gaining significant insights into consumer purchasing habits and desires. "Our designs may look good to our peers and mentors, but with the help of people in different fields we can escape our bubble and better understand real industry issues."
Check Out the Student Work:
Keagan Vargo, a graduate student in industrial design, came up with a container that houses a two-part vitamin C serum. In one chamber, a custom base serum is housed. In the other, pure vitamin C is stored to maintain freshness.
"Designing within the cosmetic space was new to me," said Vargo. "It took me some time to feel comfortable with this type of market, but it was a good exercise to see how I could create a truly unique product. This studio was a great opportunity to highlight that sustainable and refillable packaging doesn't have to mean a dull user experience."
The partners from Eastman have also recently supported other projects at the College of Design, such as improved compostable food packaging and consumer appliances made from at least 50% recyclable material. Throughout the course of the multi-studio collaboration, Eastman team members have found themselves inspired and energized by the students' curiosity for human-centered design.
"I think everyone who visits the studios is consistently impressed with the work the students do," reflects Mason. "We see their storyboards and prototypes then we're ready to go out and buy the product that day. Unfortunately, they aren't for sale… Yet."