Giving
Early Champions for the New Design Center at 111 Lampe Drive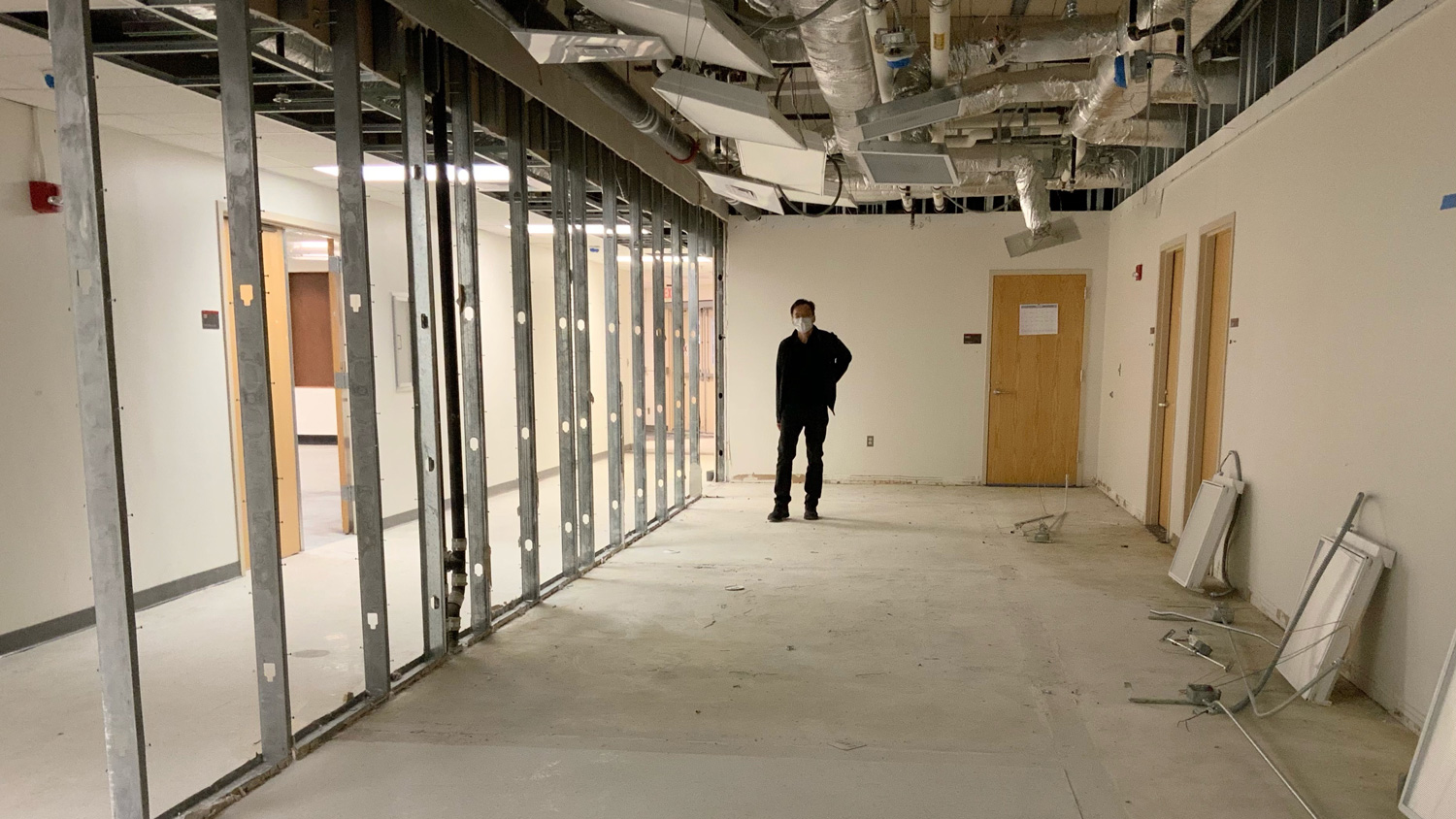 As renovations for the Design Center at 111 Lampe Drive continue to progress, students are preparing to utilize the blank spaces for fall 2021. But there's still a lot of work to be done before the space can move from functional to transformative, and fundraising over $650,000 for Phase Two is a high priority.
A key aspect of this renovation is creating collaborative studio spaces that can support the numerous studio partnerships with companies such as Coca-Cola, Caterpillar, IBM, Lenovo, Eastman, BD Medical, Bosch Home Appliances, Under Armour, Lowe's, and many more.
One of those companies, Eastman, pledged a major gift to become the first partner to name a space in the new facility. Eastman, a global specialty materials company that produces a broad range of products found in items people use every day, strives to work with strategic partners like the College of Design to help bring solutions to real-world challenges.
The company has maintained a collaborative relationship with NC State since 2012, signing a $10 million Master Research Agreement to conduct research in chemistry, materials sciences, and other scientific disciplines.
The Industrial Design program has been partnering with Eastman since 2013, supporting four studio classes in 2013 and six more courses since then. Design students work hand-in-hand with Eastman scientists, engineers, and business development experts to explore new applications of various materials, discover new ways to enhance customer experience interacting with these materials, and create design concepts that could lead to future business opportunities.
In Spring 2020, Eastman worked with a team of Industrial Design undergraduate and graduate students to create a series of food packaging solutions using Eastman biodegradable materials . Eastman is planning to introduce some of these student designs to the industry.
"It was especially important to us when choosing a space to carry the Eastman name, that it be a studio space" says Dawn Mason, Global External Innovation Manager at Eastman. "We've had collaborative relationships with the College of Design for years. Having that opportunity and a space for students to work directly with us has been hugely beneficial" she adds.
As work continues on the space, faculty are especially excited to see how the renovations continue to evolve. Over 57% of industrial design faculty have personally contributed their own funds to support this capital project, and they are eager to see Phase Two renovations begin.
Invest in the Capital Project
If you are interested in named spaces and other special giving opportunities within the Design Center at 111 Lampe Drive, please contact Jill Orr, executive director of development at the College of Design. Jill can be reached via email at jhorr2@ncsu.edu.
Support a new home for Industrial Design