Former Durham Mayor Bill Bell Wins 2020 Designlife Award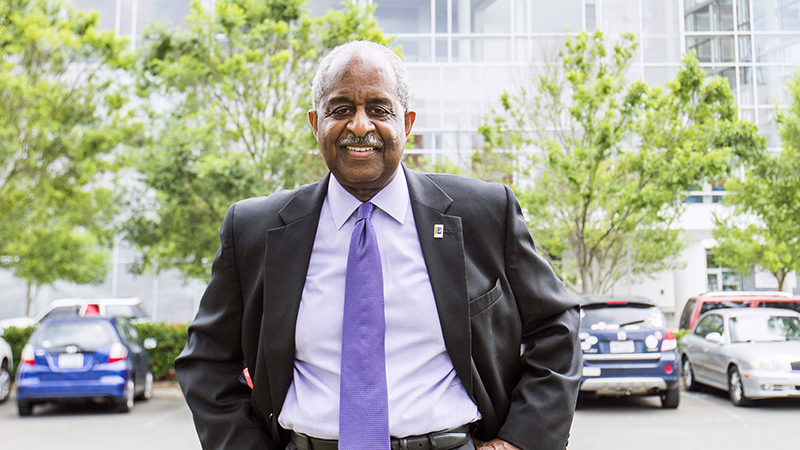 Eight-time Durham Mayor William V. "Bill" Bell will be honored for his design legacy at the 23rd annual Designlife gala for leading the transformation of the city of Durham from a fading tobacco town into a thriving cultural community.
"Whenever I receive awards such as this, I can't help but think that while you are honoring me, you are also honoring the City of Durham," said Bill. "I'm so honored to accept that recognition on behalf of the citizens of Durham and have been proud to be afforded the opportunity by the citizens and voters of Durham to be put into a position to affect the city's growth in such a way."
The Designlife Award celebrates the role of design and the arts in improving lives in the community. The college established the award in 1998 to celebrate the vitality of the design community and design education. The award honors a significant contribution that individuals have made to design in the southeastern United States.
A former senior electrical engineer (retired 1996) at IBM; Bill was first elected to the Durham County Board of Commissioners in 1972. He served for 26 years (1972 – 1994; 1996 – 2000 and as Chairman 1982 – 1994). He was first elected mayor of Durham in 2001 and stepped down in 2017, having served as Durham's longest-serving mayor. During his time in office, he oversaw the revitalization of the city, with over $1.7 billion in public and private investment. Projects include such notable landmarks as the American Tobacco Campus and the Durham Performing Arts Center, as well as the restoration of old buildings into apartments and a surge in new restaurants.
"Probably the most difficult piece was the revitalization of the inner-city neighborhoods" he added. Bill has worked on a couple of similar projects, where he strove to keep the existing residents from relocation. "Whenever we go into projects such as this, we try and develop them as mixed-use neighborhoods to keep affordable housing for the residents and develop a community with good curbside appeal. My whole life I've believed that the government should do what it does best and when it can't, where possible, they should bring in the people who do know best, to complement and sometimes supplement the work of government."
"The Designlife Award truly embodies what it means to be a designer" added Mark Hoversten, Dean of the College of Design. "Part of good design involves understanding the ways in which design affects individuals and communities. We've chosen to honor Bill Bell with this award, even though he is not a traditional designer, because he has worked hard to improve our communities. He has striven to make the places where people live and work better, and that spirit reflects this award."