Exploring Connection through Paper Form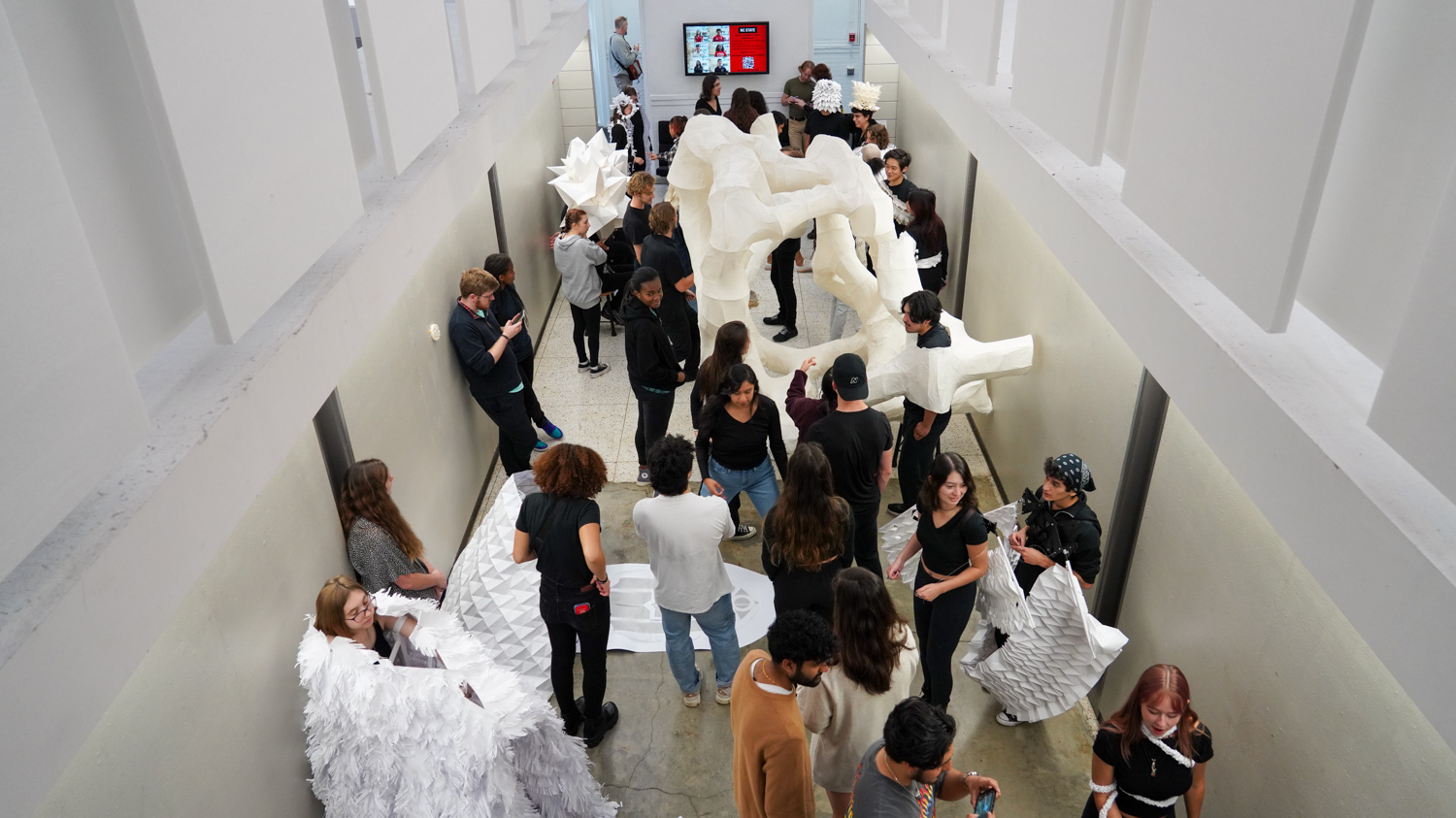 This year's First Year Experience Paper project was all about connection – the connections we make with others, with our surroundings, and with ourselves. First-year students in the College of Design were tasked with creating a wearable or inhabitable structure that examines how we relate to one another. Pieces created by the students were meant to raise awareness of interpersonal relationships in new and nuanced ways, and were primarily constructed using paper or fiber with minimal fasteners, adhesives or support.
We interviewed a few of the students about their designs and explored what connection meant to them. You can see a display of the projects in the Brooks Hall Gallery.
Lina Pettaris + Nimet Karatas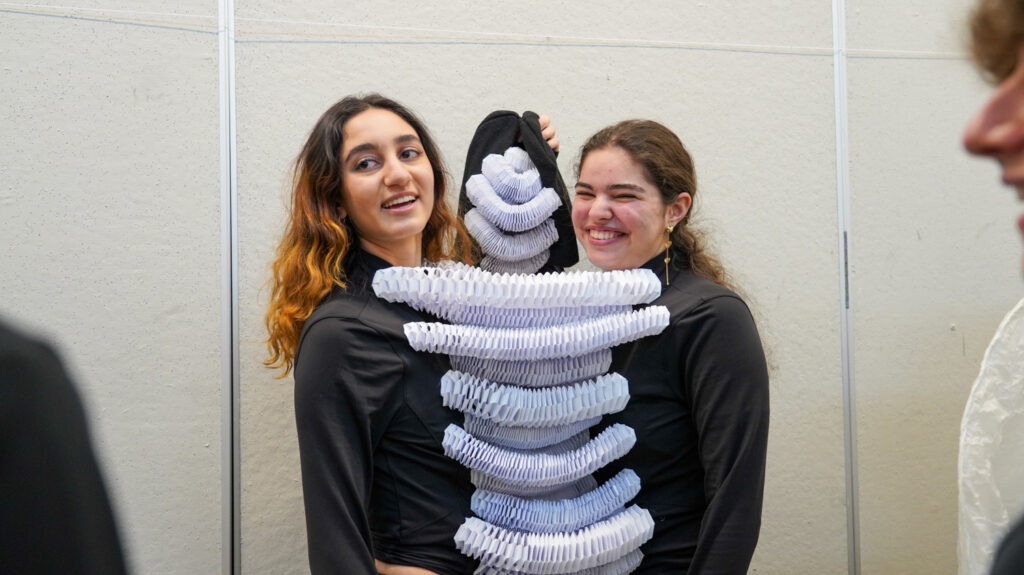 "Our project started out as exploring the fact that we both come from cultures that don't exactly get along – Lena is Turkish and I'm Greek. We wanted to explore the connections between these two groups of people and how individual choices can affect the greater connection – when you move as an individual, you have a butterfly effect on the other person."
Kaitlyn Hall and Luciana Kraus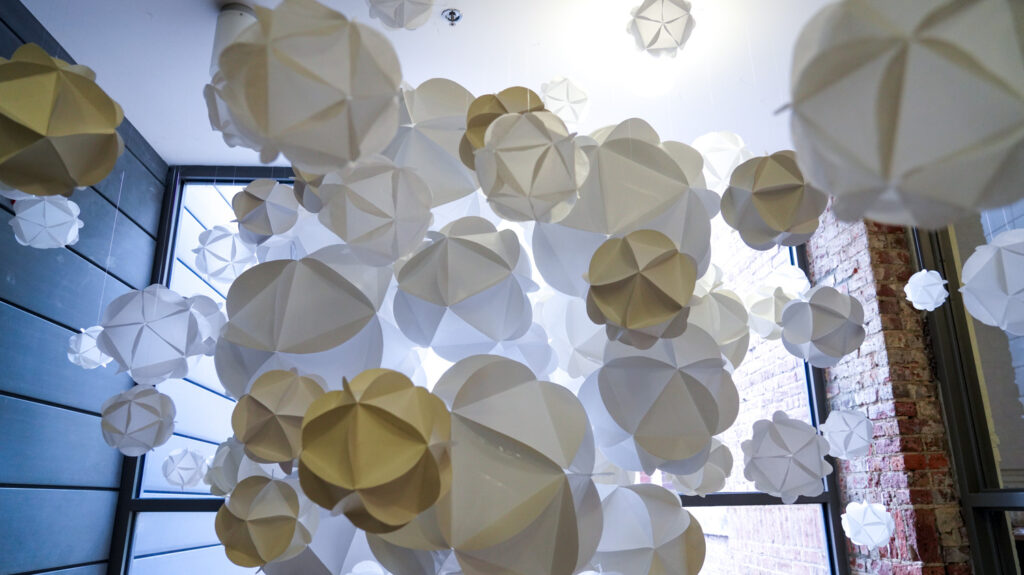 "Our project is inspired by the Buddhist law of impermanence. The idea and concept that all things must begin to evolve and then cease to exist. We wanted to illustrate this idea physically by creating interpretive spheres that vary in sizes, opacity and distance from one another, to hopefully get across the idea of the temporal and fleeting nature of memories, connections, relationships and overall, existence itself. You go in the middle and look at the world and as you emerge from the installation, your memory of it dissipates and dissolves, symbolic of those memories you leave behind as you get older."
Javier Martinez-Tejeda + Jefferson McAllister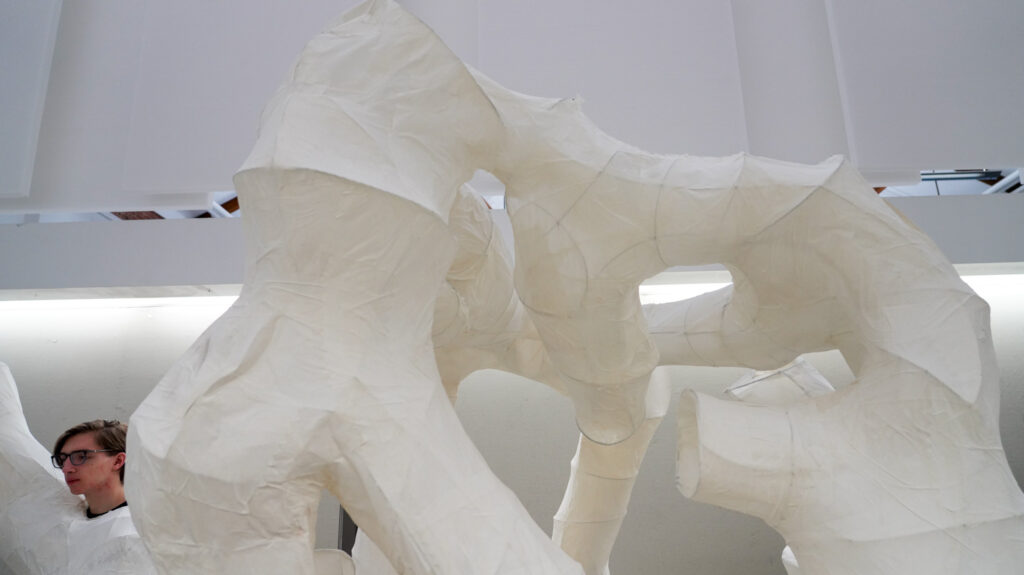 "Whenever you enter a room, you see there are already social groups that have been formed already. You almost feel like an outsider, an observer, and you don't see a place for yourself within that social group. We made this project to visualize and play on that perspective. When I look at my partner, it looks like he is part of the group, and when he looks at me, he sees the same thing. But from the audience's perspective, they see that there are so many connections to be formed."
Ashley Skarbek and Juliet Heller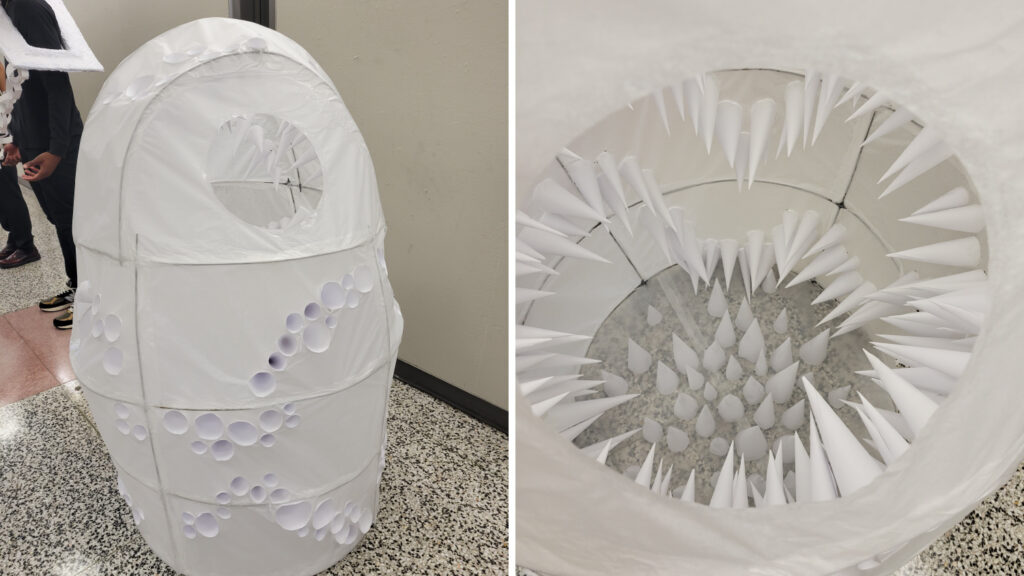 "Our project is about trust and deception when forming relationships with people – the outside is more comfortable and inviting, but when you look through the holes to the inside, you see that it's not exactly what you thought it would be. And then you see it's more deceiving and not as trustworthy as you thought someone was."
See other student projects:
This post was originally published in College of Design Blog.