Art2Wear: A Tradition of Showcasing Wearable Art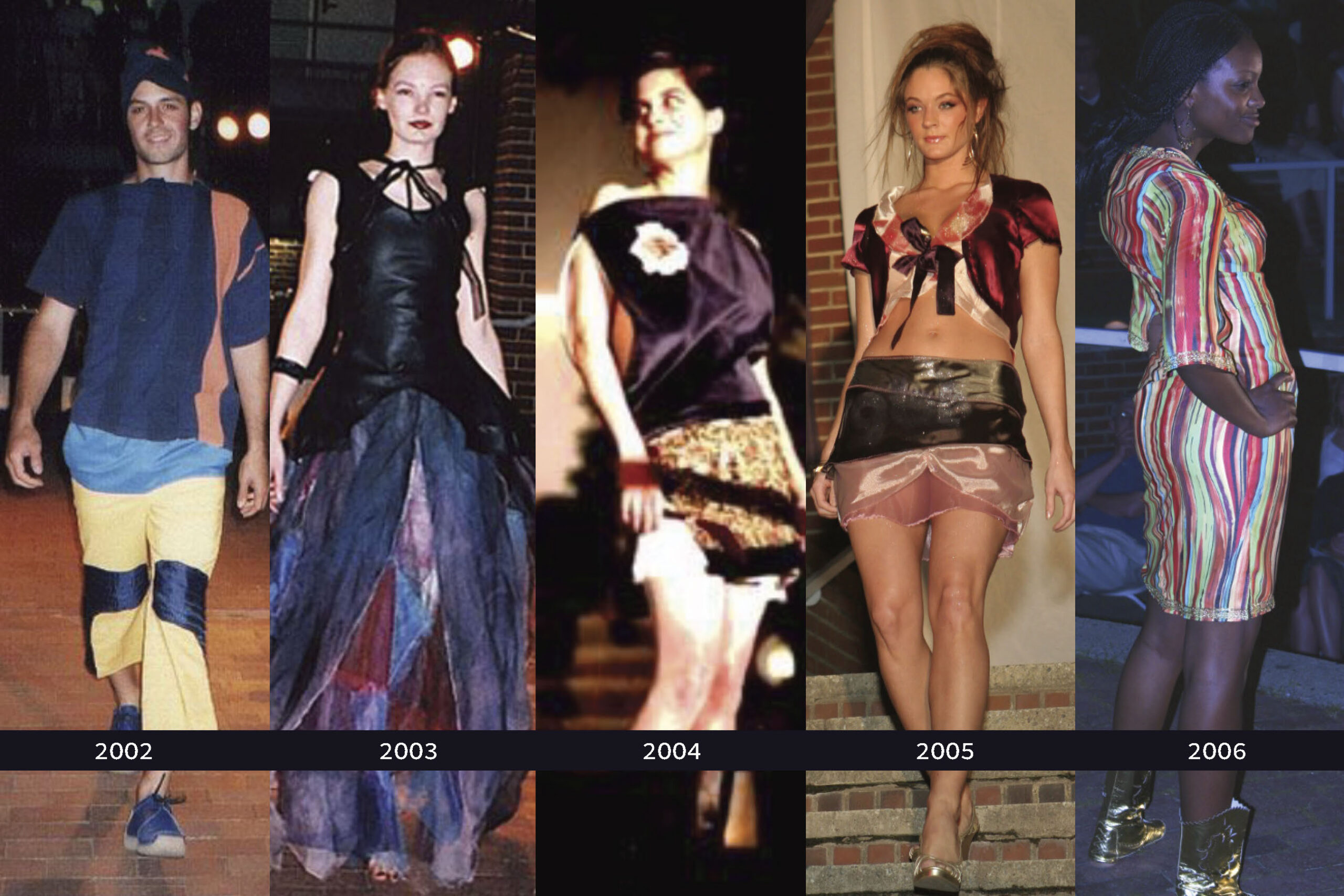 Art2Wear — one of the largest student-run productions of its kind in the Southeast — has become a highly anticipated annual wearable art showcase. But the first one was a small, grassroots production. 
It started in a fibers and surface design studio in 2002, where Vita Plume — then an assistant professor of art + design, who retired as an associate professor in 2012 — taught textile techniques such as weaving, knitting and dyeing cloth.
"Fibers and surface design is about making the cloth, and then maybe dyeing the cloth. Then it's up to the students to do with the cloth what they wish — they might make an art piece or make something to wear," said Plume.
Kate Fuqua (née Crawford), a then-senior in the class who now works as the vice president of design at Coach, opted to turn her cloth into garments inspired by the Nutcracker ballet.
"I had always had a strong interest in fashion and accessories, and I started independently taking some of the textiles we were creating and turning them into garments using whatever technique we had been studying at the time," said Fuqua.
Plume noticed that Fuqua was presenting two to three complete outfits at each critique. Other students were also creating wearable pieces.
Inspired by the students' experimentation with wearable art, Plume challenged them to put on a broader presentation. Fuqua collaborated with five of her classmates to pull together a show at the Kamphoefner lower courtyard, commonly known as the Pit.
The students pitched in $25 each to cover the costs of the production and recruited their friends to model their designs. The Pit served as a natural stage, with the blooming white azaleas around it providing natural decor. The students added paper bags with tea lights and white Christmas lights that Fuqua's mother loaned to them. They borrowed chairs from around the College of Design and set them up in the courtyard. Student Brannan Hackney's father provided music equipment and served as the DJ. The students invited family and friends and put up flyers around campus to publicize the event.
On the evening of May 3, 2002, the six students presented their designs in front of a crowd of 250 people. To introduce each collection, a student walked across the stage wearing a placard bearing its name and the name of the designer.
"It taught us all a whole lot about running a production, as well as pulling together a collection," said Fuqua. "Turning a vision, a sketch, into a 3D object that can be worn was a new skill set for me. It helped me understand fit and how to think in dimension."
Presenting their work in front of a wider audience raised the stakes and the students' expectations of themselves.
"Suddenly, they had to learn to describe their theme very succinctly in writing, because it was going to be announced to an audience," said Plume. "So the stakes skyrocketed, and everything improved — their writing skills, their making skills, their presentation skills."
Explore some of the looks throughout the years:
Over the years, Art2Wear has expanded and evolved. It has switched venues — from the Pit to the Court of North Carolina to Reynolds Coliseum and finally to its current location, Stewart Theatre — and morphed into a full studio course. Recently, the event has shifted from a traditional runway-style fashion show to an immersive and technologically cutting-edge experience that pushes the boundaries of what "wearable" means.
Art2Wear continues to transform, but the core idea at the heart of the event remains the same: broadening the imaginations of young designers.
"I could have easily done design work on paper and not been encouraged to turn it into a finalized product or push it to an actual production," Fuqua said. "But through Art2Wear, the teachers in the College of Design encouraged me to take it to the absolute limits of what I could explore."
Explore the history
Learn more about the history of Art2Wear from this 2012 video:
_______________________
Read other stories from our 75th anniversary.
This post was originally published in College of Design Blog.