Research + Innovation
Turning the Tide
Gavin Smith works with communities, states, and nations before and after disasters to help them reduce the negative effects of natural hazards, disasters, and a changing climate through improved planning, policy, and design-based options.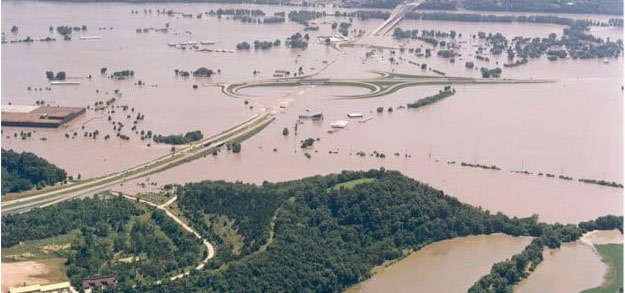 What can be done to reduce the negative effects of disasters and to reduce the likelihood of future disasters occurring in the first place? Hazard mitigation involves taking actions to reduce the vulnerability of communities to the damaging effects of natural hazards and disasters. One increasingly common approach being undertaken by communities is to participate in the acquisition and demolition (i.e., buyout) of their hazard-prone homes.
Once acquired, the land is maintained as open space, thereby reducing future hazard-related losses. While among the most effective risk reduction techniques, less attention has been placed on what to do with the resulting open space. Gavin Smith, professor of landscape architecture and environmental planning, is assisting local jurisdictions, states, and national governments in addressing this vexing issue. 
However, many communities lack the guidance needed to successfully develop open-land management strategies. "There is a lack of funding or technical assistance to support the development and implementation of an open space management strategy, which has proved challenging for many communities with less financial, technical, and administrative capacity," says Smith.
To help communities create and maintain successful open-land management strategies, Smith and his team have developed an open space management guide. "The guide we have developed helps address that challenge, providing communities with a broader set of resources and techniques drawn from landscape architecture, land use planning, and public policy to provide these communities with the tools they need to develop assets that align with their recreation, economic development, environmental stewardship, hazard risk reduction, and other goals," he adds.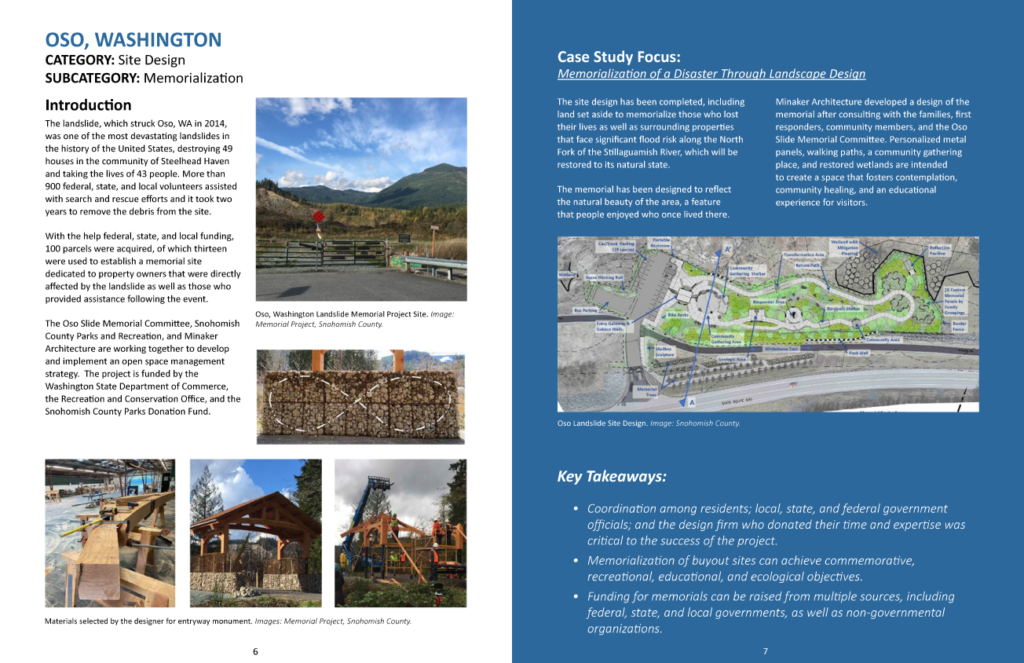 Abigail Black, a recent graduate of the Master of Landscape Architecture program and recipient of the Graduate Certificate in Disaster Resilient Policy, Engineering, and Design led by Smith worked on the final guide. "Before working on this project, I had minimal background in the world of hazard mitigation and emergency management," she said. "One of the challenges with this project was to create a document that is information-dense but visually accessible." Along with several other students, she developed a series of case studies, call-out boxes, checklists, tips, matrices, and graphics that help to convey key messages and information associated with buyouts and open space management.
Throughout the guide, Smith emphasizes the importance of working in interdisciplinary teams to move this complex work forward and includes a list of potential members to serve in these roles, whether it is local government, state or federal agencies, community groups, non-profits, individuals or universities. 
The guide also suggests that policy changes are needed to include providing funds and technical assistance to help address planning, site design, implementation, and maintenance of open space while reducing the complexity of the buyout process as a whole. "Local communities need more support, and there are a variety of methods outlined in the guide to help them identify the resources needed to achieve the best practices identified throughout the guide."."
For more information on this project, the Open Space Management Guide can be accessed at (14) (PDF) OPEN SPACE MANAGEMENT GUIDE Building Community Capacity to Program FEMA-Funded Housing Buyout Land (researchgate.net).