Students Redesign Exterior of Wood Hall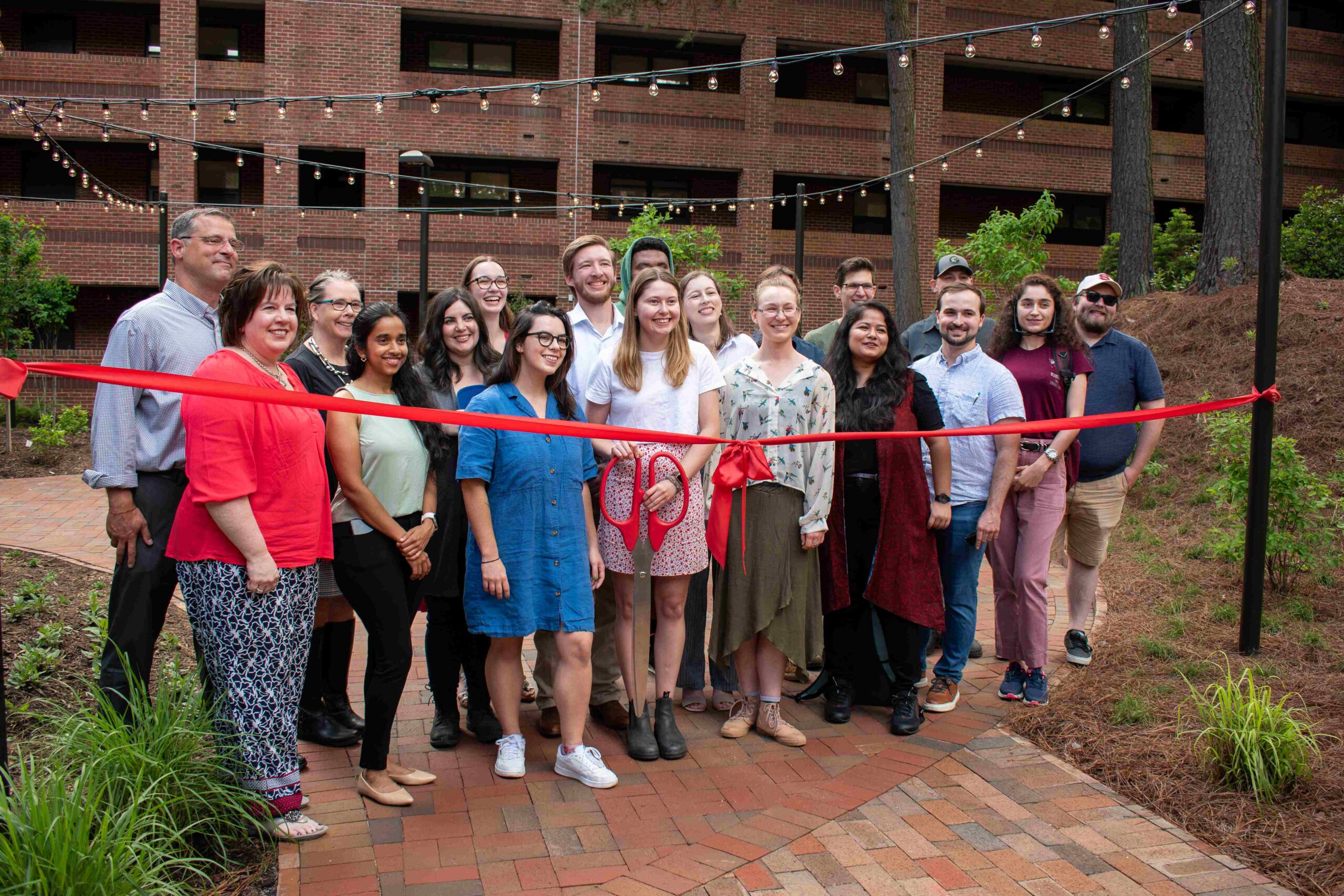 In a ceremony held Friday, April 28, the Landscape Architecture Design + Build Studio (LAR 506) class officially cut the ribbon on a renovated outdoor area for Wood residence hall. The project is just the first phase of a multi-year plan to transform this central outdoor area of Wood Hall. 
The Design + Build course in the Department of Landscape Architecture and Environmental Planning is an applied, hands-on experience available to College of Design students that has been offered in the department since 2010. Students in the course must conduct research, perform site analysis, pitch ideas to clients, ideate solutions and construct a final product within a set budget and time frame. The course is led by Associate Professor Carla Delcambre, ASLA, PLA and Assistant Professor of Practice Jesse Turner, ASLA, PLA.
The Design + Build course has redesigned multiple areas of campus including the outdoor area of Lee Hall, Syme Hall and the Artists' Backyard between Turlington and Owen residence halls. Each project has a focus on promoting plant biodiversity on campus by using pollinators and rain gardens.
Spring 2023 Design
This year's Design + Build students were tasked with redesigning the outdoor space central to Wood residence hall with community use in mind. Before the redesign, this space consisted mainly of a walkway, bike parking, a few sparse plantings and a swing set.  
Wood Hall residents were surveyed by the Design + Build students for feedback on the current area and what benefits the new design could bring. Survey results revealed that students wanted more small group gathering spaces, study areas and swing sets while still maintaining the natural feel of Wood Hall.
After much deliberation with students and campus partners, the Design + Build team set to creating various design options, pitching their ideas and bringing elements together to create one cohesive design for execution. The building process began in March at the Wood Hall site and in the College of Design Materials Lab in Leazar Hall.
Students spent many class sessions in the Materials Lab creating the tables, light poles and swings that now populate the Wood Hall area. For many students, this was their first time using a shovel, let alone a MIG welder, hydraulic band saw, angle grinder, drill press and many other construction tools.
The students also designed the new area with sustainability in mind. The class is pursuing SITES certification, an industry standard for sustainable landscape development, for the Wood Hall area. To achieve this, students documented and managed stormwater management, reused material from the existing site, chose pollinator-friendly native plants and used sustainably-sourced materials. One example of this sustainable focus was the compost mixed in with the stalite soil cover. The compost was created at the NC State Waste Reduction and Recycling Cente and utilized pizza boxes, paper towels, dining facility food and tree trimmings found in campus compost. 
The mission of the Design + Build studio is to provide a learning laboratory where students are encouraged to design interventions that build the NC State community, engage students in hands-on-learning and promote sustainability. During the design process, the students wanted to specify a sustainble wood for the tables. They selected to use Kebony wood, a more sustainable option compared to the typical exotic hardwood.
After overcoming many on-site challenges involving existing site utilities, string light configuration and more, the students were able to present on their process and reveal the final design to students and campus partners on April 28. While answering questions about the process, many Design + Build students noted how being involved in every stage of the process helped them to become more adaptable and confident in working in the practice after graduation.
"The construction process had challenges on a different level; even a difference of ⅛" might mean an extra day of work. So the learning curve was steep, but I am much more confident about this process than I was at the start of this semester," recounted Iffat Salwa Nova, a Landscape Architecture graduate and Design + Build student. 

Looking Forward
The next cohort of LAR 506 students will continue to innovate and execute the established plan for improvements to Wood Hall.
The students are currently collecting data on how the site is being used. Students can fill out a Qualtrics survey here: https://ncsu.qualtrics.com/jfe/form/SV_eJTfOHAHAyiX7f0?Q_CHL=qr
This post was originally published in DASA.