2023 Winners of the Designlife Award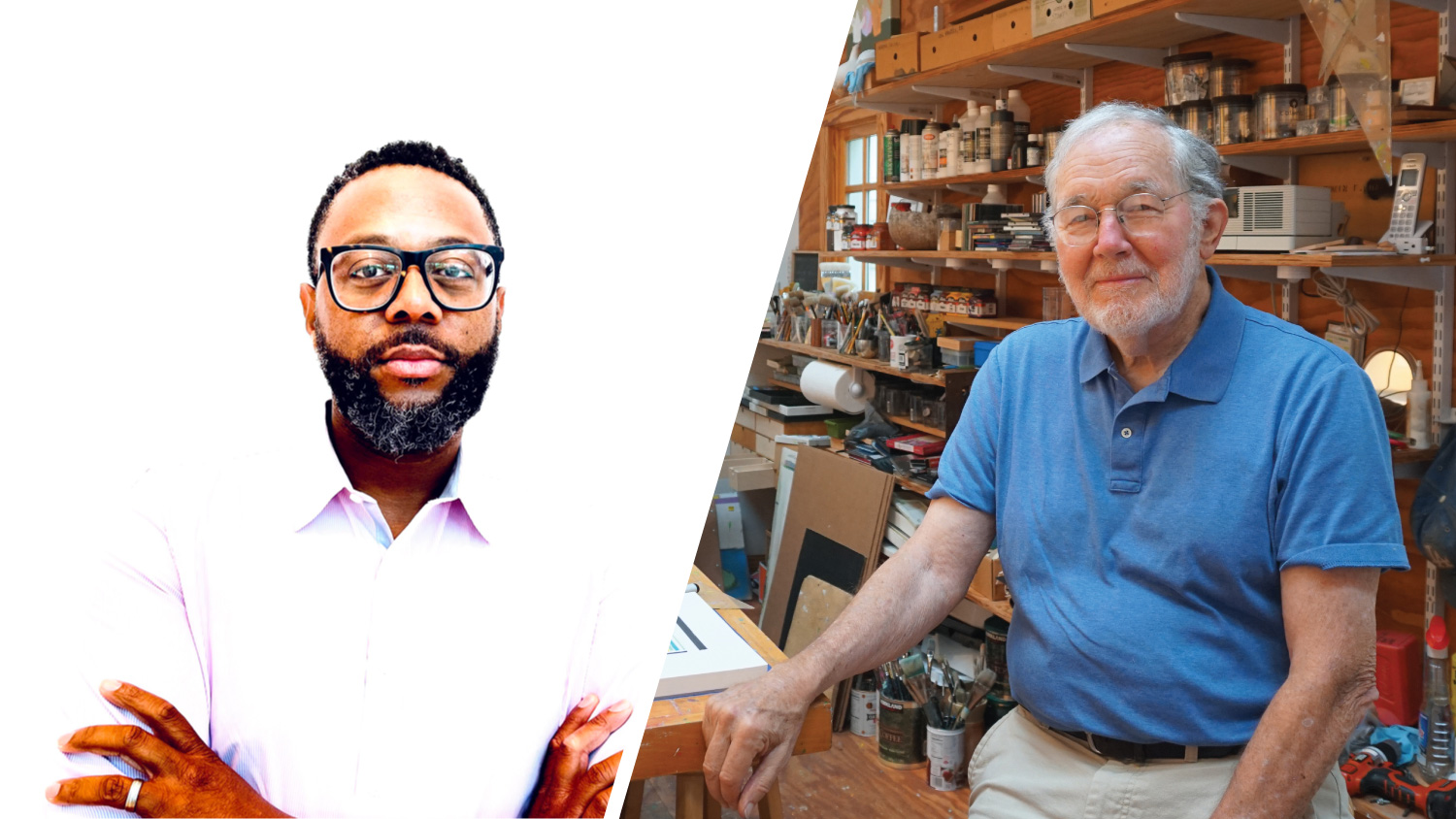 As the college enters a milestone year, the Designlife Gala and presentation of the Designlife award will return. Two individuals will be recognized for their unique contributions to the profession. Edwin F. "Abie" Harris [B.Arch. '57], artist and former university architect for NC State, and J. Stacy Utley [BEDA '01, B.Arch. '06], public artist and educator, embody significant contributions to the College of Design, their respective professions, and the design profession.
To celebrate the college's 75th anniversary, the College of Design chose to award two significant Designlife awards – one to signify a lifetime of achievement, and one to honor an emerging professional. Both awardees are alumni of the college, which had a formative impact on their career trajectories.
Harris and Utley will be recognized at this year's Designlife Gala on April 22, 2023 at JC Raulston Arboretum. For this special anniversary year, tickets will be just $75. For more information and to purchase tickets, please visit https://design.ncsu.edu/giving/designlife-gala/.
Edwin F. "Abie" Harris, Jr., FAIA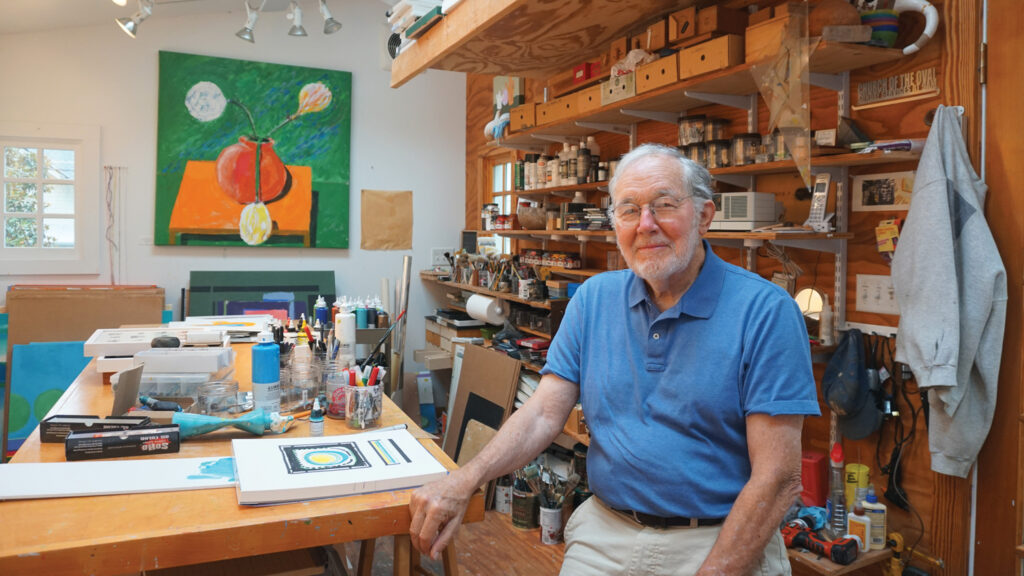 Edwin F. "Abie" Harris, Jr. is among the wave of first graduates, earning a Bachelor of Architecture in 1957 under the deanship of Henry Kamphoefner. He wanted to be an architect from an early age and heard about the School of Design from a close friend, who told him about the projects he was assigned. Those projects sounded exciting to Harris and even though he had never visited the campus, he knew it was the place for him.
Chancellor John T. Caldwell charged Kamphoefner with an initiative to improve the architecture on campus. Kamphoefner recommended two candidates to the campus planning director: "He could have picked superstar Harwell Hamilton Harris, or a novice Harris, and he chose the latter," Harris jokes. So, in 1966, he started as an architect in the planning office, splitting his time with teaching in the School of Design. Following the 1968 publication of a comprehensive analysis of the campus, he became the university architect in 1970.
In 1975, he authored the Campus Master Plan, which won an NC AIA Honor Award. He was heavily involved in the planning for Centennial Campus after the university inherited the land in 1984, demonstrating the need for the land and proposing the initial concepts for land use. Ten years later, he led the creation of master plans for both campuses which elaborate the concept Harris calls "neighborhoods." Defined by walking distances, these neighborhoods contain the basics of university life: residences, classrooms, libraries, administrative services and food service. The neighborhoods are connected by landscaped paths and corridors throughout the university.
Under Harris' leadership more than 60 major buildings and additions totaling more than 3.5 million square feet were built. Design excellence was a focus throughout the implementation of both master plans.
"One of the things I'm proudest of is that we have preserved and created the landscaped open spaces and courtyards around the campus, which are the chassis that the campus is built on," Harris says. "And I think that planning has persisted today – using inter-related campus nodes/neighborhoods to define areas of academic life."
His touch continues to be seen across both campuses of NC State. Centennial Campus emerged as an exemplary model of a mixed-use academic and research campus, and the concept of campus neighborhoods persists to this day.
Following his retirement from NC State, Harris provided campus master planning services for the Penland School of Craft, Wake Forest University, Salem Academy, Guilford College, NC Biotechnology Center, and Forsyth County Park-Tanglewood Park. He also increased the painting and drawing done throughout his career, holding numerous shows of his work, which focuses on music and landscapes.
Many of his architectural drawings can be found in the DH Hill Library's Special Collections. He and his wife Susan Arrendell have a scholarship endowment aimed at encouraging diversity that benefits undergraduate architecture students with demonstrated need.
Harris scans the list of previous recipients, "Frank Harmon, Steve Schuster, Ann Goodnight, Lawrence Wheeler, Thomas Sayre – I'm in real good company!"
Notable Awards and Achievements:
Paris Prize in Architecture, 1958
Second place winner in Mastic Tile national school design competition, 1960
Grand Prize Winner, University of Miami International Campus Master Plan Competition, 1986
AIA Fellow for significant achievement in Government and Urban Design, 1987
NC State College of Design Distinguished Alumnus, 1991 (first recipient)
Frank B. Turner Award, 1991
Phi Kappa Phi, 1999
NC AIA F. Carter Williams Gold Medal, 2014
NC State College of Design Wings on Wings Award
Exhibition, Gregg Museum: "Souvenirs: Drawings" with daughter A. Melissa Harris, 1986
Exhibition, Blowing Rock Art and History Museum: "Emergent Landscapes," 2022
Exhibits at Charlotte Russell Contemporary, Roundabout Art Collective, Brooks Hall, Elkin Library, Raleigh Municipal Building
J. Stacy Utley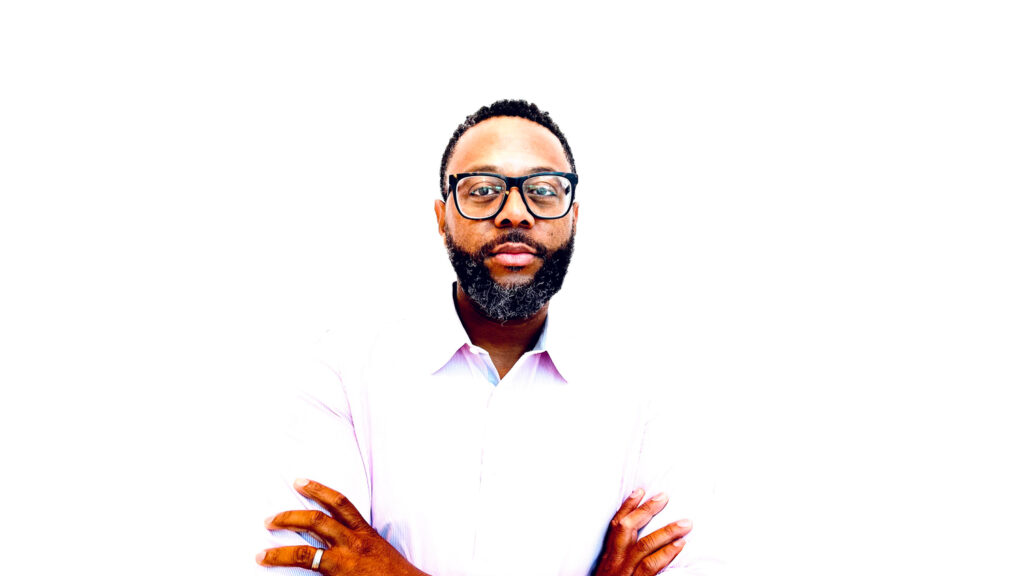 J. Stacy Utley is this year's recipient for the Innovative, Emerging Professional Designlife Award, which recognizes a trailblazer who is indicative of where the design profession is going.
Utley graduated from the College of Design in 2001 with his Bachelor of Environmental Design and 2006 with his Bachelor of Architecture. He later pursued his MFA In Studio Art, graduating from Lesley University in Cambridge Massachusetts in 2014. He is an accomplished artist, designer, and architect. Utley was first introduced to the College of Design through Design Camp, which he attended for two summers. There he met architect Phil Freelon, and credits Freelon as a friend and mentor who was influential in his attending the College of Design and pursuing both his art and studying architecture.
When Utley found out that he was the recipient of this award, Utley described it as surreal. "It took me a few days to process," he says. "I just feel this overwhelming sense of gratitude, and it has allowed me to reflect on my journey. Knowing that Phil was the recipient of this award before he passed means a lot and is a full circle moment in my career."
Utley worked for Freelon as a student intern through high school and college, and was hired full-time as a designer after graduation. He went on to work for international firms like RTKL Callison in Dallas, TX and Perkins and Will in Charlotte, NC, where he currently resides. While working at Perkins and Will, Utley began transitioning into education as an adjunct professor with the School of Architecture and Honors College at the University of North Carolina Charlotte. He now works as an educator for the IB Visual Arts Program and serves as a Class Dean of students at Charlotte Country Day School.
Utley currently is represented by the Elder Gallery of Contemporary Art in Charlotte. He has exhibited nationally and internationally. His work can be found in several distinguished public and private collections that include The Belk Foundation, The Center for Political Art in Washington, DC, and North Carolina State University. He has found the balance of merging art and architecture as a public artist. He has public works installed in Durham, NC and most recently, the "Excelsior" installed in Historic West End of Charlotte, which is a collaborative work with friend and fellow College of Design alumnus Edwin J. Harris [BEDA '04, B.Arch. '05] of Evoke Studio.
In fall 2022, Utley joined the Leaders Council for the College of Design. His reinvolvement with the college stems from him reflecting on the support he received as a student. He credits the support of Phil Freelon, former Dean Marvin Malecha, Bob Burns, Michael Pause and Marva Motley, former dean of student affairs. He is also grateful for the constant support and encouragement that he received from Ms. Stephanie Cotton, a housekeeper who cleaned Brooks Hall. Ms Cotton arrived at work one morning to find him in the studio after working all night and gave him $20 to get something to eat.
It was in this spirit of giving from Ms. Cotton and his grandmother that Utley and his family formed the Mary E Boddie Brown Architectural Supply Scholarship in the memory of his grandmother. "I remember knowing how much tuition, dorm fees and books cost, but not being completely aware of the cost of supplies or needing money to travel for a studio project site visit. I wanted to create an award that would allow students to focus on their creativity and the possibilities of their projects, not the cost of materials."
When asked what he has gained from the College of Design, Utley states that it is two things that come to mind. "It is the relationships that I have been able to build from college. From the chance to work with Phil, who would become a renowned architect, and the chance to collaborate with Edwin. Those relationships and friendships have supported and sustained my career as a creative." Utley went on to say that "the College of Design is like no other school for a creative. It has taught me how to be flexible, how to pivot not just in my career as a creative but in my life."
Notable Awards and Achievements
2017 Goodyear Arts Residency, Charlotte, NC
2018 Five Points Plaza Public Art, Charlotte, NC, Collaboration with Evoke Studio Architecture
2018 W Trade Street Public Art, Charlotte, NC, Collaboration with Evoke Studio Architecture
2021 Venice Biennale Architettura, 'A South Forty' Curated by Fay Jones School of Architecture, University of Arkansas. Collaborated Public Art Project with Evoke Studio Architecture
2021 Bolt of Inspiration Recipient, Creative Mornings/ Charlotte
2022 Art and Tech Grantee Recipient from the Knight Foundation