Student Experience
3D-Printed Ceramics Encompass Art, Technology and Tradition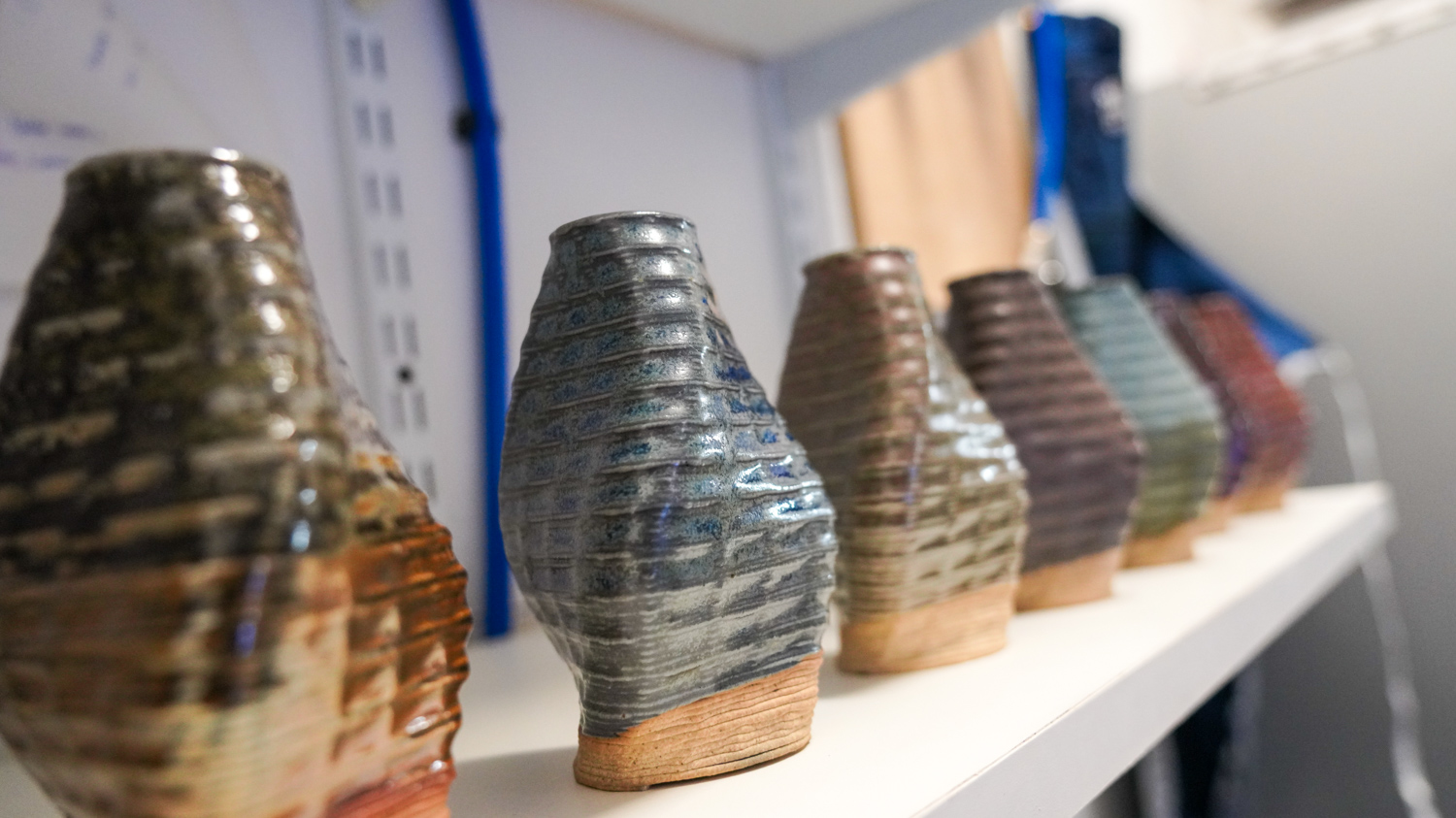 By Deborah Strange
The College of Design is buzzing with innovation as students and teachers alike discover new ways to mix creativity with technology. For one faculty member, that means taking clay craft to a new level by 3D printing ceramics.
Shawn Protz, assistant professor of architecture, digital technology, launched the studio course Architectural Ceramic Fabrication in fall 2021. The class combined art, technology and history: Students explored North Carolina's legacy in pottery and prepared local clay to go through a 3D printer. They also visited Seagrove, North Carolina, home to dozens of potters who've refined their craft in the state.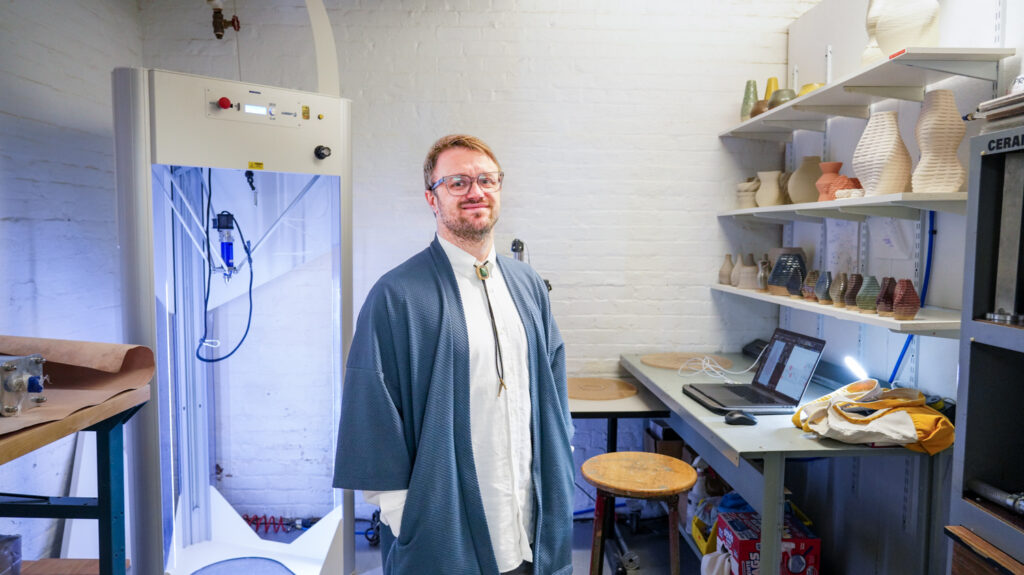 "We approached making printed 3D ceramics but in connection with North Carolina pottery and clay craft traditions," Protz said. "We kept in mind that, while we may be using digital tools, we were making something that has tactile qualities connected to material culture and place."
Throughout the semester, fifth-year student Yash Shah appreciated how all aspects in the course influenced one another.
"One of the best things about the class is that we did things responsibly," said Shah, who's graduating in May with a bachelor's degree in architecture. "We rooted our work in tradition and in history, and we saw how that fed back into this new, technology-driven process. There's a connection in everything we produced in the class."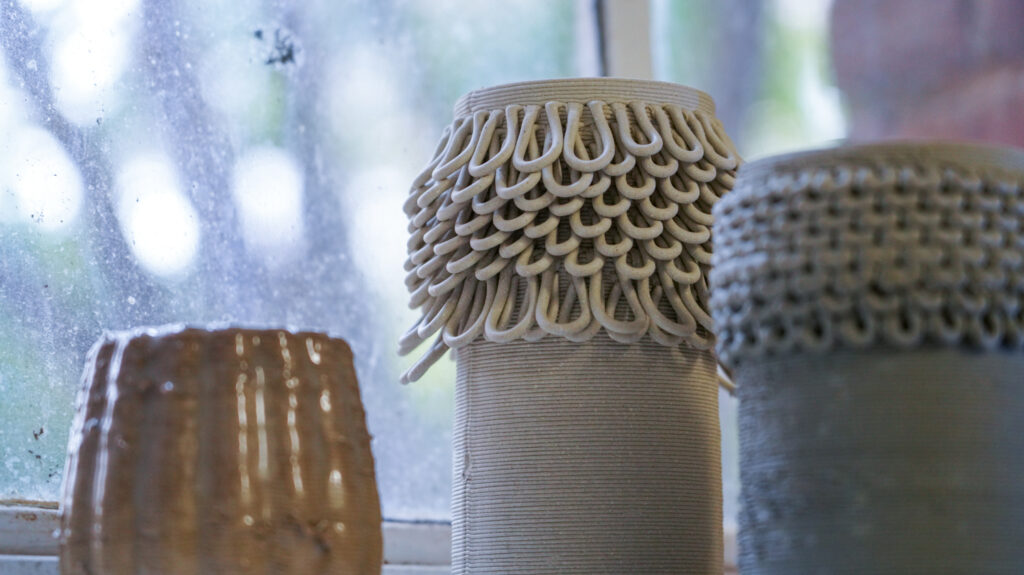 Plastic is often the go-to material for 3D printers, but Protz wanted to examine how the robotic precision of a printer could control clay. He developed a script that can create custom objects then break them down into code that the 3D printer reads. The class experimented with variables of the ceramics process, including the type of clay, its water content, firing temperature and glazes. Students printed vases and bowls as well as an architectural screen wall to install on campus.
"You can't defy gravity, and you can't defy what the clay wants to do, but you can add texture that's impossible to do by hand," Protz said. "That's not better or worse — it's just different. To do things in this process with such precision is pretty unique."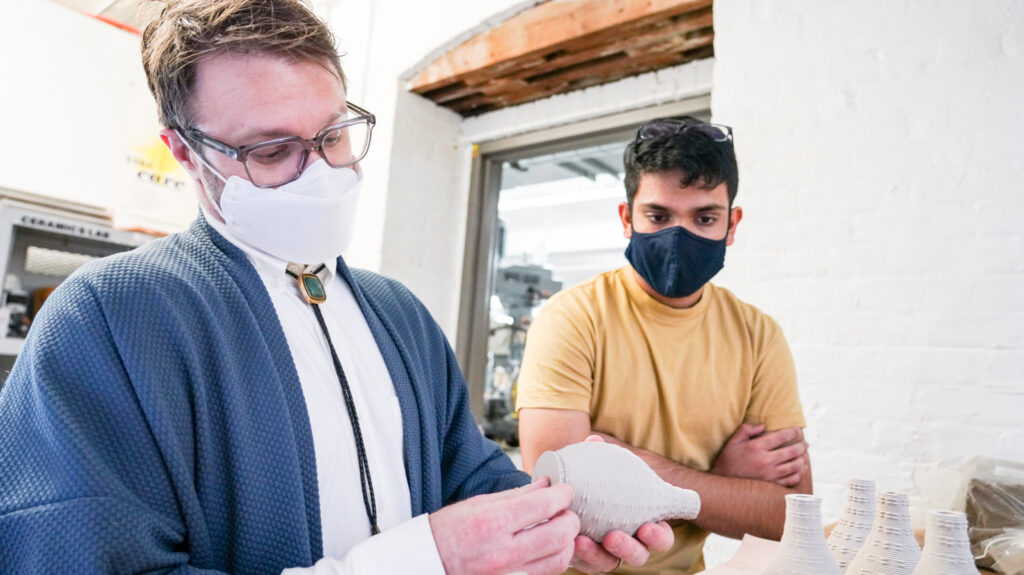 Before the course began, Shah worked with Protz to set up the machinery and test how well clays printed. He's interested in digital fabrication, and he enjoys combining logic and abstraction while creating something new. Experimenting with clay in the studio course was a perfect fit.
"It's fun because every time you do something, it's different," Shah said. "Every clay is different; every object you make is different. The process may be the same, but the end result is different."