Student Experience
Can You Teach Design From a Box? Design Lab Thinks So.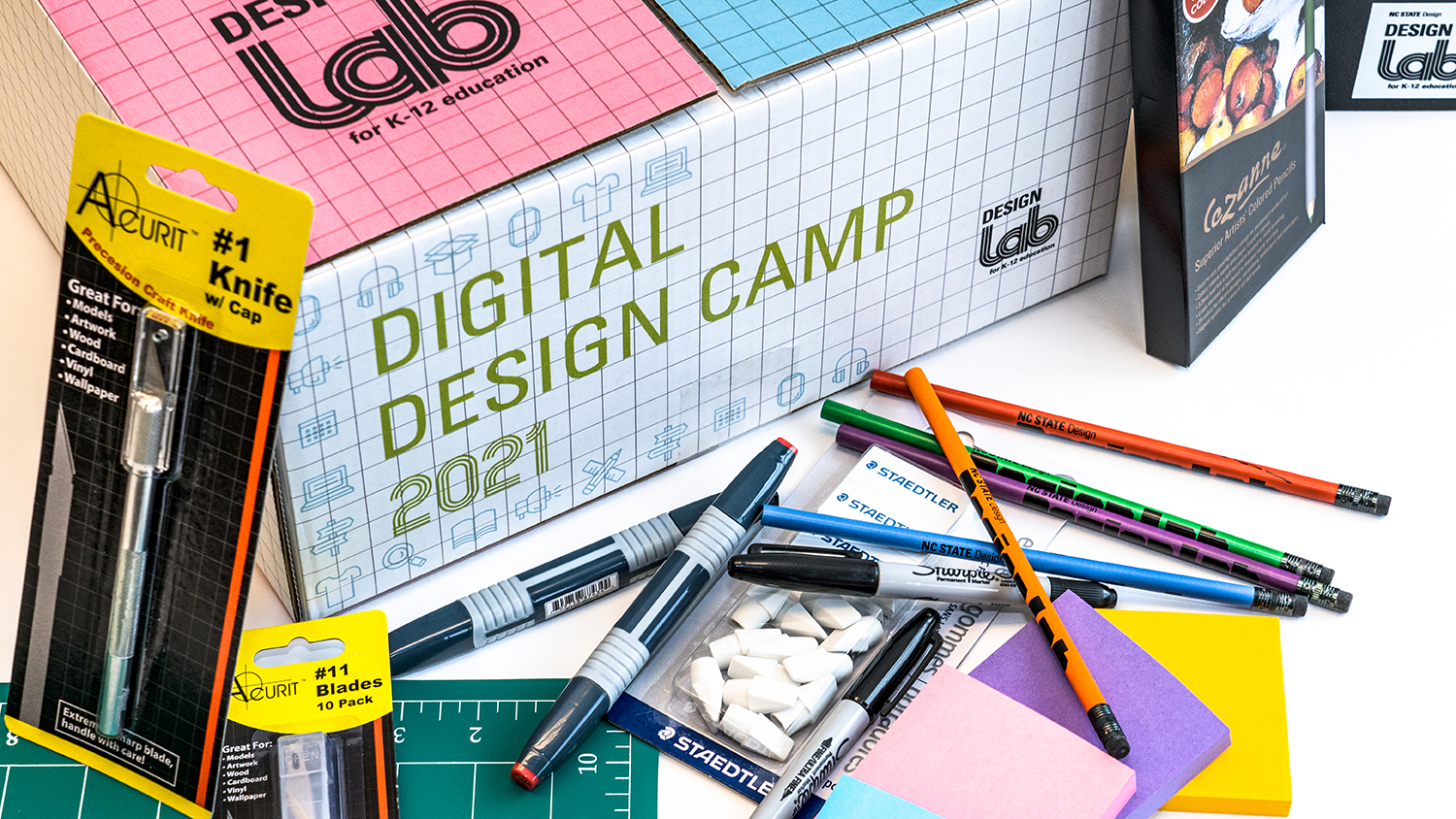 Note: this article originally appeared in the Spring 2021 issue of Designlife Magazine.
Last March, with signs of the COVID-19 pandemic worsening on the horizon, the Design Lab for K-12 education was in a holding pattern. They were well underway in planning for the summer's annual Design Camp, a tradition that's been happening at the college over the last 40 years. Staff read the writing on the wall, and following university guidelines, officially cancelled in-person camp in April. "It was a shock to our system," says Ashley Davis, Coordinator of Pre-College Programs for the Design Lab. "We had to figure out how best to pivot, and how to move forward."
But the opportunity to pivot gave the Design Lab time to consider its true mission, and how it could best serve the K-12 population. "We decided to create a digital design lab," adds Davis. "Once that idea took hold, we truly saw its appeal." Being able to reach a larger audience has been really great. It hasn't impacted our mission and goals, and, in fact, I think it has enhanced them. It's broadened our ability to do outreach, and it's something we will continue, even after the worst of the pandemic is over."
Planning for Summer 2021
"This summer, we're ready to tackle the challenge of making Design Camp come to life online," says Davis. Design Lab staff have been hard at work to create a "Camp in a box," to mail basic studio supplies to students." An obstacle to learning design online is having the necessary tools and sup-plies to be makers at home," adds Davis. In addition to studio supplies, students will also receive a "Design challenge grab bag" in their box. This grab bag will contain random supplies that will be used in a design challenge activity during the week of each program. Part of the challenge includes using the "Camp in a box" itself – the Design Lab staff added gridding to the outside of the box to make it reusable for the design challenge.
"Recreating that in-person experience can be tough," says Davis. "But we're working hard to make that a priority. Our student participants will still have the opportunity to do discipline-specific work, and they will be broken up into groups with dedicated who will guide students through virtual recreational and enrichment activities during the week and that'll be really great for students to still have that design camp feel."
The Design Lab plans to offer two Digital Design Camps this summer. One week of Design Foundations for middle school students and one week of Design Explorations for high school students. In addition, they will also be offering a Design Immersions program for rising juniors and seniors. This program will be an intensive, pre-college experience that introduces students to the fundamentals of design and the process of creating portfolio quality projects in a virtual studio environment. Participants will experience self-guided, summer-long assignments and two weeks of synchronous and asynchronous instruction to create one studio project preparing them for college study in design and beyond.
Working With What You've Got
A big part of the switch to online programming is realizing the limitations it puts on students for materials in their home environments. Faculty members and instructors have stepped up to the plate to identify creative projects for students to tackle with minimal materials on hand. "Our architecture studio instructor for our Weekend Workshops, for example, is asking students to download the free version of Sketchup, and will be working with the students to use paper and pencils to create rough sketches. That kind of flexibility with instructors has really helped the program pivot into a new format," Davis says.
At the end of the day, the staff in the Design Lab hopes to continue offering online programming even after it's safe to resume in-person programs. "It truly is a testament to the spirit of design that we haven't let a global pandemic negatively impact our mission, but rather allowed it to open up all new possibilities for our programming and outreach," states Davis."As all good designers do, we approached our design problem and considered our users, the context, our limitations, and our resources to come up with a solution so we can continue to deliver design education experiences to benefit the K-12 community and beyond."