Voting in the 21st Century with Mobile Blockchain Technology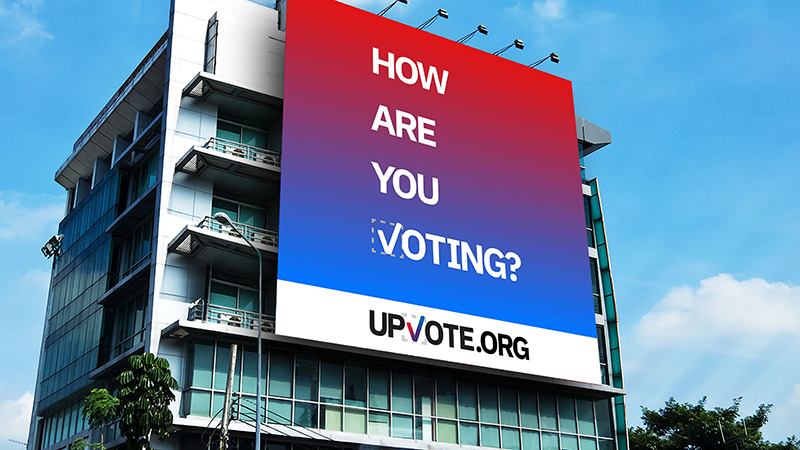 The voting process is a bit archaic. Standing in line during limited open hours, paper verification of your identity, and using an outdated voting machine are relics of a bygone era. Now, more than ever, there is a need to bring voting into the 21st century.
A trio of students in the College of Design are proposing to do just that. Students Camden Conekin, Palmer Fox and Kenneth Wical tackled voting using mobile blockchain technology as part of a project for their Graphic Design 301 studio.
UPVOTE, the mobile voting platform proposed by Conekin, Fox and Wical creates an integrated solution that allows voters to register, engage with candidates and see their campaign priorities, and participate in national, state and local elections – all from a smartphone.
Rethinking the Current System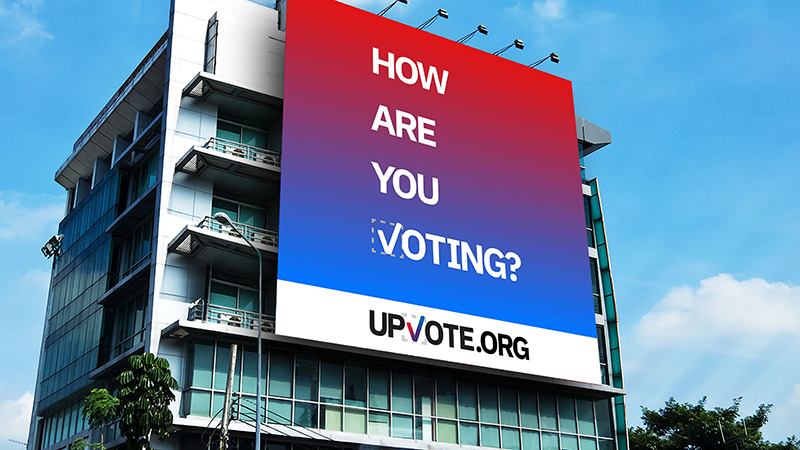 "There's a strange disparity in the way that every single system in our lives, with the exception of voting, has adopted technology to make that system more efficient, more user-friendly, and more powerful" said Kenneth Wical. "Why is the system for carrying out our biggest responsibility as citizens the only one that refuses to modernize? I see this as a challenge worthy of tackling both as a designer and as someone who cares deeply about political progress."
Each student brought their experiences with real-world clients and startup businesses to the table. Conekin is a graphic and industrial design student working on a technology, design and investment startup called Hummingbird. Fox is an architecture student who took the class as a swing studio, and is working on a startup called Barley – The Liquor Order Guide which helps Alcoholic Beverage Control boards to streamline their liquor order communications. Wical is a senior in the graphic design program who returned to the College of Design after taking five years off to work as a freelance graphic designer for local businesses.
"The voting process is really out-of-date" added Fox. "We're seeing some unfortunate trends in terms of voter turnout in different communities and demographic groups. The prompt for this project was really open-ended, and so we landed on a non-profit organization working with the government to simplify the voting process while putting an emphasis on social equity."
The final deliverable was a four-minute video and 60-page book that outlined the project from concept to completion, with a demo app to showcase how the user works through the process. Utilizing blockchain technology, a voter's participation is sent through their phone via a secure encryption method to a county level, then a state level, then it is tabulated as part of the national voter total.
"We're proposing that people use facial recognition to access the system. They would initially register with an authorized agency, like the post office, to get verified and become a mobile voter" Fox explained. This system of registering at a location convenient to users encourages voter participation for individuals who have trouble accessing the polls.
Bringing Mobile Voting to All
But the access to voting doesn't just extend to election day. The team envisioned an app that allows voters to interact with candidates leading up to the elections. Voters can submit questions to their candidates on important issues, and other users can "upvote" the question, bringing it to the candidate's attention. "So, if 10,000 people upvote a question, it gets pushed to the very top. And then if a candidate doesn't answer, it looks questionable. When they do answer the question, it has to be under 500 words, to make it easy enough for anyone to understand" Fox adds.
While the team isn't trying to replace the current voting system, they are trying to enhance it. Limited time for polling locations and access of voter materials in each language were identified as pain points in the process. "Instead of bringing people to the polls, when they might not have time, we're bringing the polls to them" Fox clarified. "There are a lot of barriers to entry, but the three main things we wanted to focus on were fairness, engagement, and empowerment, and that informed our process moving forward."
"Technology is a liberator in the Platonic sense. Blockchain-secured voting is just the beginning of what we'll see in the next decade" added Conekin. "The most important task to accomplish in this project this was designing an algorithm that would deliver information about candidates, elections, and campaign events in a non-partisan way so that users can better participate in their democracy. We look forward to representing NCSU as a part of the global design community at a time when opportunities like UPVOTE continue to come into reach through technology."