Lizabeth Wardzinski: The Love for Building with Purpose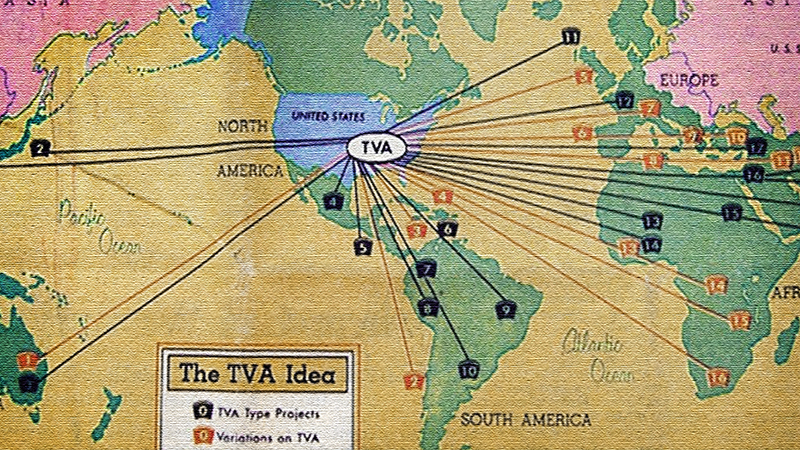 Lizabeth Wardzinski, a PhD candidate at the College of Design, has recently been awarded the Dumbarton Oaks Junior Fellowship in Urban Landscape Studies for the 2020-21 academic year.
The fellowship program is widely considered a leader in fostering research in the humanities and provides substantial financial and academic resources over the course of nine months so candidates can focus solely on their studies.
Building History
Wardzinski's dissertation, "A Model for the World: Tennessee Valley Authority and Postwar Development", dives into the cultural and societal influences on architecture during the 1930s to the 1950s.
"I like to think of myself as a historian whose medium is architecture and planning," says Wardzinski. "I find the sense of building with purpose, rather than building for aesthetic's sake, to be a revolutionary process of the 1930s that was demanded of the time."
Lizabeth's passion for that era is drawn from the sense of desperation and resiliency of the United States, and how society adapted to drastic changes due to events like the Great Depression and World War II. After studying the public housing projects of the 1930s while in graduate school at Iowa State, she became completely enamored with how architecture evolved during The New Deal and FDR. "It's very interesting the way that we as a country bought into this kind of greater good, and how that manifested itself as architecture and town planning."
Much of the influence on that planning stemmed from the Tennessee Valley Authority (TVA) and its involvement with education across the South. One significant example of this was the seed money the TVA invested in UNC's City and Regional Planning Department – the first of its kind in the South – and how that initiative spawned a movement in planning pedagogy.
However, it was during the process of digging through dust-covered documents in the basement of UNC's Planning Department that she realized a complete absence of conversations regarding race in the TVA's planning guidelines. Through pulling archived maps and creating her own demographic overlays, Lizabeth's research is also a gateway into telling the story of how the TVA's school of thought affected minority populations during the 1940s and 1950s.

A Rare Community
Before coming to the College of Design, Wardzinski was looking at a variety of programs across the Southeast. Unsure of whether to pursue a PhD at other universities offering American studies or architectural history, she found a unique place for her passions to call home through the College of Design's PhD in Design.
"It's such a rare program," says Wardzinski, reflecting on discovering the program. "[The PhD in Design] enables me to combine all of the things that I'm truly interested in. I never would have gotten that in a pure architectural history program, and I'm still able to bring in my interests in American studies."
It's not just the academic specialization that drew Lizabeth to the College of Design – it was also the research community. With a global population studying design through seven different research scopes, Lizabeth found a family of researchers that is both collaborative and welcoming.
"I feel like, especially in PhD programs, people get very protective of their work and it's nice to have a community where people actually want to share what they're doing and not feel like there's competition," says Lizabeth.
Throughout her time in the program, she has often found herself celebrating different cultural perspectives with her colleagues over large home-cooked meals and passionate conversations about research.
Bringing it Together
Even though she doesn't know exactly where she will end up once she finishes her dissertation, she does know two things for certain: she will never stop researching, and she is going to keep sharing her passion for history and architecture with future generations in the classroom.
"Just watching kids get excited about architecture reaffirms my love of architecture," reflects Lizabeth, who has also taught at Design Camp for three years. "When you fit those pieces together in people's minds about why architecture is changing, or the utility of the materials being used during a certain time – you can see the light bulbs go off."
Lizabeth will be studying at Dumbarton Oaks in Washington D.C. from September 2020 to May 2021. There, she will be focusing solely on research, writing and exchanging ideas with another group of passionate researchers.