Raleigh's Iconic Architecture: Past, Present and Future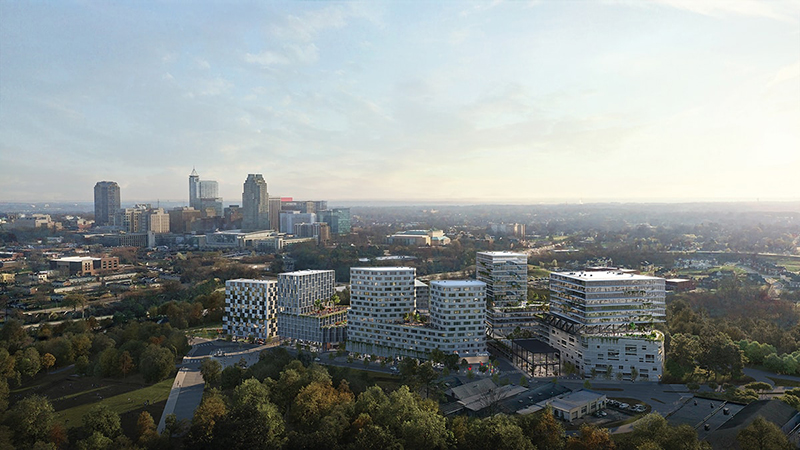 "These are the places that entice people," says David Hill, an architect, professor and the head of NC State's School of Architecture in the College of Design. "These are the places people go, and remember, because of the architecture and sound and the sights. In some ways, the cultural venues led the way."
Raleigh Magazine | March 2020
In 1950, Maciej Nowicki, a Polish architect and professor at NC State's newly established School of Design, died in an airplane crash. Nowicki would never get to see the completion of J.S. Dorton Arena—the Paraboleum, as he called it—the saddle-shaped, steel and concrete, cable-supported arched building he designed that would become the culmination of his short life's work.
Dorton Arena opened at the State Fairgrounds in 1952; considered one of the most important civic buildings in Raleigh, it's an icon of the state's then-emerging modernist school, the kickoff to a distinct and persisting tradition in local progressive design.
"[Dorton Arena] was admired by structural engineers and architects from all over the world," says Raleigh-based architect and professor Frank Harmon. "Every time I drive out to Hillsborough Street and see that building rising over the hills, it gladdens my heart. I'll never get tired of it."
Today, that kind of heart gladdening design is visible all over Raleigh, in our parks and civic spaces, restaurants and bars, museums, hotels, performing arts centers and in many neighborhoods. But as the city grows and the need for housing, retail and office space explodes, Raleigh will continue to attract interest from developers and designers unfamiliar with the city's culture and architectural history, or, worse, indifferent to it.
Like any small town that finds itself growing into a big city, Raleigh risks losing some of the spirit of what makes it "Raleigh."
Will the city, and its downtown, especially, transform into a sea of parking decks and "anywhere buildings," to borrow a term from Harmon, a modern metropolis indistinguishable from other large American cities? After all, you can't legislate good design, as the refrain goes.
Or, will we be able to preserve and continue the tradition of what makes our city unique: the beautiful, functional spaces built on principles of sustainability, ergonomics and creating community—Raleigh's iconic architecture?
This article was first posted in Raleigh magazine. Read the full article here >>