Honoring Faculty: Pat Rand Initiates Roger Clark Architecture Speaker Support Endowment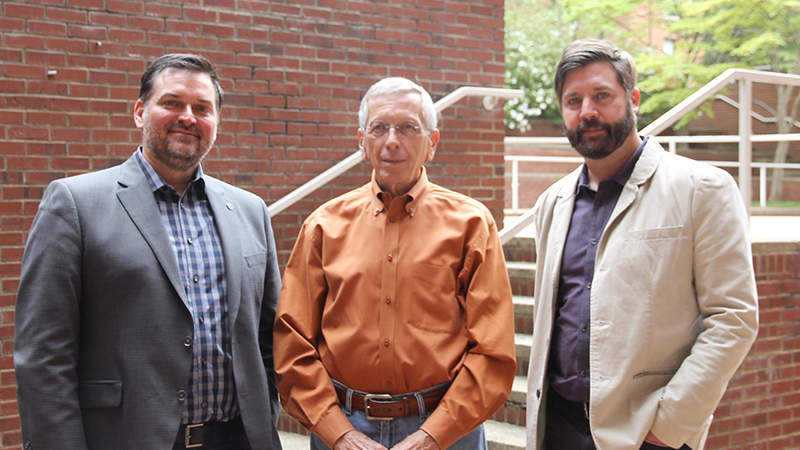 In honor of the outstanding and enduring teaching of Roger Clark, Distinguished Professor Emeritus in Architecture Pat Rand has created the Roger Clark Architecture Speaker Support Endowment. This annual lecture will allow the School of Architecture to bring leading professionals and architectural educators to campus to present architectural topics relevant to students' future careers.
"Roger is a complete educator – we could not have a finer teacher, mentor or colleague. He is a master of his discipline intellectually and can reduce it into practice at the highest level," says Rand.
This led Rand to develop the Roger Clark Architecture Speaker Support Endowment. Students often receive inspiration about their own careers after hearing engaging lecturers, where they can network with guest speakers and other practitioners.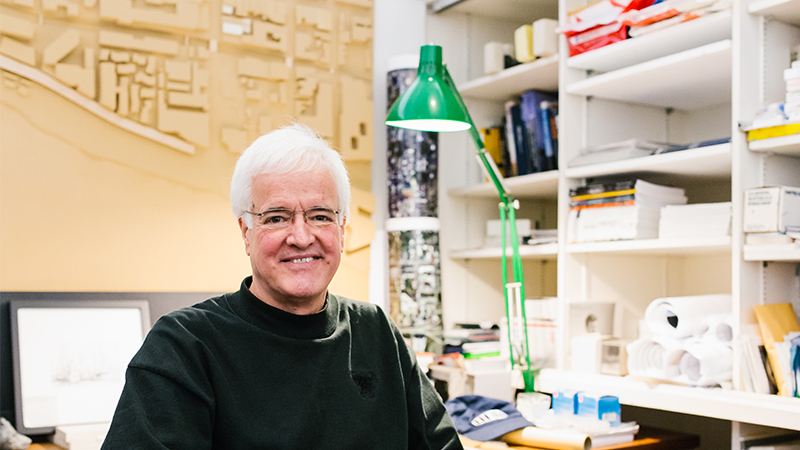 Roger Clark started his career at the College of Design (formerly School of Design) after teaching for five years at the University of Virginia. He felt that architecture was best taught by architects, and so maintained a practice of architecture while also teaching.
"Practice informed my teaching and teaching inspired my practice," Clark says. He was sincerely flattered that Rand created the endowed lecture series in his name so quickly, assuming it might normally occur at someone's death.
Rand recalls that Clark had the ability to assess a student's experience level, slowly reveal concepts that can be firmly grasped before leading them to the next level to see their projects in profoundly new ways. Clark often conveyed that architects need to be innovative even when hampered by constraints and avoid falling into the routine of the mundane. He encouraged his students to not miss the richness that space, form, material, site and natural light can provide.
Throughout his career, Clark has produced buildings that consistently receive awards and critical acclaim, all while balancing teaching with his professional practice. He describes architecture and teaching similarly – as a "logical, tangible art whose multi-dimensional character requires great thoroughness and constant attention to detail."
This devotion to teaching has led to long lasting friendships with former students. "Students enriched, stimulated, questioned, and challenged me," Clark says. "They kept me and my mind young and made years of my teaching career pass quickly."
Clark taught several foundational courses for students, including History of Contemporary Architecture, Analysis of Precedent, and fifth-year and graduate-level studios. "My guidance was to question, prod, and challenge the students to identify an architectural idea that would lead to physical form," he says. He describes the students as motivated, interesting, intelligent, talented, curious, hardworking and concerned about themselves and others.
Rand, who has taught in the college for more than 45 years, has seen firsthand how Clark has provoked students to form their personal values as designers, architects and human beings.
The lectures created by this endowment provide the opportunity to bring fresh viewpoints to the students and faculty. They will also hopefully encourage local practicing architects and recent graduates to return to the school, thus further enhancing the strong relationship between the School of Architecture and practicing architects in the area.
"This annual event will recognize Clark's significance as an architectural educator over his long-standing career and enhance the education of future students," says Rand.
To make a gift to support this speaker endowment, please visit: https://go.ncsu.edu/roger-clark-speaker-fund.
This post was originally published in College of Design Blog.