Ready for the Turning Point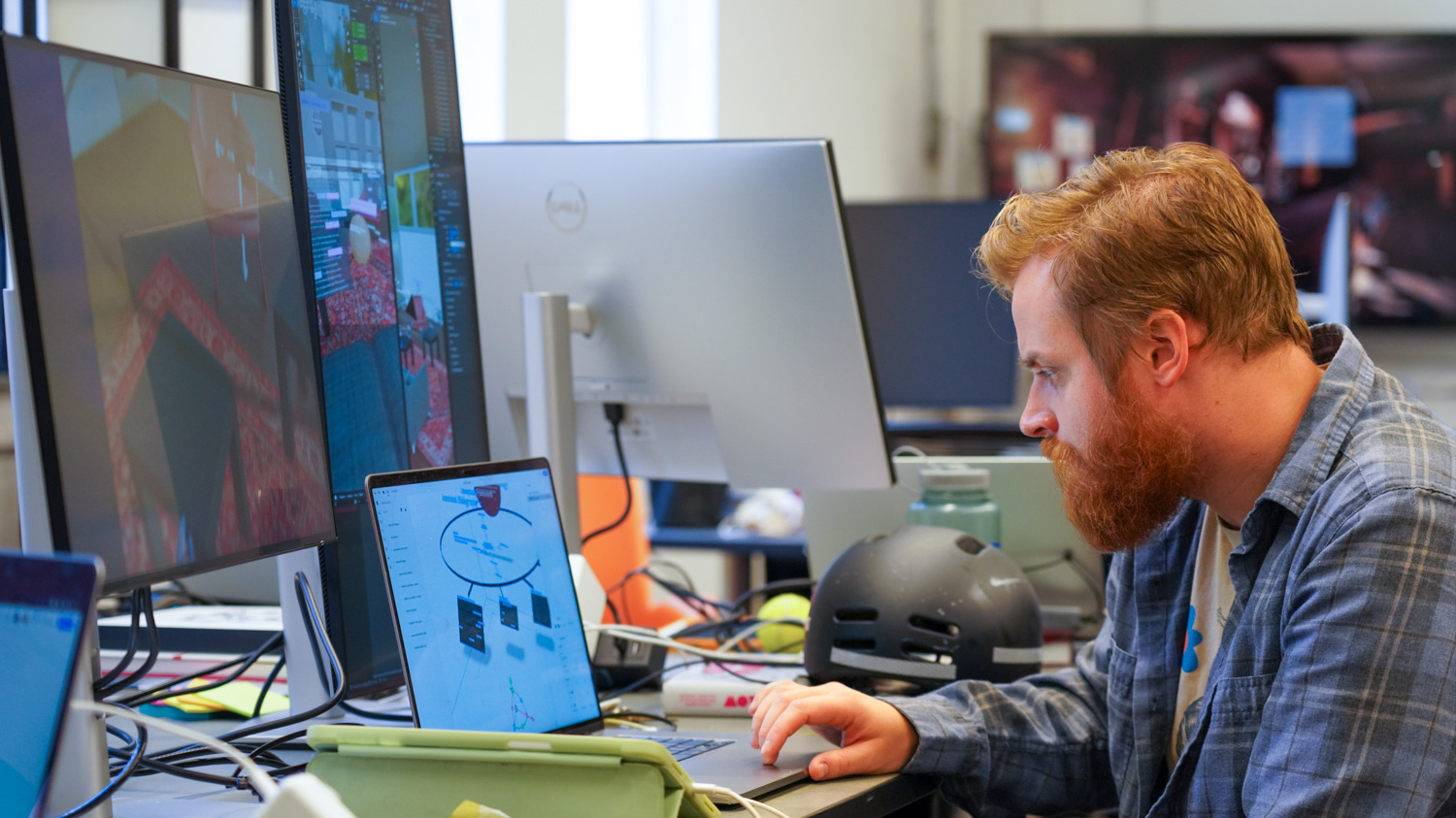 by Jarrett Fuller, assistant professor of graphic & experience design.
From its inception, graphic design was articulated as an activity that dealt with questions of reproduction and distribution; a field that was at once commercial and creative, and influenced by emerging technologies. The term was fitting as the industrial revolution shifted how work across the commercial arts was made. In the century since the term was coined, graphic design has continued to redefine itself in the face of both technological and cultural changes – whether that's the birth of the desktop computer in the early nineties or the emergence of artificial intelligence image generators like DALL-E in the early 2020s. As such, graphic design at NC State has also been one of continual redefinition, at the forefront of emerging practices.

Though it wouldn't get its own department until 1991, there is evidence of graphic design interest in the College of Design as far back as the 1950s. In 1958, the Product Design department was launched. Though that program focused on industrial design methodologies, occasional classes in graphic design principles were taught with the first "visual design" studio taught in 1964. In 1970, a new concentration in visual design was created for undergraduate product design majors.
Forming the Program
Due to growing interest in new graphic design principles, designer Austin Lowrey was hired in 1979 to establish a visual design program as an undergraduate track within the product design department. Very quickly, student enrollment for the visual design program surpassed that of the product design concentration, forcing the hiring of new faculty to build out this new program. Alongside Lowrey, Martha Scotford, P. Lyn Middleton, Bill Deere, Meg Revelle, Steve Ater and Adam Kallish joined the visual design faculty in these early years.
By the late eighties, the visual design program was gaining recognition. Wolfgang Weingert made his first of several visits to the school in 1984 and the program was profiled in Novum magazine in 1987 as part of a feature on graphic design education. In 1989, the School of Design hosted the Graphic Design Education Association National Conference on campus. At this time, it became clear that the directions of visual design and product design were diverging.
Changing Directions
"The two fields were at very different places. Graphic design was interested in theory, and it was beginning to see itself as technologically defined," said Meredith Davis, who joined the faculty in 1989. "Industrial design was still thinking about mass production of functional products." Davis had experience across the design landscape from curriculum development and design practice to academic leadership. She also saw administrative benefits to a split. The program had students who had never taken a typography class. Scotford expressed a similar feeling: "Graphic design, as a field, was being developed and we felt we had to stand independent of the product design department." The Department of Product and Visual Design formally split into two degree programs in 1991, renamed industrial design and graphic design. Davis was appointed the first head of the graphic design department (1991-1997) and served again from 1999-2002.
The 1990s were a transformational decade for graphic design and the program adapted with the culture. The rise of desktop publishing, with Apple's Macintosh computer and the development of software like Adobe's Photoshop, radically shifted how graphic design was produced while also allowing for a new kind of formal experimentation. These shifts saw an explosion in design writing and publishing. Graphic design was both a commercial practice (i.e., a trade done in service of clients) but also an intellectual activity (i.e., a field of study with its own histories and theories). The department capitalized on both emerging trends in the field. Courses in typography, computer imaging and image making and narrative were required. The undergraduate curriculum introduced a three-class sequence on photography, digital media and motion.
Cognition, New Media and Cultural Studies
In 1994, the department revised the graduate program centered around three tracks: cognition, new media and cultural studies. In many ways, all three tracks were ahead of their time. Cognition foresaw a culture driven by images incorporating cognitive psychology and learning theory to understand how people perceive and process information. New media focused on the social implications of technology and predicted a future where design's output could live across a range of media – predicting, in many ways, the rise of user experience (UX) design – and cultural studies understood design to intersect with politics, race and diversity. The master's program became what is believed to be the first design program in the country to focus on issues of class, gender and race and how they intersect with design practice. This program, across all three tracks, served as a precursor to the contemporary discourse both around decolonization, identity and expanded canons as well as interactivity, technology and emerging technology one finds in design programs today.
Following the graduate program redesign, the school launched a PhD in Design. The interdisciplinary program was only the second doctoral-level program in the country that accepted students with industrial and graphic design backgrounds. Meredith Davis served as director from 2005 to 2009. Under Davis's guidance, the program refocused on research interest areas like learning, sustainability methods and urban environment.
Rapidly Changing Technology
By the early 2000s, the internet began to move from a niche, technical platform to a popular communication network. This opened up a new area for graphic designers: web design. The department explored early web coding and the emerging interaction design fields. In 2002, Denise Gonzales Crisp was hired as the new graphic design chair. She pushed for a more expansive curriculum, leaning on the faculty's expertise to shape their own classes. She initiated a designer-in-residence faculty position, with rotating designers joining the faculty to teach courses in the department, including designers like Sean Donahue, Maggie Fost, Silas Monro and Alex Quinto.
In 2005, the department heads of both the graphic design and industrial design departments returned to faculty positions. The college, under strict budget cuts from the university, decided to recombine the two programs under a new department: "Graphic Design and Industrial Design." Santiago Piedrafita was appointed chair of the newly combined department. Piedrafita and Davis worked together on revising the core studio classes and the faculty started to formalize a new curriculum focused on interaction, branding and service design.
The early 2010s, much like the early nineties, provided graphic design with rapid technological change: the iPhone launched in 2007 –and its app store a year later – led to an entirely new area of work: mobile interface design. This led to a rise in user experience (UX) and user interface (UI) design, again radically shifting the possibilities of careers in design. After Piedrafita returned to the faculty in 2012, a national search was conducted. Tsai Lu Liu, an industrial design faculty member at Auburn University — one of the few other combined graphic and industrial design programs — was hired. Under Liu, an initiative to build out the department's professional relationships and funded-research projects guided the department, including partnerships with SAS, REI and the Library of Analytic Sciences.
In the century since the term 'graphic design' was coined, the practice has evolved with each innovation in technology and various cultural changes. Yet it has also stayed the same: it's still concerned with methods of communication, interaction, distribution, reproduction, technology and process. At each turning point in the design world, the department has been ready for those changes. In 2022, the department officially changed its degrees to "graphic & experience design," reflecting both the expanding nature of design practice and the departmental focus on designing not only objects but also interactions, services, and experiences. New courses were taught both on new technologies like virtual reality and artificial intelligence, as well as on changes in the design industry like community development, human-centered design and media theory. The industry is once again at a turning point, both technologically and culturally, and the newly named graphic & experience design program, like so many times in its history, is prepared to reflect the future of the industry.
____________________
This article first appeared in the 2023 issue of Designlife Magazine. Read other stories from our 75th anniversary.
This post was originally published in College of Design Blog.