When Graphic Design Meets Big Tech: Red Hat Sponsored Studio Tackles Autonomous Vehicles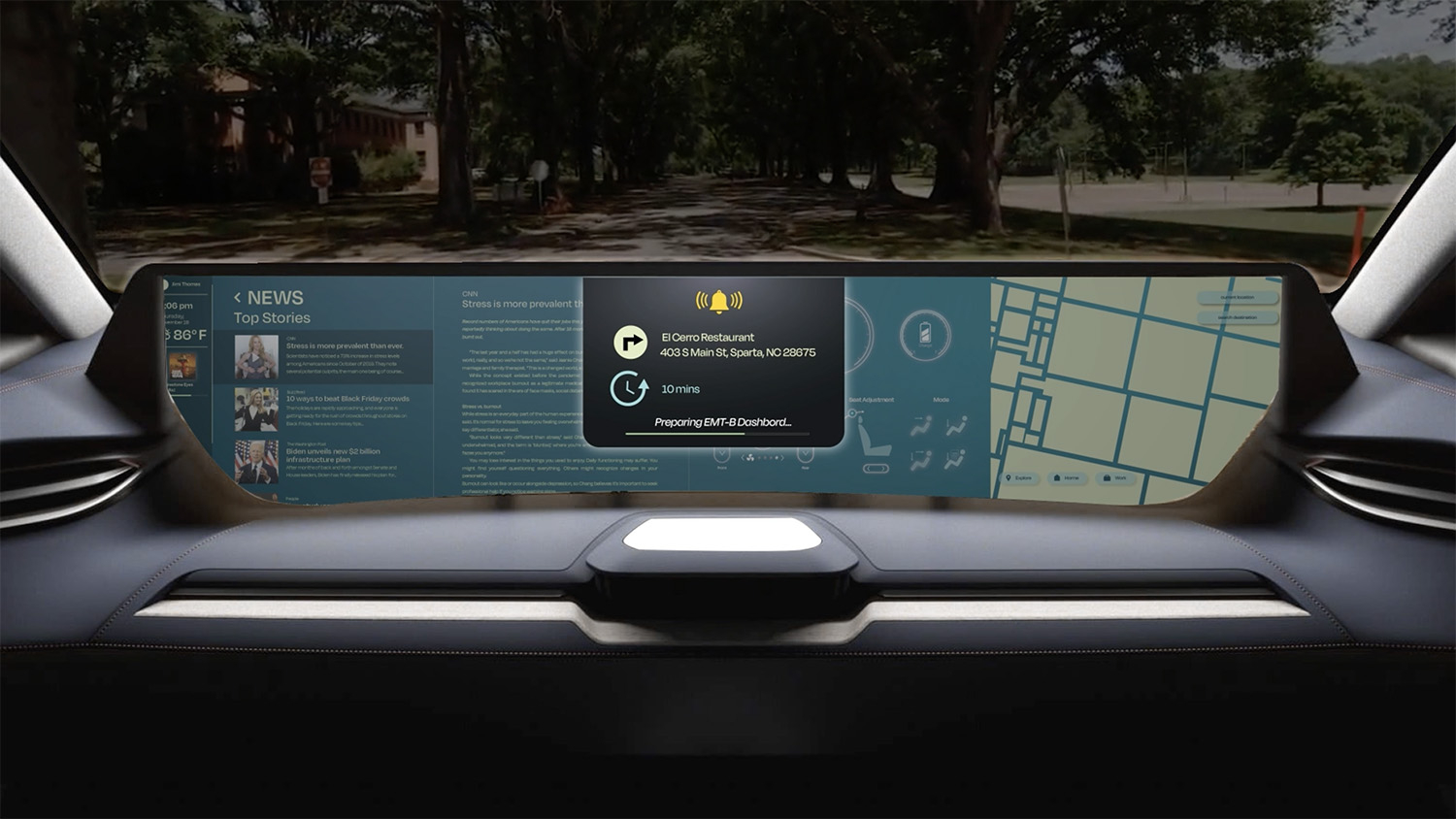 If you were to visit Allred Gallery on the College of Design's campus during the fall semester of 2021, it's entirely possible that you would have seen the room's large windows covered in marker and post-it notes. And, if you read the contents of those notes out of context, you may have been curious as to why design students are musing over scribbles that read "no privacy," "tracking -> stalking," and "enviro/doomsday."
These notes are not from an outline of a dystopian television series – they're the first steps in designing an accessible user interface for autonomous vehicles, or AVs.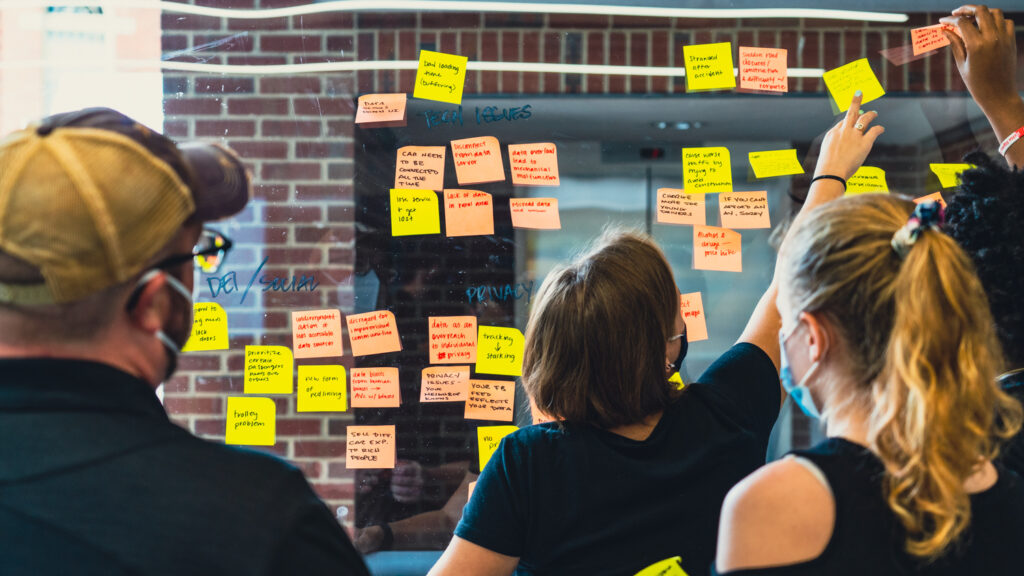 AVs have seen a significant increase in interest and development over the past decades. Personal vehicles have begun to incorporate autonomous features such as parking and lane-keeping assistance, as well as fully automated systems such as braking, steering and acceleration. NC State even launched its own driverless shuttle on Centennial Campus in 2020.
The current technology still is not perfect, nor is it widely accessible. But Professor Helen Armstrong's 400-level graphic design studio has tasked students with designing for the AV experience in the near future with a wider audience in mind.
"The projects taught in this studio are meant to challenge these students and to be extremely future-facing," says Armstrong. "There are endless applications for software in an autonomous vehicle. That kind of access to experience and very discipline-specific knowledge would not be as attainable without an industry partner like Red Hat."
Red Hat, a homegrown tech company known for its work in edge computing and open-source software, sponsored the studio by sending its own team of user experience (UX) designers to brainstorm and collaborate with students.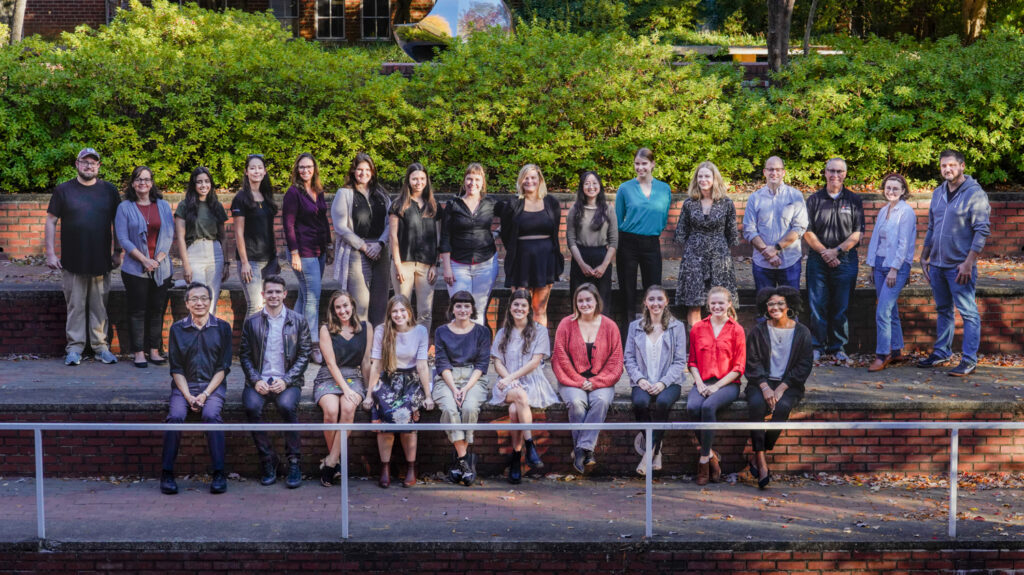 The College of Design regularly partners with industry leaders like Red Hat to provide students with real-world design challenges, networking opportunities and the latest trends and ideas in their respective fields.
Throughout the studio, students had to imagine a future in which the public no longer had access to personal vehicles. Then, they had to ideate on how AVs can fit into a variety of human factors such as family needs, career specializations and security concerns. To make this happen, each of the five student groups created a persona – an imaginary person with unique traits and needs.
As part of the visiting Red Hat team, senior UX designers Mary Clarke and Jeremy Perry were interested to see how graphic design students can add fresh perspectives to the challenges and solutions AVs present.
"The students have been curious and excited throughout the whole process. Just being around their energy has been good," says Perry. "For me, being able to work on a wide-open design problem that's set in the future and invites creativity – it's refreshing. At Red Hat, we're obviously solving problems, but this is a very different type of design problem with a very different type of collaborator."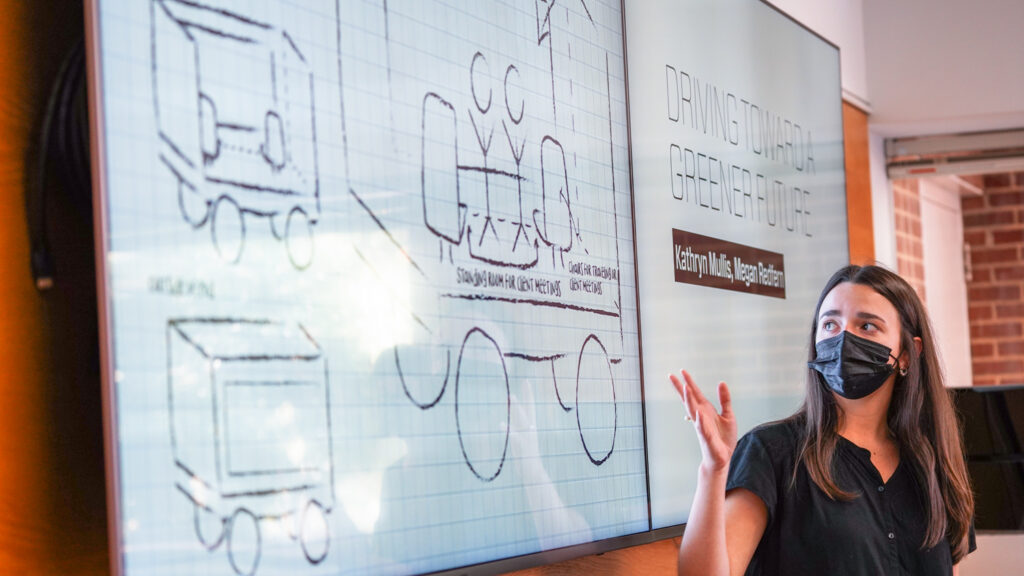 Together, students and industry experts collaborated on creating tailor-made experiences for parents, service workers and first responders. "We're specifically thinking beyond that experience of getting from point A to point B," reflects Armstrong. "Instead, we're thinking about all of the data that AVs will collect – then what we can do with that data to benefit individual users as well as larger communities."
By the end of the semester, each of the five student-led teams presented a video summarizing the impact of their AV user experiences. While Red Hat designers were surprised to see such high production value coming from a graphic design program, these types of projects were exactly what many of Armstrong's students signed up for.
"One of the things that drew me to the graphic design program at NC State was how the college keeps up with the industry," says Kathryn Mullis [BGD '21]. "I love that graphic design can take the form of a lot of other types of design. I was very happy to learn that my final project was going to be dealing with something that dealt with things like space, materiality, industrial design and even architecture."
This post was originally published in College of Design Blog.