Research + Innovation
Winners from the 2023 Graduate Research Symposium Announced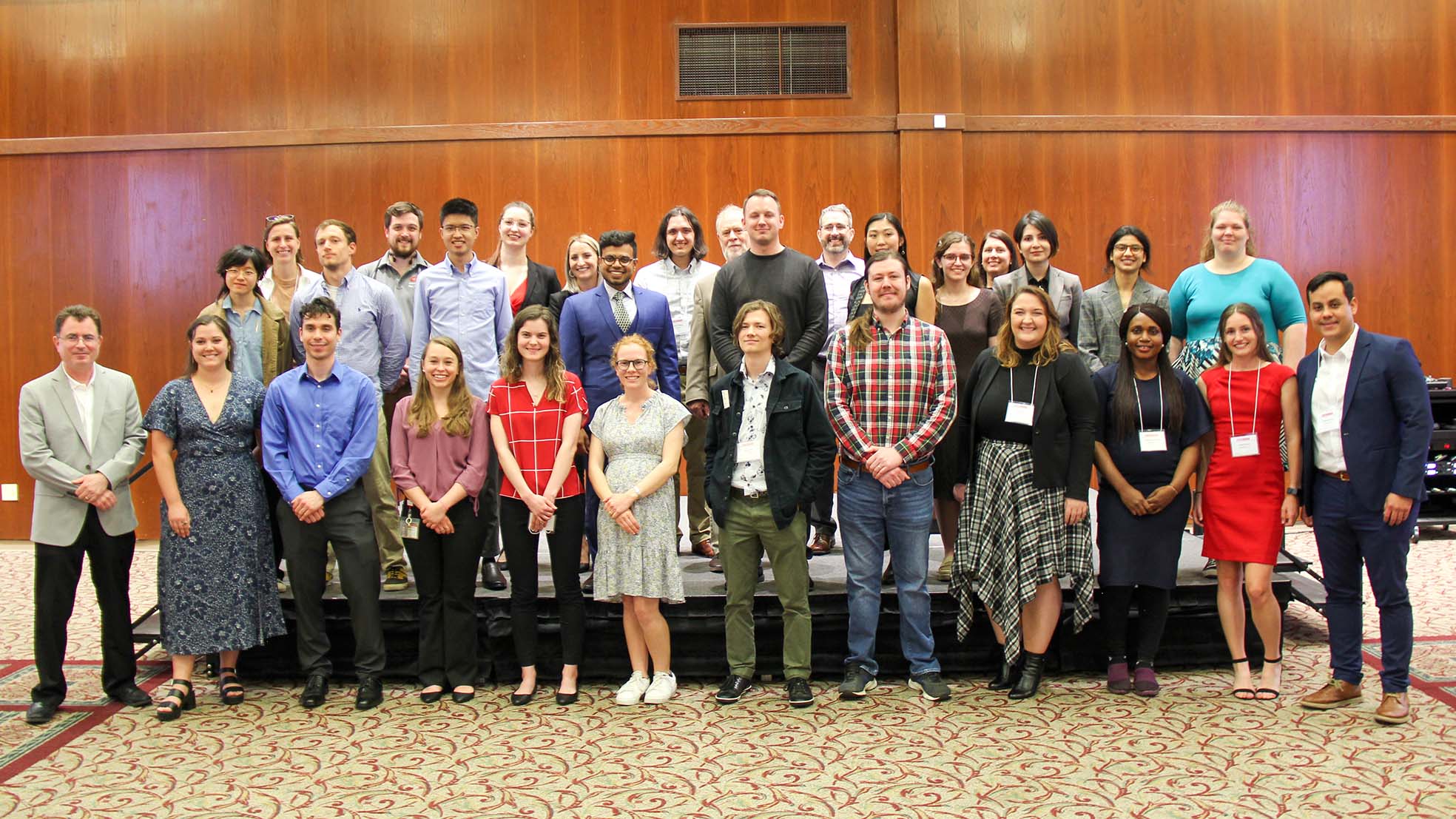 Three College of Design students were winners at the Graduate Student Research Symposium. Marybeth Campeau (Landscape Architecture and Environmental Planning) won first place, with Daniel Garrett (Advanced Architectural Studies) and Keagan Vargo (Industrial Design) winning second and third place, respectively.
The Graduate Student Research Symposium, held each spring, includes poster presentations from more than 200 graduate students from NC State University. Posters are judged by faculty, and students receive recognition for top posters. The goals are to showcase the outstanding quality and diversity of graduate-level research at NC State, in addition to providing students with the opportunity to practice and enhance their communication skills with those outside of their discipline.
The event is sponsored by the Graduate School and the Graduate Student Association and is open to the public. Students are nominated by Directors of Graduate Programs. So, those interested in making a poster presentation at the symposium should let their Directors of Graduate Programs know.
First Place – Marybeth Campeau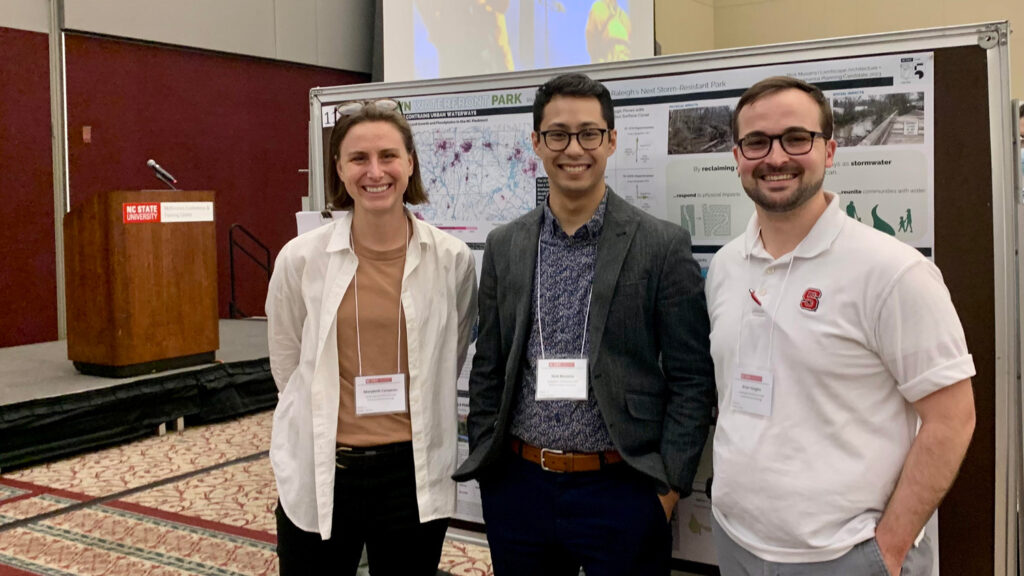 Major: Landscape Architecture and Environmental Planning
Advisors: Andrew Fox, Madalyn Baldwin
Dredge Ecologies: Climate-Adaptive Strategies for a Changing Island in a Changing Climate
For the past decade, a community coalition has fought to protect Eagles Island, the largest island in the deltaic archipelago at the confluence of the Cape Fear and Northeast Cape Fear Rivers, as a recreational amenity. Through a research process that holistically assessed the island's evolving history through cultural and environmental lenses, this project grounds conceptual design solutions in a systems-based plan.
Located 20 miles from the Atlantic coast and nestled between the two most rapidly growing counties in North Carolina, Eagles Island exemplifies the anthropogenic challenges and opportunities faced when analyzing and planning for sea level rise. This project grapples with the 3220-acre island's centuries-long relationship with excavation and earthmoving for capital gain in a dynamic riverine system. The proposed framework of this research project considers the impacts of redistributing remediated dredged sediment with nature-based solutions that support ecological and community wellness.
With threats of private development looming, this project provided the local coalition with a compelling and comprehensive vision for the island that embodies the mission of conserving and managing the land's natural and cultural assets and providing compatible educational and recreational activities. The project's conceptual design framework blends multiple levels of meaning to imagine a future that acknowledges and builds upon cultural histories, resulting in a program that fosters resilient, climate-adaptive, ecologically rich, and biodiverse habitats using dredged material.
Sediment strategies for habitat include dynamic breakwaters, thin layer placement, marsh mounds placed in avian flyways, remediation research, ecotone ridges, and a pedestrian bridge composed of remediated dredge. The ultimate goal of the project is to make this habitat publicly accessible through a network of elevated boardwalks (greenways) and kayak trails (blueways). Altogether, this project illuminates landscape architects' role in visualizing research-based and site-specific design solutions by engaging with dredged material and bringing together decision-makers facing climate-based challenges.
Second Place: Daniel Garrett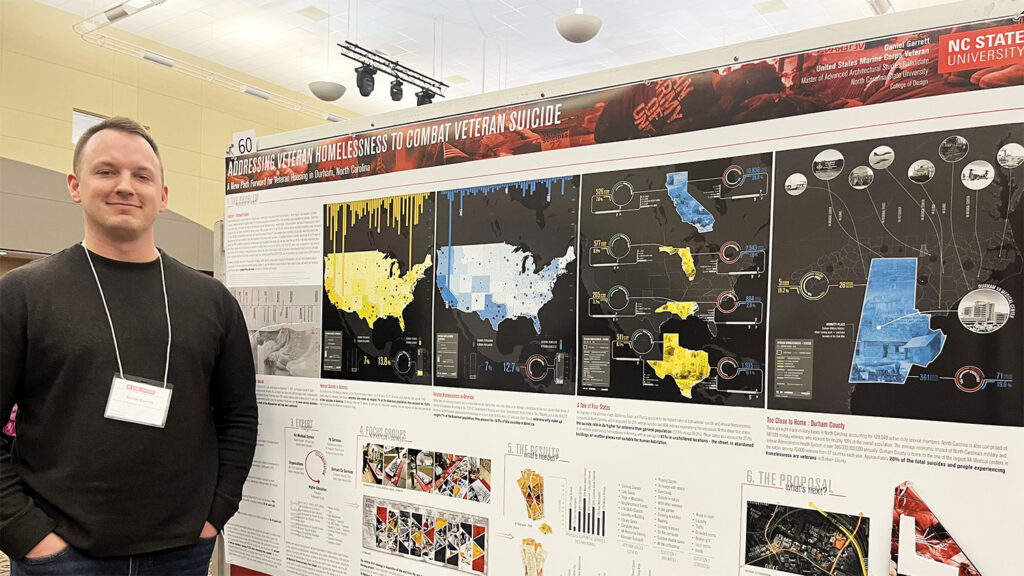 Major: Advanced Architectural Studies
Advisor: Thomas Barrie
Addressing Veteran Homelessness to Combat Veteran Suicide
Veteran homelessness is a major issue on a national level. Homelessness has been defined as not having a "fixed, regular, and adequate nighttime residence". Veterans account for approximately 7% of the total population, but nearly 20% of the homeless adult population are veterans.
Comprehensive studies found major risk factors for veteran homelessness include substance abuse, mental illness, and lack of social and financial support, which are also the main risk factors identified for veteran suicide. With a suicide rate of 81 per 100,000, veterans are an especially vulnerable group, compared to 23 per 100,000 of civilian adults. This research aims to bring awareness, but more importantly to find the connections between both veteran suicide and veteran homelessness.
More than four times the amount of Post 9/11 war veterans have committed suicide than have been killed in the Afghanistan and Iraq wars combined. Since the beginning of these wars, there has been a 76 percent increase in the suicide rate among 18- to 34-year-old veterans and 79% of veterans experiencing homelessness upon separation from active duty are also under the age of 35. It has been found that these higher rates of suicide and homelessness are caused by multiple factors common to fighting in the Post 9/11 wars, such as exposure to high levels of stress, trauma, and the difficulty of transitioning back to civilian life.
Other shared factors, such as the war's unprecedented length and the continued access to firearms continue to fuel these increased rates. This research challenges the current "housing first" ideology, which aims to simply obtain housing for the veterans, and will inform national veteran housing programs with new supportive housing designs to give the veterans a place to rebuild their sense of pride, self-worth and belonging, while utilizing the services necessary to find their path forward.
Third Place – Keagan Vargo
Major: Industrial Design
Advisor: Kelly Umstead
Safe and Efficient Excavation Operations
Insufficient excavation practices persist as the primary root cause of damages in the U.S. In 2019 there were 17k reports of excavators failing to maintain clearance after verifying locators.
This equated to over $30 billion in damages due to buried utility strikes. The purpose of this project was to explore issues related to utility survey markings and how excavator operators can better inground obstacles. Excavator operators need a better way to detect and avoid utility lines to prevent collisions and damage. The use of a literature review, market research, and end user surveys and interviews were used to discover insights.
Opportunities were identified through specific pain points from stakeholders in the current excavation process. This project is to explore design opportunities on how to allow excavator operators fast, efficient, and accurate location of buried utilities; also having built in avoidance features. This research will help to increase efficiency and safety of excavator operations.