Research + Innovation
Researchers study electric scooter rider behavior through partnership with Spin
Connecting campuses to communities with micromobility infrastructure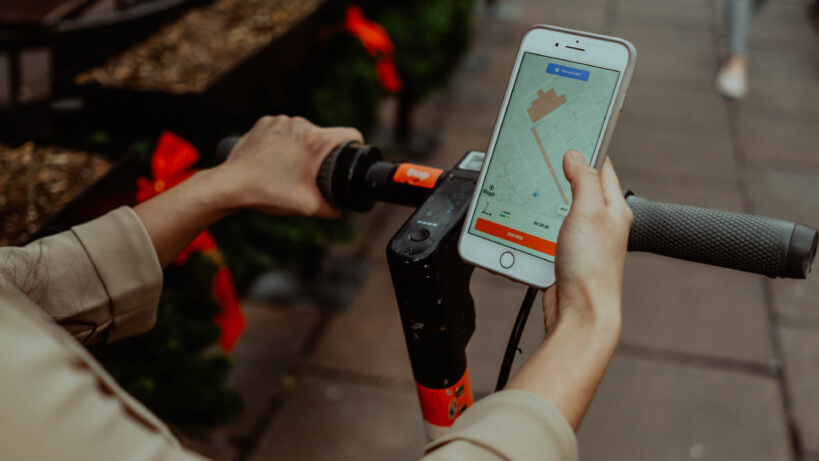 Students are embracing new modes of transportation to enhance their travel, and Spin, a leading service provider in micromobility, is changing the way students get to class. The company, recognizable for its orange electric scooters dotting the NC State campus, is looking to dive into its user behavior.
After posting an RFP to study micromobility on the 2,099 acre campus, Spin chose Dr. Deepti Adlakha, associate professor of landscape architecture and environmental planning in the College of Design, and an interdisciplinary team to lead the effort.
"Our goal is to better understand how micromobility– personal bicycles, electric skateboards, e-bikes, or electric scooters– can support key NC State transportation objectives and regional transit plans by reducing single-occupancy vehicle car trips, achieving mode shift, and planning for future sustainable transport alternatives," Adlakha says.
College campuses are the ideal environment to study this type of movement, as typical journeys are frequent and short in length. The modes of transportation students adopt now can lay the groundwork for a lifetime of environmentally sustainable behaviors.
"We're thrilled to be working with Dr. Adlakha and her interdisciplinary team towards a better understanding of how micromobility can advance our shared transportation objectives to the benefit of all," commented John Lankford, Head of Campus Partnerships at Spin.
Dr. Adlakha has extensive experience in promoting active and healthy populations, especially in children, youth and families in underserved communities around the world. She is a steering committee member of the Global Observatory of Healthy and Sustainable Cities, a global transdisciplinary initiative providing evidence-based spatial and urban policy indicators to advocate for and track progress toward healthy and sustainable cities. This work resulted in a series of articles on urban design, transport, and health published in The Lancet Global Health.
This partnership with Spin hopes to create an active and healthy campus population that utilizes alternatives to car-based transportation for movement around the campus. Parking shortages and car congestion affect not only the campus itself but surrounding businesses and communities. Studying this user mobility data will allow the researchers to not only improve safety and rider experience but also build a better picture of future campus mobility needs.
The research team brings together expertise in urban design and city planning, geospatial analytics to measure active transportation, transport economics and smart mobility, proximity dynamics and active travel, and non-motorized volume data monitoring. The project will assess travel behavior and identify factors that are most likely to influence a user's shift in transportation. From there, the team can help integrate digital tools that suggest appropriate alternatives to car-based travel and model usage and demand forecasts. Finally, the team hopes their work can provide planning and policy guidelines for local infrastructure, including street and sidewalk use, parking regulations and charging hubs, thereby making the use of micromobility transportation safer and easier for users to adopt.
Collaborating faculty:
Shared micromobility is a new and rapidly emerging sector in transportation planning. As research partners, Spin and Dr. Adlakha's team will measure rider behavior, usage, modeshift on campus, parking compliance, and safety and education. The research team's goals are also aligned with Go Triangle's Wake Transit Plan and NC State University's Master Plan, which hopes to maximize connectivity between communities and provide more frequent and reliable opportunities for all people to access centers of commerce, education, employment, entertainment, healthcare, and recreation.