The Gregg Uses DELTA Express Grant to Create 3D Models and Scans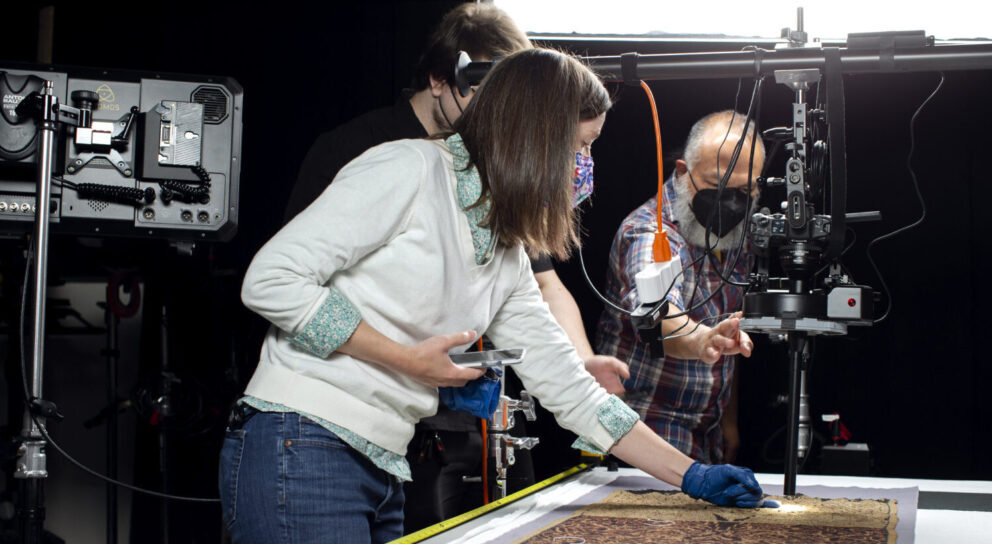 In high-level textile classes within the NC State College of Design, students sometimes need access to rare or specialized pieces, such as those housed in the Gregg Museum of Art & Design. Although the Gregg Museum has a vast collection of objects available to the campus community for classes or student research, in-person interaction with these items can be challenging to coordinate because of potential damage to delicate artifacts as well as limitations with staffing, space and scheduling.
Understanding these issues led Assistant Teaching Professor Kate Greder and Associate Director and Registrar of the Gregg Museum Mary Hauser to apply for a DELTA Express Grant in connection with ADN 475: Pre-Industrial World Textiles. For over 20 years, this class has used the Gregg's collection in various ways, but with changes in student needs, updates to technology, and demand for increased enrollment opportunities, Greder and Hauser wanted to explore options for modifying the course. 
Using the DELTA Grant, Greder and Hauser created an innovative solution to meet this instructional challenge and a way to increase student success. The Gregg Museum collaborated with the NC State College of Design and DELTA to capture enhanced images of several of its textiles using photogrammetry and digital 3D models. Photogrammetry is a process that uses photographs or videos of real-world objects or environments to create digital 3D representations of those objects. It involves capturing many overlapping images of a structure, object or landscape.
The grant facilitated the scanning of objects, including production, post-production and the investigation of delivery methods, to aid with classroom-based learning. For this project, the aim of the final images is to provide better access and understanding of the rare and often fragile objects in the Gregg Museum to NC State students and to all users of the museum. As time and funding permit, additional objects will be added.
"Our initial goal was to be able to do 3D object analysis in support of the ADN 475 hybrid course," Greder said. "We've achieved that objective, and now realize that, in some cases, it is possible to get even more detail in the virtual viewer than one can observe in person. The accomplishments of the grant opened up the need to more fully develop a pipeline to be able to image-capture objects on our own, which can expand the ways in which people engage with the Gregg's collection. That process will also allow us to present a wider array of objects for students enrolled in the Pre-Industrial World Textiles course."
The success of the images enabled the restructuring of the course on Moodle to incorporate the virtual viewing of objects. It also expanded the Gregg's public outreach and engagement with the collection because viewers can now see three-dimensional objects in three dimensions.
Hauser further expanded on the accomplishments of the project.
"During the process, we broadened our definition of success," Hauser said. "In the case of some flat objects, we discovered that it was better to use a high power probe lens and focus on details, such as the weave structure. In the end, the object images and 3D models are important additions to the class as well as the Gregg's documentation."
Working with museum pieces for the project also came with its own special challenges, according to Greder and Hauser. Because of security and object handling concerns, the image capture equipment needed to be installed either on site at the museum, which presented space and scheduling challenges, or the museum objects needed to be transported elsewhere, which required security, specialized object handling procedures, and post-photography pest management practices (such as freezing or isolation of objects).
"In short, the process is still a bit cumbersome and difficult to envision incorporating into a more regular, photo documentation process," Hauser said. 
"We are hopeful that as technology evolves, the process will become more attainable. We want to continue adding 3D photo captured objects to the list of 3D assets developed as part of this project." Greder added, "It is also possible to some day envision the possibility of downloadable 3D assets of museum objects that would alter how the public is able to engage with museum objects and history in general."
Working with museum objects, the team encountered parameters that one wouldn't necessarily encounter when generating new 3D assets. In addition, team members coming together across multiple disciplines at times presented communication challenges, but the team was able to work around these issues successfully.
"On the material culture and museum side of the project, the details and information we look for might be different than what someone else might look for," Greder said. "So the iterative feedback loop of rendering images and then discussing them was extremely important for this project. Also, the fidelity of the 3D asset to the real museum object was of significant importance, because the 3D asset cannot be visually misleading in any way. If data was missing in the image capture process, the team needed to talk about how it would be processed and ultimately noted on the object."
According to Assistant Director of Educational Media Donnie Wrights, the DELTA Grant team worked together closely to identify the best objects to capture. The team wanted to ensure they supported student success in the course but also provided research and exploration opportunities for the DELTA Educational Media Design and Instructional Media production teams.
"This experience will certainly influence future applications of photogrammetry," Wrights said. "This team gained a lot of experience with photogrammetry and its educational opportunities. We were able to set a strong groundwork for future projects and look forward to exploring this exciting medium much further."
The team that worked on this project included Greder and Hauser, as co principal investigators, as well as DELTA team members — Wrights, Instructional Designer Caitlin McKeown, and Multimedia Specialist Stephen Waddell. They met weekly for a year, including several all day or partial day meetings to test and actually image capture objects from the Gregg's collection.
"Overall, the biggest successes were the incredible images that were captured for each object," Hauser said. "This was a valuable experience to explore what is possible, and we will use these examples as test cases for the class and for the museum in general. Working with the DELTA team absolutely helped us reach our intended results!"
Using DELTA Grants, instructors can enhance the digital learning environment using the latest technologies, applying research-based standards of excellence and exploring advancements in instructional design. 
Want information about how to work together with DELTA to develop instructional technologies for your course? Learn more about the grant cycle and how to apply for a DELTA Grant.
This post was originally published in DELTA News.