Student Experience
MID Students Abby Scheer and Arissa Wheeler win awards through NC State eGames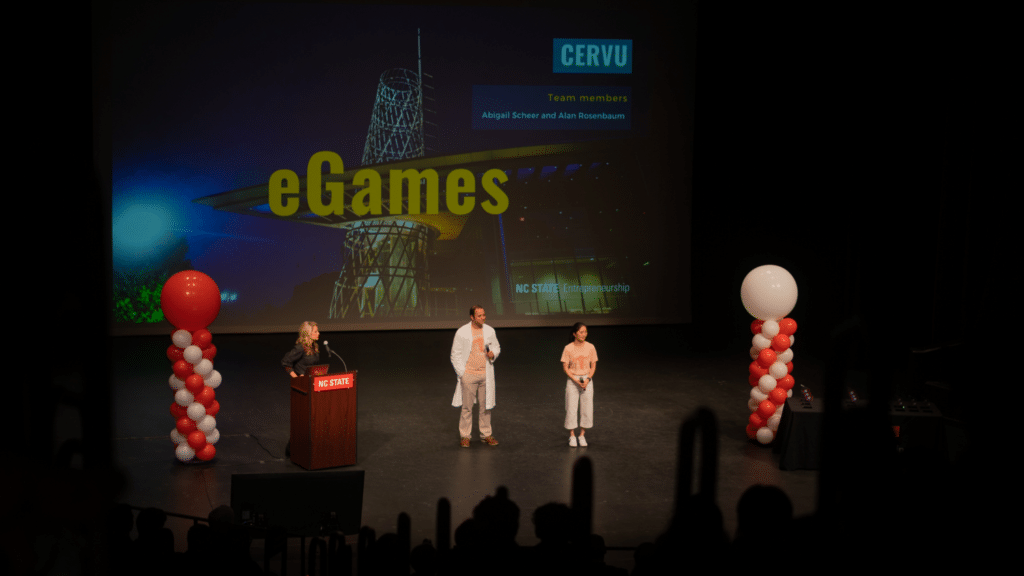 From NC State Entrepreneurship:
On Monday, April 18, the NC State entrepreneurship community gathered in person to watch the 2022 eGames Award Ceremony emceed by NC State alumni and Fox Sports reporter, Amanda Busick.
Originating in 2009, the eGames is NC State's largest annual startup competition awarding over $100,000 in cash prizes to NC State entrepreneurs.
Student teams compete in two categories — "Think" and "Do." The "Think" category is for teams in the early stages of their venture, as early as just an idea. The "Do" category is for students with an established startup that is looking to grow or scale, and may have existing customers, products, or investment. All participating student teams — including finalists and non-finalists — were also able to compete for Extraordinary Impact Awards in Social and Environmental Impact, Design and Prototype, Arts, and Built on Cloud.
With students being back on campus and eager to show off the ventures they've been working on, there was a large turnout of applicants for this year's eGames. 49 student teams applied, however, only 10 student teams could make it to the final round after preliminary judging by judges across the country. The competition culminates in the Awards Ceremony, where after pitching to the live audience and taking home cash prizes, student teams got to showcase their businesses at the expo event co-hosted by the NC State Alumni Entrepreneurs Network.
"I love seeing the creative energy that flows from the teams presenting at the eGames. This year was no exception. The energy and excitement carried over into the expo, as well. You know it's been a successful event when people are still deeply engaged in conversations at the end of the evening," said Dr. Tom Miller, Senior Vice Provost Entrepreneurship and McPherson Family Distinguished Professor.
"Think" Category
Teams in the "Think" category are in the early stages of startup development. These teams may just have an idea or are currently seeking customers or further business validation.
Cervu – Third Place Winner
Cervu is seeking to improve access to care and the effectiveness of PFPT to result in better outcomes.
Team:

Abigail Scheer | College of Design
Alan Rosenbaum | College of Engineering

The Problem: By 2025, advances in cancer treatment will enable 15.1 million American and European female cancer survivors to live for decades beyond initial cancer diagnosis. Because cancer treatments can cause dyspareunia due to changes in vaginal anatomy, tissue dryness or atrophy, and reduced elasticity, 40% of these women will develop chronic pelvic pain and 50% will develop significant dyspareunia (pain with intercourse). The vast majority (87%) of these women view sexual function as important to their quality of life, but many will struggle with dyspareunia management. Although effective treatments exist, many do not benefit due to lack of awareness, referrals by oncology providers, and access to pelvic floor physical therapy (PFPT) from specialized physical therapists (PT) who manage this condition. Other barriers for women seeking to obtain dyspareunia treatment include long commutes and wait times, the burden of numerous medical appointments, financial cost, embarrassment, and privacy.
The Solution: Our proposed product seeks to improve access to care and the effectiveness of PFPT to result in better outcomes. It relies upon an integrated system that includes the patient, their PT, an intravaginal treatment device, and a mobile application. This comprehensive system benefits both patients and clinicians. Patients will benefit from the intravaginal device that will enhance treatment by facilitating custom therapies. Mobile application-based education and communication will augment the patient experience while allowing for the PT to create individualized exercise plans and provide remote supervision of at-home therapy progress. This remote monitoring benefits the clinician by allowing them to receive complete patient at-home therapy metrics and use them to adjust treatment to optimize patient outcomes. Our company leverages design, research, product development, and clinical expertise which uniquely positions us to improve the PFPT experience and result in better health outcomes.
"Do" Category
The "Do" category represents student teams that are looking to grow or scale their venture. These teams may have investment, customers or working product they are looking to bring to market at scale.
Dyelation – Second Place Winner
Dyelation creates sustainable, proprietary thermoglow ink for apparel.
Team Member: Arissa Wheeler | College of Design
The Problem: Dyelation needs funding to continue developing interactive apparel from sustainably sourced materials to offer what is missing in the lifestyle apparel brand industry. The fashion industry is widely known for producing an estimated 10% of all greenhouse gas emissions. The growing throwaway fashion trend mirrors the consumer's lack of connection with their clothing. Many apparel brands do not connect with their consumer's values, leaving them searching for new throwaway apparel. Current lifestyle brands that aim to address this problem gain consumers through a shared passion for sustainability. However, these brands are still part of the problem since they do not currently use only renewable or recycled materials in their products.
The Solution: Dyelation addresses these significant problems in the fashion industry through 100% sustainably sourced materials and a lifestyle brand that connects consumers through shared values and shared experiences with its interactive apparel consumers want to wear again and again. For music and art industry consumer. Who are not satisfied with the current fast fashion apparel industry values and lack of consumer personality reflected in the clothing designs. Dyelation will focus on its consumer values and foster connections between shared experiences. Unlike the competitors that encompass too broad audiences and do not allow for a deeper connection to their brand. Dyelation provides sustainably sourced, high-quality apparel that embodies its user's core values and further fosters consumers' desire to connect with others through its proprietary interactive ink that sparks conversations and play, resulting in a deeper connection with the apparel.