External Recognition
MLA Students Participate in Green New Deal Superstudio
The Green New Deal Superstudio is a national conversation to translate the framework of the Green New Deal into actual projects by landscape architecture programs in higher education, as well as professional practices and individuals in those fields.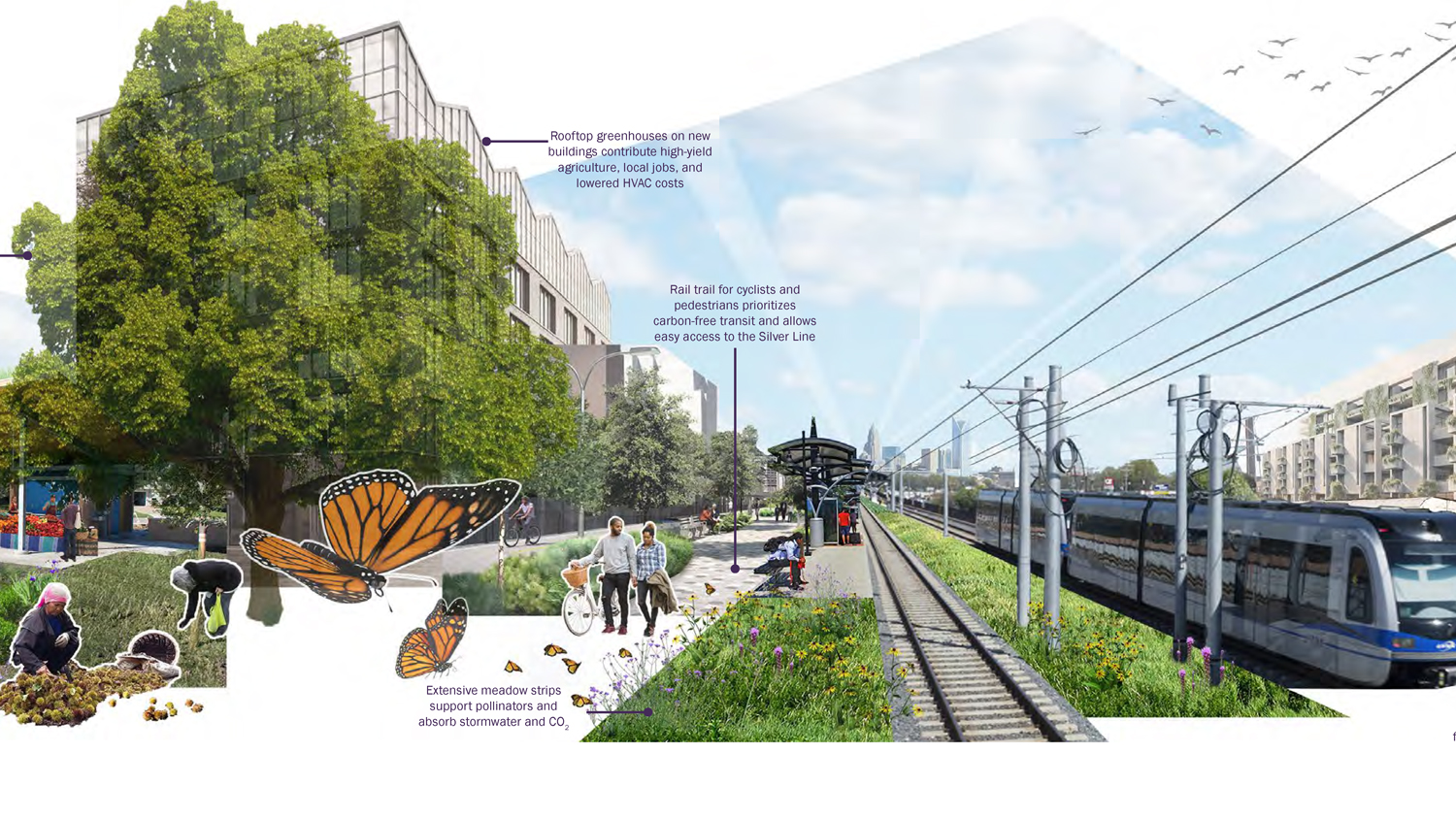 On February 7th, 2019, Representative Alexandria Ocasio-Cortez (NY-14) and Senator Ed Markey (MA) introduced H.R. 109, a non-binding resolution "Recognizing the duty of the Federal Government to create a Green New Deal." In it, they provide a framework for a "10-year national mobilization" that calls on Congress to pass legislation that builds resiliency against climate change-related disasters, repairs and upgrades the infrastructure of the U.S.
The Green New Deal Superstudio is a national conversation about how the framework of the Green New Deal can be translated into actual projects and where, as a matter of priority these projects should take place, what will they look like, who will they serve, and how will they roll out.
The Landscape Architecture Foundation (LAF) in association with the Weitzman School of Design McHarg Center, the Center for Resilient Cities and Landscapes, the American Society of Landscape Architects (ASLA), and the Council of Educators in Landscape Architecture (CELA) invited designers to be part of a historic, national initiative to translate the core goals of the Green New Deal—decarbonization, justice, and jobs—into design and planning projects for their respective regions.
The Green New Deal Superstudio was an open call for designs that spatially manifest the principles and policy ideas of the Green New Deal with regional and local specificity. A national climate plan like the Green New Deal will be understood by most people through the landscapes, buildings, infrastructures, and public works agenda that it inspires. The Superstudio was a concerted effort to give form and visual clarity to the scale, scope, and pace of transformation that the Green New Deal implies.
The Superstudio ran from August 1, 2020 until June 30, 2021. Participation was open to all design schools, professional practices, individuals, and other design and planning-related organizations. Some 670 projects were submitted by participating university courses, groups, and individuals.
Of the projects submitted, 55 were curated for representation on the web, representing the broad themes of cultivate, empower, adapt, energize, remediate and retrofit. The College of Design has three projects featured among the 55.
Joseph D. Moore Distinguished Professor of Landscape Architecture and Environmental Planning Kofi Boone, FASLA, was the studio instructor in the Department of Landscape Architecture and Environmental Planning.
See the student projects chosen for curation below:
The Parker District : A Case for Permaculture Principles as Urban Design Solutions
Authors: Angela Kealey Rainey, Avery Barlett-Golden, Julia Needham
Amplifying existing community efforts at establishing food and land sovereignty, this project in the disinvested-from West Boulevard neighborhood pairs policy change with symbiotic regional systems. Drawing inspiration from permaculture principles – including closed-loop food systems, graduated zones of intensity, and nutrient recovery greenhouses – this project centers sustainable design and equitable policies that create quality jobs, celebrate local culture, decarbonize, and protect residents vulnerable to displacement.
The Heart and the Hub: Multi-scalar Interventions in Charlotte, NC
Taking a holistic approach to design interventions, this project explores the possibilities of creating a green neighborhood hub in a developing area facing threats of gentrification and displacement. This project calls for the expansion of affordable housing, a repurposing of vacant and brownfield sites, the expansion of access to multi-modal transportation, the establishment of job creation and career education sites, and the protection of existing cultural amenities and identities.
Leveraging Light Rail Development for an Equitable District
Authors: Britt Davis, Susie Wold, Feier Chen
Through the development of a recipe toolkit, which provides a flexible, community-based design process in which to formulate hyper-local scenarios, this project aims to create an equitable community vision for the historically Black community of West Boulevard. Designed to help community members share local planning knowledge, brainstorm ideas, and map routes towards sustainable policy changes, this project acts as a creative framework for just, community-led, and ecologically centric design.
____
Special Thanks
A special thank you to the following partners, who made this studio possible:
City of Charlotte:
Lorna Allen, Charlotte Urban Design Center
Monica Holmes, Charlotte Urban Design Center
Grant Meacci, Charlotte Urban Design Center
Rachel Stark, Charlotte Urban Design Center
Erin Gillespie, Economic Development
John Howard, CATS-Silver Line TOD Project Manager
Jenna Nichols, CATS-Silver Line Design Deputy Project Manager
West Boulevard:
Rickey Hall, Seeds For Change
J. Michael Moore, Community Historian
About the Green New Deal Superstudio
The Green New Deal Superstudio is a joint initiative of the Landscape Architecture Foundation (LAF) in association with the partners listed below. Together, we are administering the Superstudio with each of the partners providing in-kind support.
The Superstudio will also inform a national conversation on policy and design at a spring 2022 summit convened by the Landscape Architecture Foundation. The summit will consist of discussions about the Green New Deal goals and the ideas and themes sparked by the submitted projects.
The Green New Deal Superstudio in the News: