Student Experience
Using Design Thinking to Investigate the Potential of Knowledge Graphs
In the midst of the pandemic, The NC State Laboratory for Analytic Sciences (LAS) partnered with our master's students in the NCSU College of Design's Graphic Design Department to tackle the potential for a knowledge graph to support the work of intelligence analysts.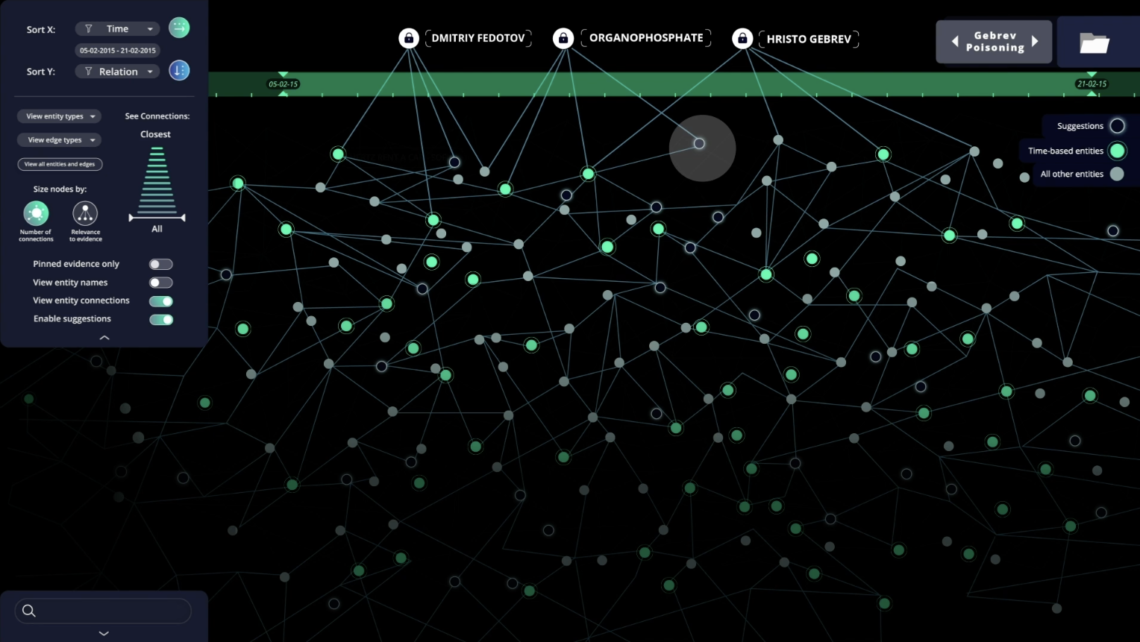 The Research Challenge
Students worked with LAS to delve into the following question: How might the design of an intelligent interface enable an analyst to collaborate with a knowledge graph to understand relevant data and forge useful insights?
For the design students this played out in three primary areas:
Visualizing the knowledge graph interface
Creating user interactions with the knowledge graph
Incorporating machine learning capabilities into the user experience in order to alleviate the identified pain points.
Over a 9 week period, the grad students collaborated with LAS to move through a user-centered research process which included developing personas, scenarios and journey maps, interviewing potential users, benchmarking existing tools, moving through convergent and divergent ideation methods, developing alternative task flows, prototyping possibilities and, ultimately, creating scenario videos of proposed interfaces and experiences.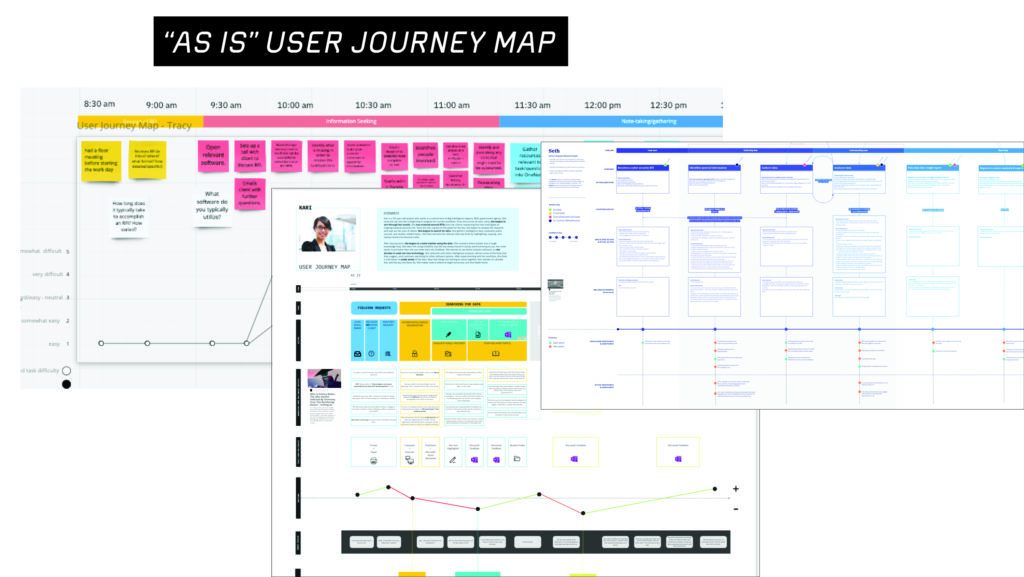 Using research garnered through interviews, secondary research and observation, students mapped out the user experiences of intelligence analysts as they complete daily tasks.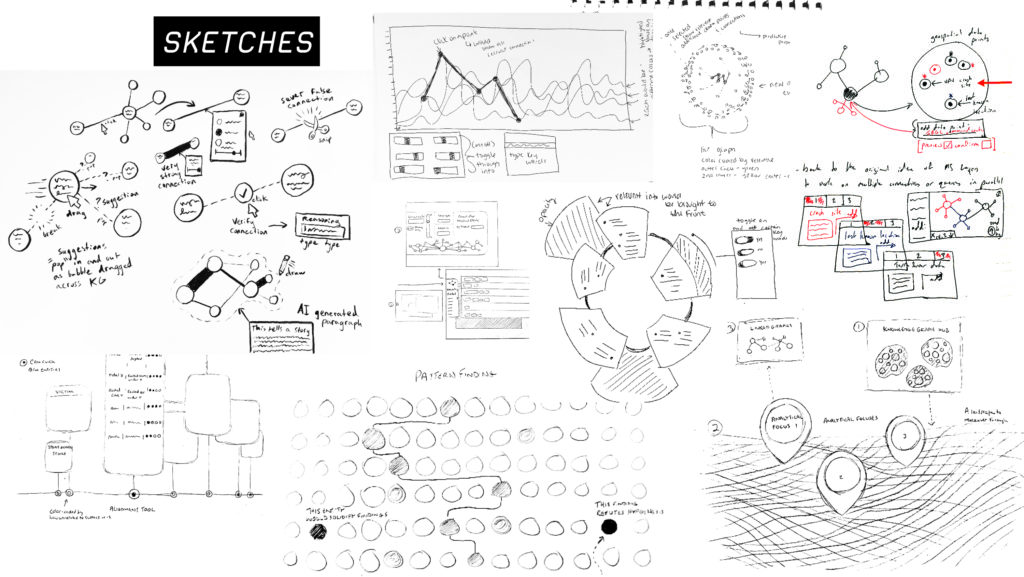 Through a cycle of divergent and convergent thinking, design students iteratively moved from early sketches to storyboards to task flows to—ultimately—high fidelity prototypes and scenario videos.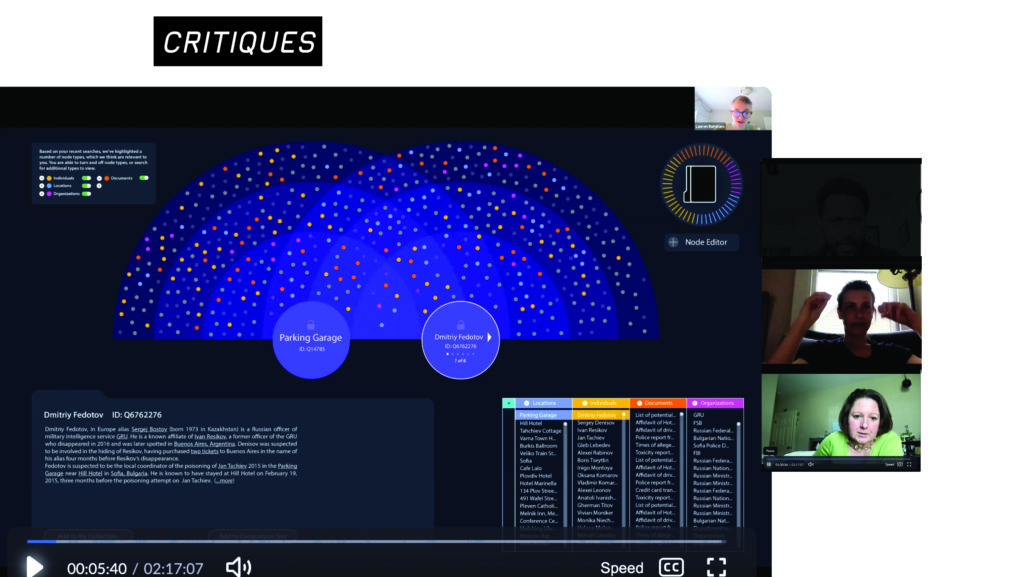 Over the course of the semester, LAS team members and potential users from the intelligence community visited the studio virtually to critique the projects, providing valuable feedback to the teams.
The Results
The Student Perspective
Below Masters in Graphic Design students share their perspective on the project:
"For me, this project was a first dive into user research strategies and user experience design. Far from the self-directed UI projects I'd completed thus far at school, this project required understanding and designing for users and needs far outside of any of our own experiences. A great deal of the design process involved developing an understanding of what intelligence analysts do, what tasks they perform, what tools and methods they use, what data they deal with, how they think through problems, and what they like or dislike about their work. A secondary (but not insignificant) task was learning about knowledge graphs and how they might best assist the work that intelligence analysts do without making a tool that is too cumbersome for users. While our ultimate grasp on these two areas of knowledge was far from complete, the process of researching and understanding was incredibly interesting and rewarding. I had never had to ask the types of questions, never had the conversations with potential users and with other students that this project asked of me. User experience design is an area of design and a type of thinking that I'd never known I'd had an interest in, but now am interested in considering as a career path.
This summer, I am a UX intern and will be improving many of the same skills learned in our project with LAS. Without this experience, I would not have had the chance to begin developing these skills and a familiarity with user research and user experience design that will be integral to my current job. I'm excited to be able to practice these newfound skills and techniques moving forward, and I'm glad to have been able to begin this process through our work with LAS."
—Lauren Burnham, MGD '22
"As a 41-year-old man pulled from the workforce after 15+ years solving visual problems for others (mostly as an illustrator), I'd come to think of design as plugging a hole, filling a void, simply moving something from here to there. And I worried that this task was once again a request for me to use my software knowledge to connect point A to point B, rather than an opportunity to challenge the status quo in any meaningful way. But LAS didn't just want those dots connected. They genuinely wanted thoughtful explorations into how to incorporate a knowledge graph into an interface to make their roles as analysts more effective and efficient.
The partnership was a first for me in many ways. Having the guardrails on the project be, "the realm of what is possible given the realities of analysts and of existing machine learning capabilities" rather than, "what was budgeted for" allowed my team of three to brainstorm in ways that felt fresh and additive. As a designer, the user experience of an analyst became of paramount importance. Knowing our audience, and having our audience offer feedback, put me in the position of having to be more considered and measured in my approach. I wasn't just meeting my expectations: I was trying to exceed the expectations of others. Having to find the means to convey a complex concept to analysts stretched how I communicate. And finally, I recognize as a designer who is hungry for knowledge and experience that our partnership with LAS was exactly what I needed; a crash course in how to be an effective user experience designer and a strong communicator."
—Carl Broaddus, MGD '22
"My experience working on this project was overwhelmingly positive. Everyone at LAS made themselves available throughout the entire process, and it was obvious that they were excited to be working with the MGD program on such a promising research area. Incorporating knowledge graphs and machine learning into the analyst's user experience was certainly an exciting challenge to take on as a designer. Collaborating with individuals from various backgrounds and areas of expertise proved to be a valuable learning experience; multidisciplinary teams often face obstacles, but they also provide the opportunity to learn from others in unique ways. As a student working for the first time on a "real world" project that progressed through all phases of the user experience, I feel that I developed the skills and design strategies that will be necessary as I move into professional practice and face similar challenges and opportunities. I feel honored to have been a part of this project and I am excited to see what the future holds for LAS and everyone involved!"
—Phil Oweida, MGD '22
_____________________________________
This story was originally published on the website of Professor of Graphic Design Helen Armstrong.