Alumni Experience
Mirrors and Mentors: Reaching Back for the Next Generation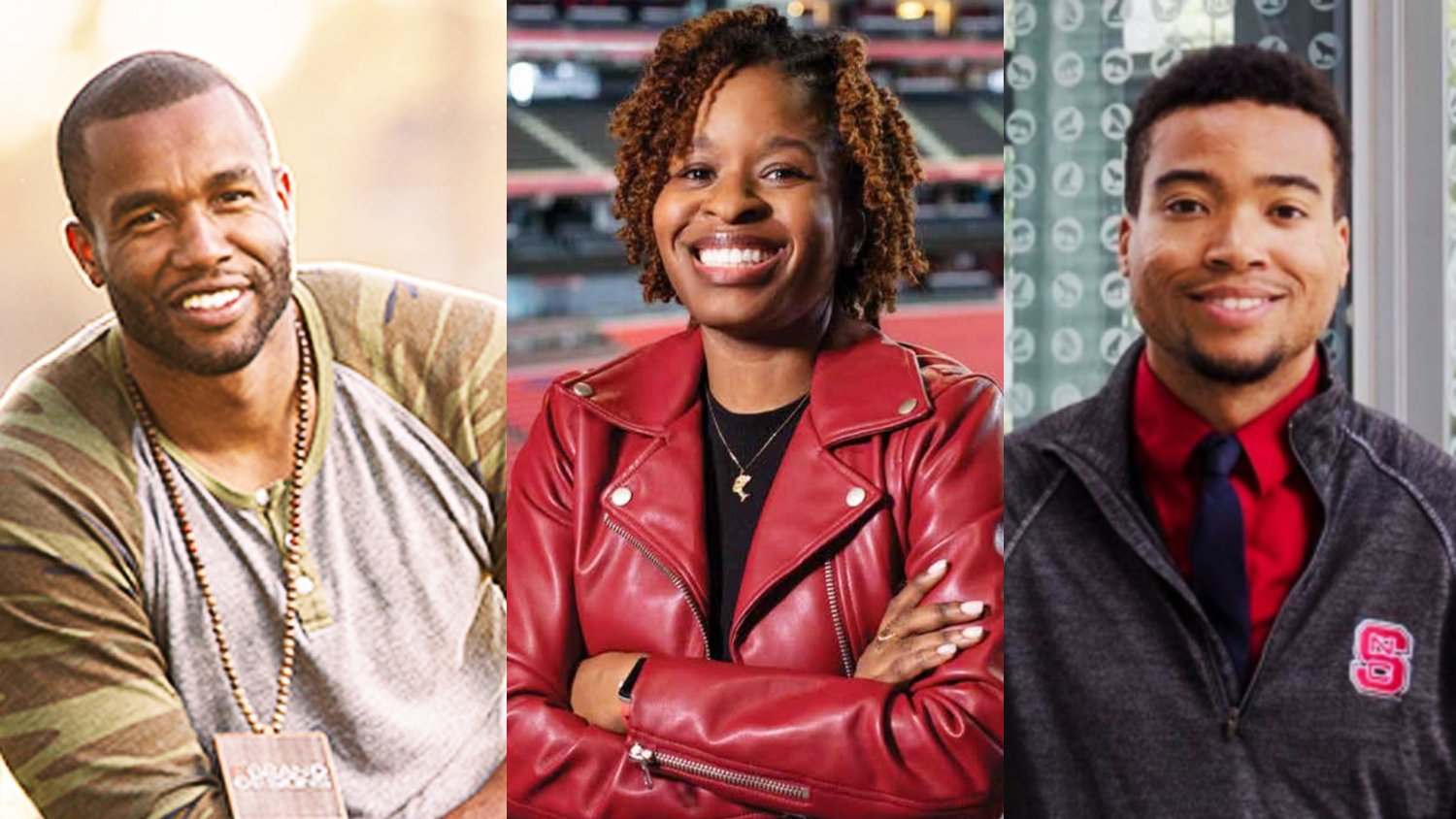 ClayVon Lowe, Reggie Howell and Britt Davis are all graduates of the College of Design. All three have unique passions and professions, but they are also connected by the mentors which have guided them. By paying the act of mentorship forward, they have not only formed a bond that continues to shape their own lives and careers, but those of other young minds as well.
The Hustle Factor
When asked what advice he would share with aspiring designers, ClayVon Lowe offers the phrase he lives by:
"The dream is free. The hustle is sold separately."
But those words didn't come to him on their own. It took years of challenges and the care of others. It took the opportunity to see other designers who looked like him. It took guidance and mentorship.
He's turned those words into a living mantra. Not just for his own success, but to help others foster their own hustle throughout their design journeys.
ClayVon [BID '03, MID '05] credits his mentoring mindset to others who have helped him along the way. Some of those figures include fellow classmates, a handful of clients and especially former Assistant Dean of Student Affairs Marva Motley.
With those figures as a guiding force, the next generation of mentors in design began to form.
Reaching Out and Rising Up
As with any profession, success in a creative field doesn't occur solely on skill, talent or inspiration – it takes a community.
Lowe, now a veteran designer, owns and operates D Brand Designs and is also the design director at Greentouch Home. His journey eventually led him back to the College of Design's Design Camp to meet Brittany "Britt" Davis.
"When I met Brittany – she was self-driven. Self-motivated. Even in 10th grade, her portfolio was extensive. I mean, she had a complete line of reggae clothing and hoodies that she had designed," reflects ClayVon.
"I had to stay in touch with her and make sure that, from the beginning, she knew that she was special. I needed to make sure that she didn't stop, that we didn't lose her. That she had what it takes."
A decade later, Britt [BID '09] says that ClayVon still gives her homework assignments. To her, the connections she made with mentors like him and Marva Motley helped guide her creativity towards a successful career.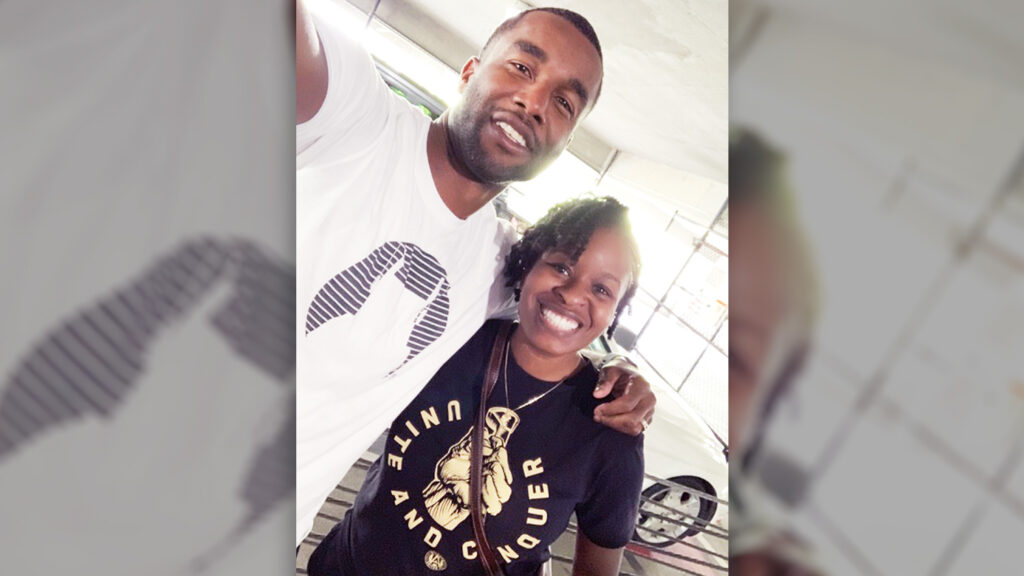 "I met ClayVon through Miss Motley," says Britt. "Even with really big ideas, he always worked through them with me and kept me believing that they're possible. For my long-term goals, he still checks in on them and gives me tips for how to grow my business and get to where I want to be."
Today, she works as a senior graphic designer at AMB Sports + Entertainment creating assets for the Atlanta Falcons and the Atlanta United FC. Channeling her inner hustle, she is also honing her skills as the co-founder of the culture/creative content platform, LCKR ROOM.
She continued to carry on the legacy of mentorship when she took Reginald "Reggie" Howell [LAR '13] under her wing through the Multicultural Design Student Association's Peer Mentor Program.
"For me, having a mentor helped me see what it does for your career. I wanted to do that same thing. I want to kind of keep it going," Britt remarks. "Coming into the College of Design, you're told how tough it is. It's easy to be nervous. Having somebody that you can bounce questions off of, or take you to pick up some art supplies, or even just hang out – it helps to know you're not in it alone."
Growing up in a rural town, Reggie often reflects on women like Britt, Marva and the current assistant dean of student and academic services for the College of Design, Tameka Whitaker – each of them shaping his outlook on his life and career: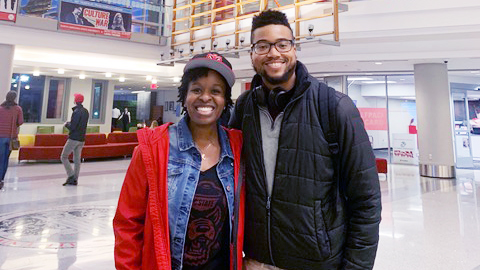 "Most of the women in my little church had master's degrees from places like Shaw University. Seeing women achieve so many things, seeing the care in which they teach and educate those around them – that's always played a big role in my life."
Some of the most influential moments for Reggie involved sharing meals with Britt, where they would talk at length about the resources that were available to him, the people that he needed to meet and the possibilities of a career in design. She also guided him on how to channel his ideation process to navigate the creative world as a professional.
Now a senior marketing manager at NC State Campus Enterprises, Reggie gets to mentor other students and interns on how to navigate their journeys even if they aren't in the same field of study.
"One student I had last year was in biological sciences. It was interesting seeing how much landscape architecture tied into what he was doing," says Reggie. "Being able to see him grow in both in his personal life and in his academics, to getting internships at places like Biogen – that was that was really nice to see."
The Power of Mirrors
The skills gained through mentorship are not the only things shared by ClayVon, Britt and Reggie. They also share the experience of being Black students navigating a predominantly white institution (PWI).
Mentorship plays an especially critical role in the lives of Black students attending PWIs like NC State, in addition to professional opportunities, network development, and impactful lessons.
"When I was a student, Miss Motley helped me get the funds to go to the Organization of Black Designers conference in Miami – that was my first time interacting with Black designers," reflects ClayVon, who credits the experience of meeting successful designers who look like him as a significant contribution to his own mindset.
"I met one guy at the conference who I still keep in touch with to this day. He was creating things like furniture, shoes, even the latest Arizona tea bottle. Meeting him, it made me realize – we can do this."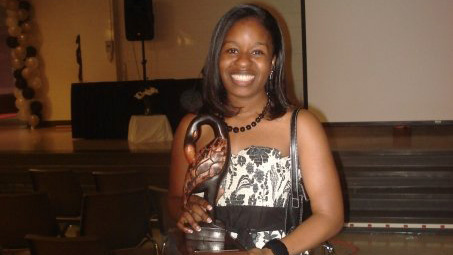 There is one symbol connecting the lives of ClayVon, Britt and Reggie. They each possess a wooden statue — a bird reaching its head towards an egg on its back. All three alumni are recipients of the Ebony Harlem Award of Excellence, celebrating Black excellence at NC State. The namesake of the statue, Sankofa, perfectly encompasses the theme of mentorship throughout the journeys of these three designers and many others.
Originally created by the Akan people of Ghana, Sankofa directly translates to this phrase:
You must reach back to reclaim that which is lost in order to move forward.
Design students are no stranger to uncertainty. Searching for a new job, the next client, or just a meaningful connection in any creative field can be daunting. By continuing the legacy of mentorship, the College of Design, its alumni and its current students can reinforce a lasting bond and help the next generation channel their inner hustle.
There's more than one way to support our students.
The College of Design relies on support from members of the design community to empower our students with critical resources, scholarships and opportunities.
If you are interested in making a gift to a cause that fits your interests, please contact Associate Director of Development, Candice Murray.