External Recognition
Coastal Dynamics Design Lab Continues Community Flood Work with Two New Grants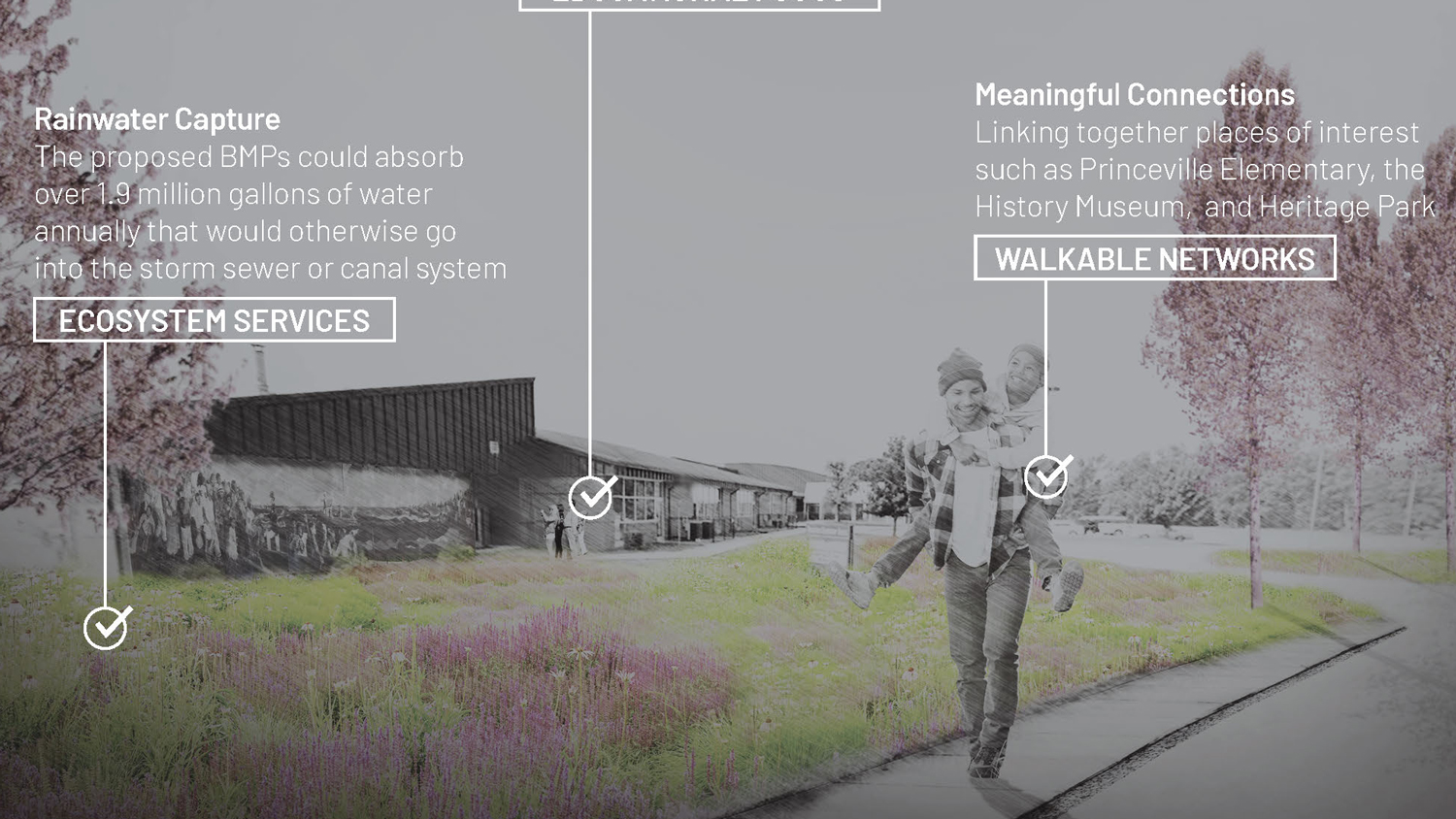 The Coastal Dynamics Design Lab continues its work throughout the State of North Carolina with two new grants received.
Revitalizing Lumberton
To support the work developed in the Lumberton Community Floodprint, members of the Coastal Dynamics Design Lab worked closely with the City of Lumberton to craft a grant from the North Carolina Department of Justice Environmental Enhancement Grant (EEG) program. Funds from the 2020 EEG program will support projects in four North Carolina counties. Lumberton, in Robeson County, will receive $250,000 to purchase and repurpose the Scottish Meatpacking property that resides along the banks of the Lumber River. The project includes removing 9,600 square feet of impervious surface, constructing a boat ramp, and stabilizing the shoreline.
"This exciting project is a shot in the arm to Lumberton, which has suffered as a result of recent Hurricanes Matthew and Florence," Attorney General Josh Stein said. "I am excited to see how improving this site fosters community engagement, activity, and education."
This recent grant is in addition to other funds the Coastal Dynamics Design Lab has assisted the city and other project partners to secure, including a 2019 NC Environmental Enhancement Grant, a 2020 Duke Energy Foundation Grant, and a 2020 NC Land and Water Fund Grant.
Supporting Princeville
Through their partnership work with the Conservation Trust of North Carolina (CTNC), the Coastal Dynamics Design Lab assisted in securing a $403,200 grant to design and implement nature-based stormwater interventions and related educational features to increase flood resilience and awareness on the Princeville Elementary School site in Princeville, North Carolina. This project will engage Princeville citizens and the school's students and staff, implement 16,500 square feet of green stormwater BMPs to treat 75,684 square feet of impervious surfaces, create 3,000 feet of new trails and install thousands of native plants, while providing a visible educational and recreational resource at the center of the community.
This project is a direct result of the recently completed Princeville Community Floodprint, which was formally adopted by the town for implementation. Funds for the grant were received from the National Fish and Wildlife Foundation (NFWF) and Wells Fargo for their 2020 Resilient Communities projects. Eleven new or continuing resilience grants totaling $3.6 million were awarded. The 11 awards announced generated $4.5 million in match from the grantees, providing a total conservation impact of more than $8.1 million.
Through improvements to natural features and enhanced community capacity, the program helps communities prepare for future impacts associated with sea-level rise, water quantity and quality and forest conservation. By taking advantage of natural features such as wetlands, resilient shorelines, urban tree canopies, natural forests and healthy upstream watersheds, communities can accrue quality of life benefits today, enhance fish and wildlife resources, and help prepare for foreseeable resilience challenges.
The program places special emphasis on inclusion and helping traditionally underserved or low- and moderate-income communities build capacity for resiliency planning and investments in "greener" infrastructure. Lower-income communities are often most vulnerable, communities are stronger and bounce back more quickly after an impact/disaster when people work together and have the skills, knowledge and capacity to rebuild.