Student Experience
Students Take Top Prize in National Concrete Masonry Association Competition
Joshua Albert and Clayton Johnson, under advisor Vincent Petrarca, won first place in the NCMA 2020 Unit Design Competition. This is the second year in a row that a team from the College of Design placed in the top three.
Reposted from the National Concrete Masonry Association.
Herndon, VA – Four college teams presented their unique, fresh concrete masonry unit (CMU) designs at the 2020 Unit Design Competition (UDC) during NCMA's virtual Midyear Event. Judges reviewed and scored the designs and results were announced during the live online event.
The team from North Carolina State University took the top prize over second place Mississippi State, third place Iowa State and honorable mention Ball State.
Due to COVID-19, last minute changes were implemented to keep the competition in play. In lieu of physical story boards and prototypes, students were asked to submit video presentations to allow for an online jury to evaluate.
"Fantastic video presentations" said Jason Thompson, UDC's Structural Engineer Judge. "These students have a second career in multi-media and graphics."
The team of Joshua Albert and Clayton Johnson, all students at North Carolina State University in Raleigh, North Carolina under the tutelage of Professor Vincent Petrarca, took first place. The team's design, dubbed "Chock Block", wowed the judges with its highly practical design that can easily incorporated into construction using conventional CMU.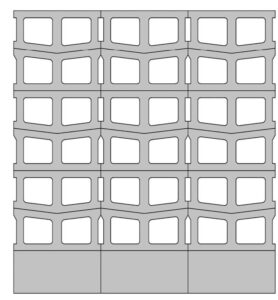 Designed in response to traditional CMUs, Chock Block is a simple, extruded concrete masonry unit that improves the visual experience of concrete masonry while integrating into existing CMU masonry and making no structural compromises. Chock Block is a part of the team's Angle Face series with the Point and Valley blocks, a collection of blocks sharing a single change, a single move in form, versus traditional blocks. By organizing the angled faces of our blocks, a textured finish that plays with shadow is achieved, an effect amplified with integral coloring. The blocks are efficient to produce, ship, and install, and can easily become more than an accent at little to no extra cost. Through a modest change in design, the team was able to respect concrete masonry as a system and produce remarkable results.
Read the full story and see student videos on the National Concrete Masonry Association's website.