Alumna Maggie Snoke Designs Masks for Under Armour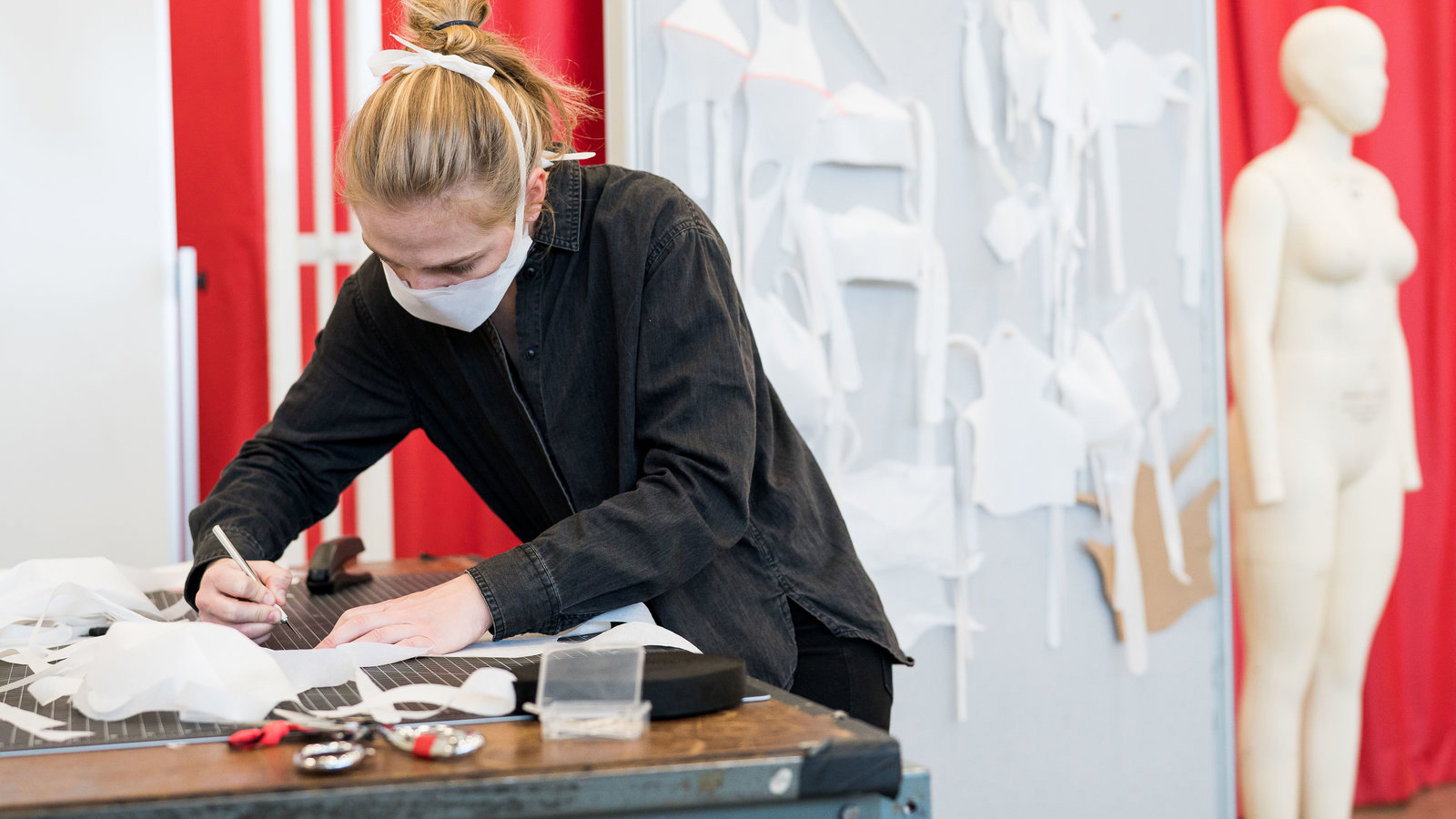 For Maggie Snoke, design thinking wasn't just a product of her time in school. As a successful designer on the apparel innovation team for Under Armour, she and a team of designers brainstormed ways to support healthcare workers with masks, gowns, and supply kits.
Under Armour was quick to answer the call for aid, pivoting its production into helping health care systems defend against the coronavirus pandemic.
"When the call came in from our local medical providers for more masks, gowns and supply kits, we just went straight to work," said Randy Harward, SVP of Advanced Material and Manufacturing Innovation at Under Armour. "More than 50 Under Armour teammates from materials scientists to footwear and apparel designers from laboratories in Baltimore and Portland quickly came together in search of solutions."
Finding Design Solutions
This project was a challenge for the designers involved, as they needed to design an effective mask out of a single piece of flat, no-stretch material that could be assembled with no sewing, gluing, or welding – only cutting and folding. "The hardest part was finding a solution that could conform to the complexity of a variety of face shapes in a comfortable and effective way" Snoke, an industrial design graduate of the College of Design, said.
The final design of the mask came about when the team experimented with different folds that might provide good coverage while conforming to many faces. They found a design solution that worked surprisingly well, and by adding an inner layer to the folded part, they could use the top straps to hold that fold together without any need for sewing.
"This method provides a two-layer mask for additional protection. The mask's inner layer sits close to the face, providing a first line of defense. The second layer acts as a bigger bubble surrounding more of the face and sealing around the edges" Snoke added.
An Iterative Process
Working on this project was a complete shift from Snoke's regular work, which focuses on projects for seasons far into the future. "Through my experience at the College of Design, I learned the importance of flexibility, failure, and collaboration – three things that were critical in designing an effective mask" Snoke added.
"It's always important to identify different ways to approach a goal, and not get attached to just one. In only three days, we went through something like 20 prototypes before landing on an effective final product. Everyone brought their unique ways of thinking, passions and skillsets together to make this a success. It would have been impossible for one person alone" she said.