Alex Buck: The Freedom to Play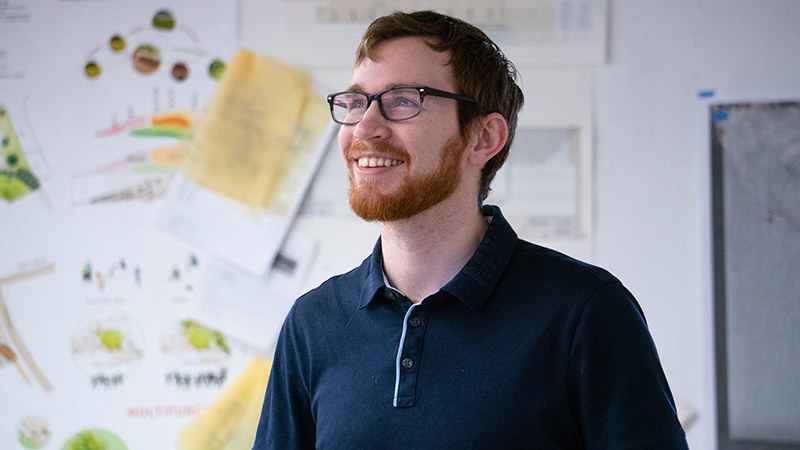 A Swing Set and Some Monkey Bars
The Governor Morehead School (GMS) is the only residential school for the visually impaired in North Carolina. It serves students with a wide scope of needs from the time of birth to 21 years of age. It equips those students with critical skills for social, academic, vocational and personal life.
In addition to visual impairment, many students are on the autism spectrum or live with developmental disabilities. For them, play is a crucial aspect of socialization and personal growth.
Even though play is a core component of their curriculum, GMS currently has only one playground, equipped with only a swing set and monkey bars.
Alex Buck, a graduate student in architecture at the College of Design and president of NC State's Freedom by Design (FBD), knows that a playground can have a huge impact on childhood development – especially for children with unique needs.
Freedom by Design, the community service branch of the American Institute of Architecture Students (AIAS), uses the talents of architecture students to radically impact the lives of people in their community through design and construction solutions.
"If you've met one child with autism, then you've met one child with autism."
Buck, along with his team of seven other students at Freedom by Design, have been designing a new playground for GMS. With a large portion of the GMS curriculum revolving around recreation and social development, a play area should be designed with a multi-sensory approach.
Not only are Buck and his team passionate about serving those with unique needs, but they are also excited about taking an evolutionary step in the challenges that Freedom by Design undertakes. Buck was first exposed to developing specialized play areas during the summer of 2016, when he worked with FBD to improve the home of three young men on the autism spectrum.
The phrase that sticks with Buck the most during this project within the developmental disability community is, "if you've met one child with autism, then you've met one child with autism."
According to Buck, FBD is on track to teaching involved students how to solve a wider array of accessibility issues. "[This project] has to meet the needs of an incredibly diverse user group. The students are visually impaired, but they're not all totally blind. And there's different types of blindness as well."
Countless hours of research and collaborative discussion are being used to design a play area that has a large variety of sensory and experiential elements to it. Things like color blindness, peripheral blindness, tactile sensitivity and audible elements are all taken into consideration.
"Some students are developing at a normal rate and then some students have developmental disabilities," says Buck. "It's the whole spectrum, and it's the whole spectrum of vision as well. We have kids as young as six and kids as old as 18 who we have to design this for. It has to meet a lot of needs, and we're trying to make it as versatile as possible, but also have a large variety of sensory and experiential elements to it."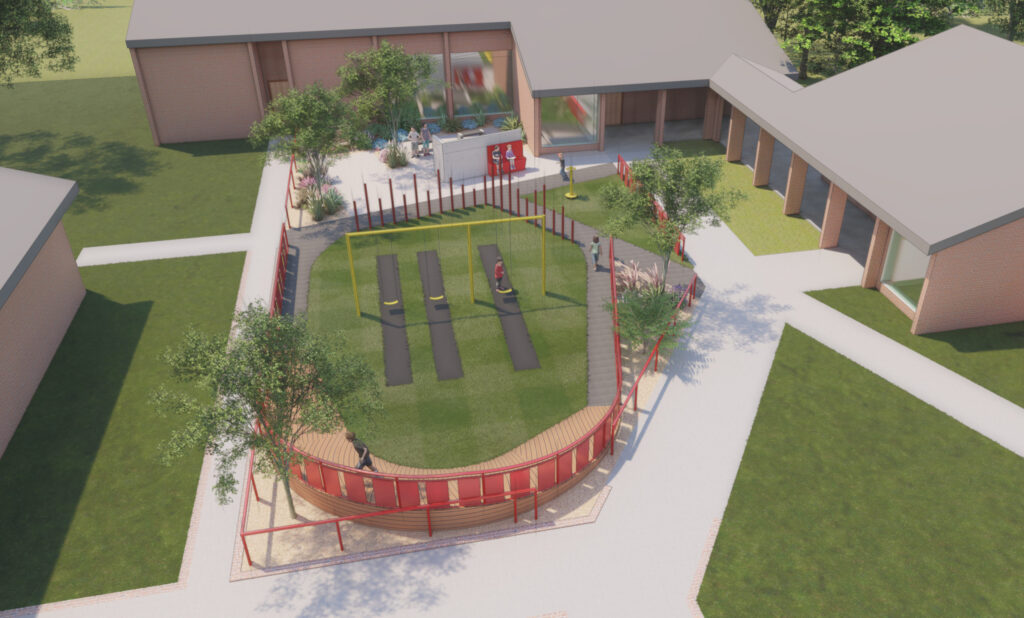 Never Learning Alone
With guidance and material support from organizations like Benjamin Moore Paints and the American Galvanizers Association, the FBD team is also taking on the task of building the playground once the design is finalized. They also get additional hands-on training in skills such as woodworking, welding and concrete casting from staff at the Constructed Facilities Laboratory on Centennial Campus and the Materials Lab at the College of Design.
"I worked with Greg [Lucier] at the Constructed Facilities Laboratory over a summer, so I already had the hands-on experience designing and casting precast panels. And then I did it again for studio. I really enjoyed having that experience," said Buck, reflecting on one example of learned skills being applied to his current project.
The proposed design also addresses the need for a balance between active play (high sensory stimulation) and passive play (low sensory stimulation), as well as the integration of garden elements with the help of the Natural Learning Initiative.
For Buck, FBD isn't just an outlet to improve the community as an architect, but a place to help other current students thrive. "That's a goal of mine, and a goal of the organization – to give the rest of the community useful skills. Instead of just teaching my team, I want to teach anyone who wants to learn."