Five Architects Inducted as Fellows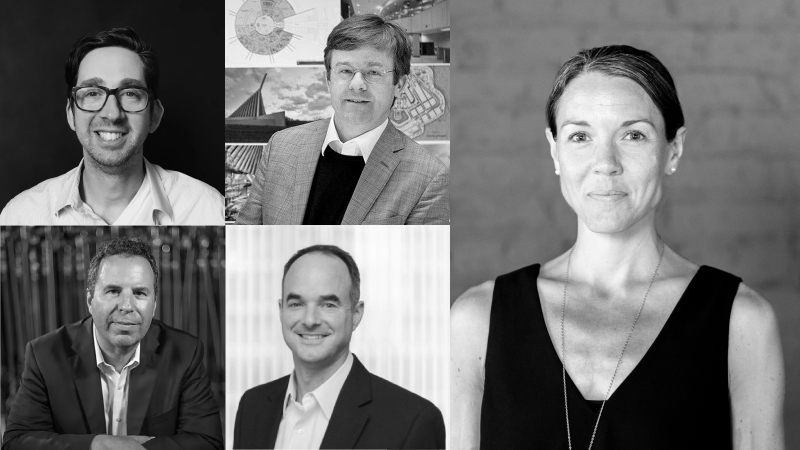 Three alumni and two professors of the practice were recently inducted as Fellows for the American Institute of Architects in 2020. AIA Fellows are recognized with the AIA's highest membership honor for their exceptional work and contributions to architecture and society.
Architects who have made significant contributions to the profession and society and who exemplify architectural excellence can become a member of the AIA College of Fellows. Only 3 percent of the AIA members have this distinction.
Alumni Inducted as FAIA for 2020:
Randy Deutsch
Randy Deutsch FAIA, LEED AP served as the Associate Director for Graduate Studies and is a Clinical Associate Professor at the University of Illinois Urbana-Champaign, teaching and conducting research in design, professional practice, building technology and digital technology. Randy is an international keynote speaker, workshop leader, and design technology authority. An architect responsible for the design of over 100 large, complex sustainable projects, Randy has been an Exec Ed program leader at Harvard GSD, and has written for DesignIntelligence, and has been featured in ARCHITECT Magazine and Architectural Record.
Randy is the author of four books: most recently, Superusers: Design Technology Specialists and the Future of Practice (2019); Convergence: The Redesign of Design (2017) on the nature of the ongoing convergence of technology and work processes in the profession and industry; Data Driven Design and Construction: Strategies for Capturing, Analyzing and Applying Building Data (2015) on the innovative individuals and firms who are leveraging data to advance their practices; and, BIM and Integrated Design: Strategies for Architectural Practice (2011, translated to Chinese in 2018). Randy is writing two more books to be published in late 2020 and early 2021.
Jason Forney
Principal at Bruner/Cott Architects
Whether he's designing a new building or transforming an existing space, Jason combines creativity with building performance to craft sustainable design solutions. As a principal, Jason has been the design leader on many of Bruner/Cott's award-winning projects, including the Massachusetts Museum of Contemporary Art (MASS MoCA) and the Lesley University Lunder Arts Center in Cambridge. The Regenerative Village at Yale Divinity School Master Plan and the R. W. Kern Center at Hampshire College in Amherst both aim to meet the high standards of the Living Building Challenge, including net positive energy and water, and Jason has designed multiple LEED Gold and Platinum-certified college campus projects across the Northeast.
Jason is frequently invited to speak about green design and transformative reuse, sharing his vision and expertise with students and colleagues across the country. He has lectured at the Rhode Island School of Design, Boston- Architectural College and Harvard University and presented at both regional and national AIA conventions.
Born and raised in North Carolina, he earned bachelor's degrees in architecture and environmental design from N.C. State University. Jason lived in a historic fire station and elastic waistband factory before settling down in Arlington, MA, with his wife and two children.
 Steve White
Principal and Director of Washington, D.C. | Fentress Architects
Steve has 25 years of experience designing contextually responsive civic, cultural, and private projects in urban environments. He has collaborated with a broad range of clients including local, state, and federal governments, such as the GSA and the Royal Norwegian Embassy; cultural organizations, such as the National Gallery of Art and the Smithsonian Institution; educational institutions including the Morehead Cain Foundation at the University of North Carolina at Chapel Hill; corporate clients such as Navy Federal Credit Union; and private developers including JBGS, Boston Properties, and the Beijing-SCOMC. Steve is a National Peer for the GSA National Register of Peer Professionals, a certified expert witness for the DC Board of Zoning Adjustment, a member of the George Washington Chapter of Lambda Alpha, a LEED Accredited Professional since 2004, and was the 2015 President of the Washington, DC Chapter of the American Institute of Architects.
Professors of Practice Inducted as FAIA for 2020:

Don Kranbuehl
Principal at ClarkNexsen
Don Kranbuehl is an award-winning architect with over 20 years of experience in the design of academic, science and technology, and civic project types. He has led the design of a variety of projects that have won over 20 AIA awards including two national AIA CAE awards and three Chicago Athenaeum national design awards. Don is passionate about the relationship between architecture and its site and creating design solutions that respond to the climate, natural and built context, and public realm. Don leads the firm's commitment to the 2030 Challenge and the firm's Integrated Design group which is a network of sustainable designers working to improve the process of creating high-performance buildings. He encourages a highly collaborative approach working with the owner and design team to find the best opportunities for synergies between the site, program, budget, and building performance.
Since 2007, Don has served as a Professor of Practice at the NCSU College of Design teaching architecture studios which focus on the relationship of the environment and site to building form and tectonics. He lectures frequently about architectural design and has been an invited speaker to state, regional and national conferences and is a frequent architectural design critic at architecture schools.
Erin Sterling Lewis
Architect + Firm Principal at in situ studio
Erin Sterling Lewis is a native of Illinois and grew up in Yazoo City, Mississippi. She earned a BArch from the University of Kentucky in 2002. Before founding in situ studio in 2010, Erin worked for over eight years at Frank Harmon Architect PA, where she established a foundation of practicing architecture with an emphasis on critical design and environmental responsibility.
Erin is involved in various community outreach and volunteer programs. From 2004 to 2006, Erin served on the Raleigh Historic Development Commission. She served on the Raleigh Planning Commission from 2009 to 2015. In 2010, Erin joined the AIA North Carolina (AIANC) Board of Directors as the Young Architects Forum (YAF) Director and is past President of AIANC. She is also a founder of ACTIVATE NC, which is a statewide AIANC outreach initiative to strengthen the civic role in architecture and design, and CONNECTIONS 81.2, an initiative that promotes architect-led development visioning. Erin occasionally teaches design studios as Professor in Practice and serves on the advisory board for the NCSU College of Design School of Architecture. In 2018, she was awarded a national Young Architects Award by the AIA.
Erin lives with her family in a 1923 bungalow near downtown Raleigh.