Graphic Design Students Featured in GDUSA Students to Watch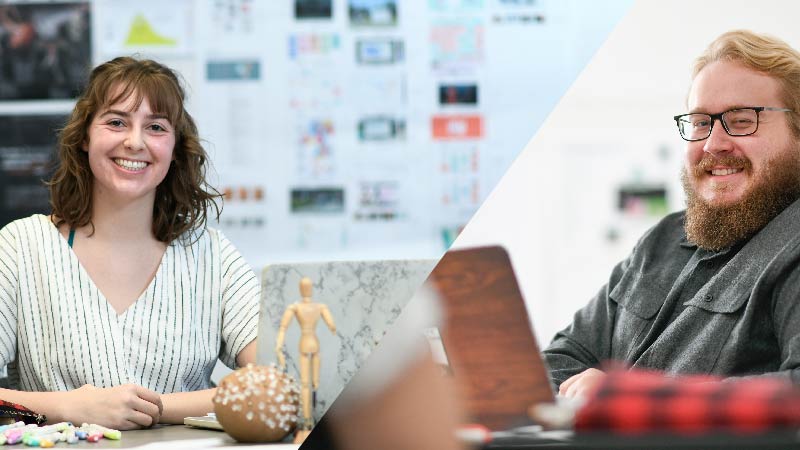 Graphic Design students Kennedy Liggett and Joseph Rogers were recently featured as part of GDUSA's "Students to Watch" list. Read a little more about each student below.
Kennedy Liggett, Senior, Graphic Design:
Kennedy Liggett is a senior majoring in Graphic Design. She is passionate about helping others and designing purposeful work that creates a more inclusive world. She has always had a passion for helping others, but it wasn't until she majored in graphic design that she realized she could use her creativity to make a positive impact on people's lives. After graduation, Kennedy wants to combine her love for children with her passion for helping others by pursuing a career in inclusive design for children. She's also been heavily influenced by illustration throughout her time at school and would like to become a children's book illustrator on the side.
WHERE WERE YOU BORN AND WHERE DID YOU GROW UP?
Springfield MO
MORNING PERSON OR NIGHT OWL?
Morning person even though it's a nightmare to wake me up
FAVORITE SOCIAL PLATFORM?
YouTube hands down
FAVORITE TV BINGE WATCH?
The Office, Crime Watch Daily, or something about prison
FAVORITE PODCAST?
Ear Biscuits, My Favorite Murder
FAVORITE BOOK?
Impossible to choose
FAVORITE MOVIE?
Moana. Moana. Moana (I'm legitimately obsessed)
FAVORITE CAUSE/CHARITY?
Special Books by Special Kids, dedicated to "normalizing the diversity of the human condition"
FAVORITE FREE TIME ACTIVITY?
Impromptu singing and dancing
FAVORITE DESIGNER WORKING TODAY?
Christoph Niemann
AREA OF SPECIALTY?
Inclusive design for children
IF YOU WERE NOT A DESIGNER, WHAT WOULD YOU DO?
Perform on Broadway or do something with kids
THE BEST THING ABOUT DESIGN SCHOOL?
The community and friends I've gained here. I honestly don't know what I would do without my design family.
A MANTRA OR SAYING YOU LIVE BY?
I am Moana
Joseph Rogers, Senior, Graphic Design:
Joseph Rogers is a graphic designer finishing his last year at NC State College of Design. From a very young age Joseph always knew he wanted to do something creative. He had many creative interests and opportunities to explore the arts but his passion landed on graphic design (to his mother's delight who is also a designer). Joseph has spent many semesters interning with companies in downtown Raleigh, in addition to working for the University – improving his technical and professional abilities while understanding and designing for complex design solutions. From his passion of playing games, he created unique board game designs that evolved into an online business. Upon graduation Joseph wants to pursue a career in user experience and corporate design, combining his love for technical applications and brand identity.
WHERE WERE YOU BORN AND WHERE DID YOU GROW UP?
Raleigh NC
MORNING PERSON OR NIGHT OWL?
Night owl
FAVORITE SOCIAL PLATFORM?
Instagram
FAVORITE TV BINGE WATCH?
The Office
FAVORITE BOOK?
Ender's Game
FAVORITE MOVIE?
Oceans 11, Step Brothers, The Village
FAVORITE FINE ARTIST?
Andy Warhol
FAVORITE CAUSE/CHARITY?
Vs. Cancer Foundation
FAVORITE FREE TIME ACTIVITY?
Learning new skills on Youtube: playing the banjo, screenprinting
FAVORITE DESIGNER WORKING TODAY?
Shepard Fairey
AREA OF SPECIALTY?
User Experience or Corporate Design
IF YOU WERE NOT A DESIGNER, WHAT WOULD YOU DO?
Meteorologist or web developer
THE BEST THING ABOUT DESIGN SCHOOL?
A tight-knit design community made up of close friends with common interests, but also the benefits of a larger university
A MANTRA OR SAYING YOU LIVE BY?
Try