Virtual MLK Speech created by Derek Ham and Victoria Gallagher Comes to Hunt Library on Feb. 15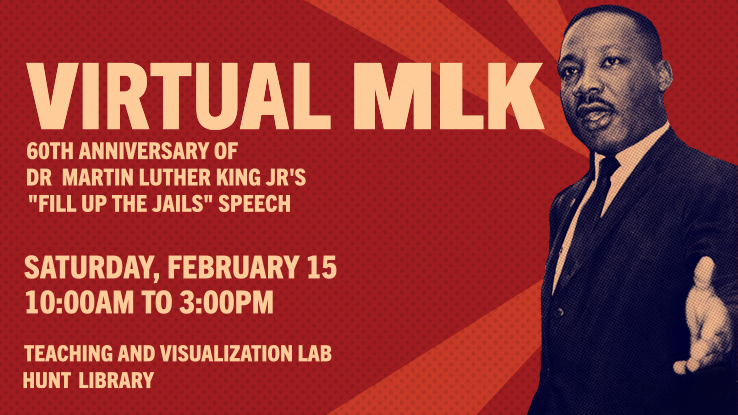 By Chris Tonelli | University Libraries
Be a part of Civil Rights history at the Hunt Library on Saturday, Feb. 15. with a full day of free, public events featuring a virtual reality experience of one of Dr. Martin Luther King Jr.'s most iconic speeches. Other events include a choral performance, family activities, guided tours, and a community discussion on advocacy.
NC State researchers, led by Dr. Victoria Gallagher, will immerse community members in King's "Fill Up the Jails" speech—originally titled "A Creative Protest" and delivered on February 16, 1960 at White Rock Baptist Church in Durham. In the Hunt Library's 270-degree visualization space, visitors can virtually walk around the historic White Rock sanctuary, hear a re-creation of King's speech, and virtually sit with congregation members.
Visitors may sign up for a guided tour of this vMLK exhibition, led by project leaders Dr. Victoria Gallagher and Dr. Derek Ham. Tours are approximately 90 minutes with moderate walking and standing. Self-guided tours will also be available throughout the duration of the event.
Events at the Hunt Library (1070 Partners Way, Raleigh) include:
10:00 a.m.-3:00 p.m. Self-guided tours throughout the day
10:00 a.m.-11:30 a.m. Family activities
11:00 a.m. & 1:00 p.m. Guided tours of the exhibition led by Dr. Victoria Gallagher and Dr. Derek Ham. Space is limited; pre-registration required at go.ncsu.edu/MLKtour
11:30 a.m.-1:00 p.m. Food for purchase from Piri Catering
12:00 p.m.-1:00 a.m. Choral performances by the White Rock Baptist Church Choir and NC State's Uninhibited Praise Gospel Choir
12:45 p.m. & 1:45 p.m. Book introduction and signing with Dr. Joyce Blackwell
2:00 p.m. Community discussion on advocacy
The vMLK project will soon be available to K-12 classrooms, helping students understand Civil Rights history and current-day advocacy.
The day of events is co-sponsored by the NC State University Libraries, the College of Humanities and Social Sciences, and the College of Design and is made possible with support from the National Endowment for the Humanities and the North Carolina Humanities Council.