Industrial Design Program will host PENSOLE Academy for Spring 2020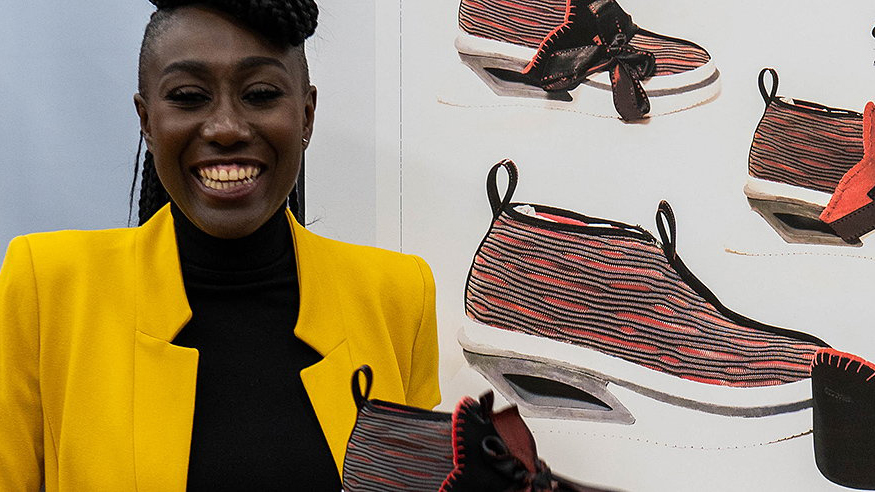 PENSOLE Academy recently launched its L.E.A.D program, aimed at introducing students of color to footwear and functional apparel product-creation careers while providing the industry with a more diverse talent base. MID Alumna and Director of Education at PENSOLE Anna Smith created the program, which will host its master class at NC State this summer.
Read the full release at PENSOLE >>
Comprising Three Seminars Held Over Eight Months through PENSOLE Online and at North Carolina State University, L.E.A.D. by Design was Expressly Developed to Introduce HBCU Students to Product Creation Careers in the Athletic and Outdoor Industries
PENSOLE Academy announced the launch of L.E.A.D. (Leaders Emerge After Direction) by Design, a new program partnering with historically black colleges and universities (HBCUs) to introduce students of color to footwear and functional apparel product-creation careers and provide the industry with a more diverse talent base, according to PENSOLE founder D'Wayne Edwards."This new program provides the footwear and functional apparel industry with a new, non-traditional source for diverse talent," Edwards said. "It also provides HBCU students visibility to careers they might not have known about before because those options were not made available through their schools. Our goal is to break down those barriers of disconnection and connect the students to the industry, and the industry to a more diverse talent pipeline."
L.E.A.D. by Design is a different, longer format than most PENSOLE master classes. Anna Smith, Director of Education for PENSOLE, created this format with the goal of offering interested students the ability to gain knowledge and skills specific to the product creation industry, without interfering with enrollment at their primary educational institution. The program comprises three seminars that will take place from March – November 2020.
SEMINAR A | DESIGN DEVELOPMENT
Up to 60 applicants will be selected to participate. With guidance from PENSOLE staff, these students will fine-tune their designs and design thinking. Through online critiques and demos that emphasize the foundations of design, creative thinking, and storytelling, the student designer will build professional and personal growth. This program is designed to prep students for the PENSOLE master class without interfering with curriculum at their primary colleges. Thirty of these students will advance to Seminar B, an in-person master class, hosted by the Industrial Design Department, College of Design at NC State University.
SEMINAR B | MASTER CLASS
This intensive will teach what it is like to work on a professional product-creation team. Students will focus on one of the following three tracks: color and material design, footwear design, and functional apparel and/or accessory design. Students will work on individual and team projects over the course of the three weeks, culminating in a final presentation in front of recruiters and leaders from top brands in the athletic and outdoor industries.
SEMINAR C | SURVEY OF DESIGN PRACTICES
Looking to product designers of color throughout history as precedents for its coursework, students will further their exploration in design foundations. Through creative inquiry and application, they will design and develop business cards, resumés, and portfolios for themselves, bolstering personal and professional growth that will prepare them for internship opportunities or entry-level jobs in the industry.
Made possible in part from a grant from The William R. Kenan Jr. Charitable Trust, L.E.A.D. by Design's goal is to create a "sister program" between HBCUs and PENSOLE, with hands-on instruction, mentorship, and networking, introducing careers in the $75 billion footwear industry.
About PENSOLE
D'Wayne Edwards, a celebrated member of the global footwear community for the last 31 years, founded PENSOLE in 2010 to give talented young design students—regardless of socioeconomic background—an opportunity to learn from the industry's best, without financial barriers, and to provide the industry with a farm system for the next generation of footwear designers.
PENSOLE's "learn by doing" curriculum teaches students the entire footwear design process: inspiration, concept-development, design process, problem-solving, materials, business, networking, marketing, and branding. PENSOLE features the most sought-after faculty in footwear, comprising both young professional designers and established footwear design leaders from the top brands, with more than 100 years combined experience to help its students with professional development. Suzette Henry created MLab at PENSOLE in 2010 as a dedicated resource, providing color technology and material innovation in customized educational programs.
In 2016, Anna Smith joined PENSOLE. With 15 years of experience spanning both education and product creation industries. Smith, a PENSOLE alum, has developed, managed and expanded programs at PENSOLE for the past three years. And in 2017, Angela Medlin joined PENSOLE as founder and director of the educational product creation resource The Functional Apparel and Accessories Studio (FAAS), where students are instructed in "true to industry" processes and sustainable practices.
Since the first PENSOLE class in 2010, more than 475 Academy graduates have been placed professionally, full-time or as interns, for companies worldwide, including Anta, Columbia Sportswear, The North Face, Timberland, Converse, New Balance, Brooks, Cole Haan, Under Armour, Keen, Stride Rite, adidas, JORDAN, Kenneth Cole, ECCO, Mizuno, Reebok, and Nike.