Preserving History Through Design + Build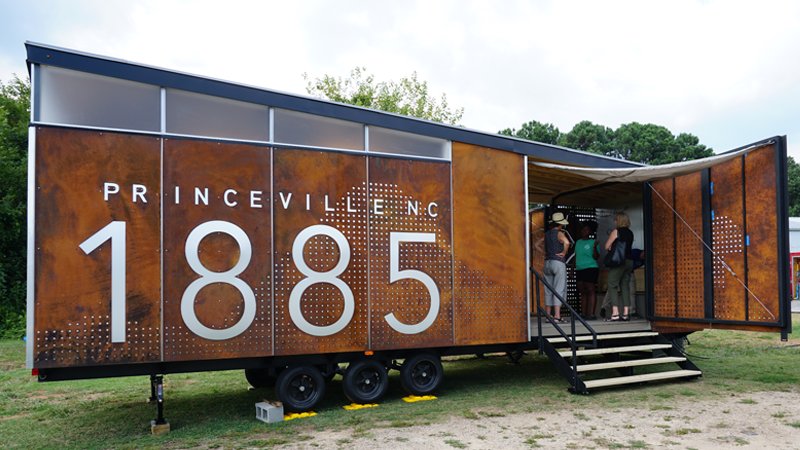 The School of Architecture's Design + Build studio has tackled a number of distinct projects since its inception, each with their own connections to location, culture, and history. In 2019, what started as a tour of Princeville, NC led by Landscape Architecture Professor Kofi Boone ended with a 200+ square foot tribute to a town whose history was facing disaster and destruction.
The College of Design has a background of work with disaster recovery in Princeville, including research done through the Coastal Dynamics Design Lab and their Homeplace project. Boone works with Princeville — the first town in America to be chartered by freed slaves after the Civil War — to conduct tours of its historic landscape. On one such tour, he was moved by the disappointment expressed by a group of middle school students when they discovered that the town's existing museum had been closed because of flooding damage.
When he mentioned the experience to his colleagues at the College, the pieces of an idea began to fall into place.
"It took David Hill and Andy Fox and the rest to connect the dots and take that observation and activate it with a real thing," said Boone.
Could there be a way to preserve the legacy of this important Eastern NC town while still protecting it from the dangers of flooding? How do we put wheels on history?
This was the challenge the ARC 503 Design +  Build studio set out to tackle this summer. Led by professional architects Randy Lanou, Ellen Cassily, Erik Mehlman, and Ryan Stamley, twelve Architecture students were tasked with creating a concept that some of them had never encountered before: a structure built on a chassis instead of a foundation fixed in the ground.
"The museum came together because of a team effort and a singular purpose: to use design and construction as a way to build hope and resilience." – David Hill, FAIA
"This brought with it a set of challenges and opportunities that the students addressed and capitalized on," explained Lanou. The project — built on-site near the NC State McKimmon Center — had to be functional, safe, mobile, and durable. It included both interior and outdoor covered displays, some of which folded out, and also had to be fully wired for lighting. And because this was a museum, the students had to determine how to best create a structure that was exciting and educational while also preserving the history of a town that has been flooded nine times since its founding.
Design + Build is a unique experience within the College of Design. It puts students into scenarios that they will often have to encounter in professional practice, such as working with a client, operating on a budget, and adhering to a strict timeline and plan for project delivery. In addition, they have to share ideas, resolve conflicts, and learn how to tackle unexpected complications.
Now, imagine compressing all of this into 11 weeks.
It's a challenge Lanou, who has taught twelve summer Design + Build studios, loves to tackle. "Working with the smart, driven, and talented students is rewarding and inspiring," he said. "This studio was a bit different because of the client and the project. The students got a chance to tell a part of the Princeville story. It clearly mattered to the students and the instructors."
School of Architecture Department Head David Hill reflected on the excitement of watching the project take shape. "From the first meeting with Princeville leaders to hitching the museum for delivery, the museum came together because of a team effort and a singular purpose: to use design and construction as a way to build hope and resilience."
Finished in August of 2019, the mobile museum was delivered to Princeville on August 17, and the town held a ribbon-cutting ceremony on August 24. "As everyone gathered for the ribbon cutting and the first glimpse of the mobile museum, I could sense the town's excitement to have a vehicle for telling the story of Princeville," Hill reflected. "It was incredible to see how everyone pointed out their favorite details of the museum. And it was moving to see the new mobile museum beside the old museum. I look forward to Princeville taking its story on the road."
Good to see the original and reconstructing museum next to the mobile museum designed and built by NCSU architecture students this summer. Princeville is the oldest black chartered town in America. Hopeful for their future. @NCStateDesign @GSDBiD_Conf @TCLFdotORG pic.twitter.com/Ho5LRUeW68

— kofi boone (@KBbop) August 25, 2019
The studio would not have been made possible without a generous gift from alumnus Bill Valentine ('60 BEDA), and Hill expressed his deep gratitude. "The museum is the first completed structure in Princeville since Hurricane Matthew in 2016. It signals rebuilding and hope for Princeville, and I am grateful to Bill for his support and the students and instructors who made the project a success. "
View the Design + Build studio in photos: