Design Camp and TRIO Team up to Offer New Opportunities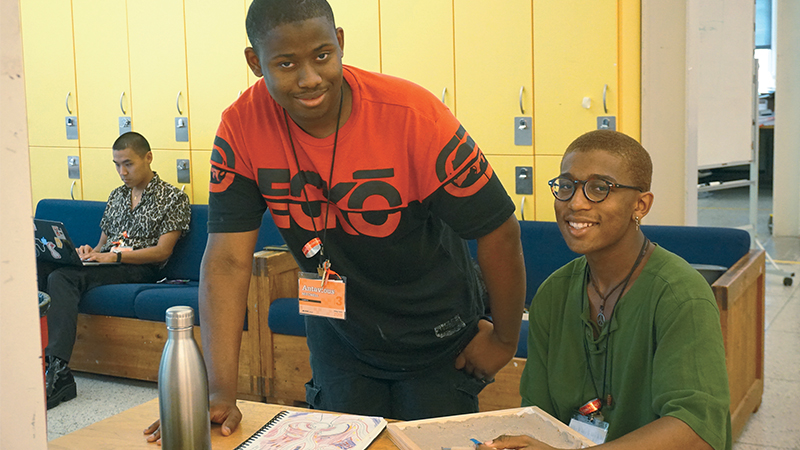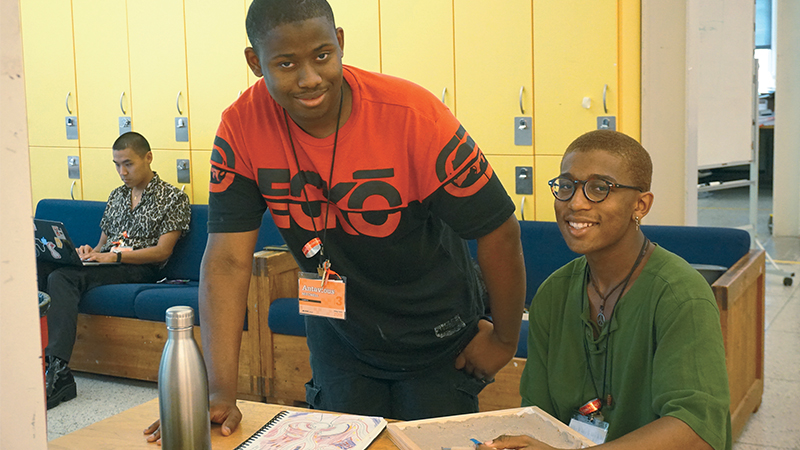 It is Design Camp week at the College of Design, and I am sitting in Leazar Hall with Antavious Mitchell, a rising senior at Vance High School in Henderson, North Carolina, and Tyler Jones, a rising senior at East Wake High School in Raleigh. It is loud, reminiscent of an elementary school cafeteria at lunchtime—nearly every studio in the building is full of campers exploring the different disciplines of design.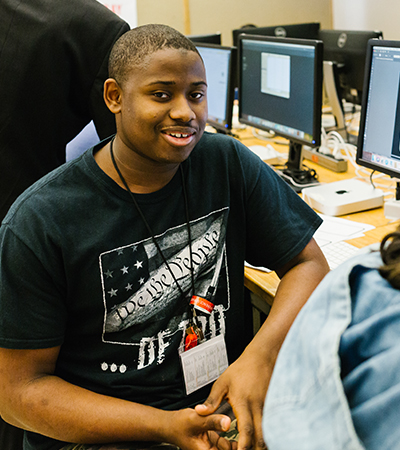 Both Mitchell and Jones are TRIO students who have come to Design Camp with the assistance of the Marvin and Cindy Malecha Dream Scholarship, established by Marvin who is dean emeritus of the College of Design, with the intent of fully funding two motivated but underrepresented students at Design Camp each year. "The scholarship is a high honor in itself," says Julia Rice, director of the Design Lab, and Mitchell and Jones agree. While both say that they could not have attended Design Camp without the scholarship, the confidence boost they received from it was invaluable.
"As soon as they announced my name for the scholarship, I thought 'no, it couldn't be me.' I just wanted to jump up and dance. I was actually about to cry about it. There aren't many go-getters where I'm from. You don't see that often. And I didn't think I was one of them. It really boosted my morale," says Mitchell.
Jones nods his head in agreement and then says, "I have low confidence in myself, and I position myself with very intelligent people. I see my friends making all these great academic feats, and then for me to get this scholarship… it made me feel very special."
Rice leans across the table so I can hear her over the camp noise. "Both Antavious and Tyler are thinking about this as an opportunity. They don't know exactly what they are going to get out of it, but they are open to possibilities."
And this is exactly what Jones is doing with his time at camp. When I ask him what he hopes to gain from the experience, he says, "everything. I've been taking notes and taking pictures. I want to take as much as possible way from this as possible. There hasn't been a dull second."
During this week of resident Design Camp, high school juniors and seniors are being immersed in the college design experience, spending one day sampling each of the design majors. Rice says, "there is a lot of misconception out there about what design is, what a career looks like, and what opportunities you have. I look at Design Camp as a tool for preparing students."
This is the 38th year of Design Camp at NC State, and Rice is noticeably proud of the present day camp and its history. She tells me how the camp started with Professor Emeritus Charles Joyner and Percy Hooper  (then a student and now industrial design faculty member) driving around in a van and going to communities to work with students. It wasn't long, Rice says, before Joyner and Cooper realized that "if they brought everyone to the College of Design, they could open the opportunity up to more people and have students from all over the country."
In this same spirit of inclusion, Rice wanted to intentionally seek out underrepresented student groups and offer them an opportunity to see what design has to offer. To do this, she reached out to NC State's TRIO administrators. TRIO is a set of nationally funded programs established to help students overcome class, social, and cultural barriers to higher education.
"we need different perspectives to solve the problems of the world. We need people who understand the needs of different communities."
Maurice Mathis, academic coordinator of TRIO's Upward Bound says that working together is mutually beneficial because "it's difficult for us to have specialized opportunities like Design Camp because we're so focused on college access. We don't know anything about design, but we know about outreach and the struggles that come with populations that we work with. Finding ways to collaborate and play off of each other's strengths makes the most of both of our programs."
Rice says working with TRIO helps bring a diverse group of students to the College, which is important because "we need different perspectives to solve the problems of the world. We need people who understand the needs of different communities."
This is the first year that Design Camp and TRIO have collaborated, but Rice says it's just the beginning. "This isn't something that you do just once and then it's done. You keep working on it, keep connected with students, and keep bringing in more students."
---
Support Design Camp and share the experience and opportunity of design with an inspiring designer.