Designing a Strong Future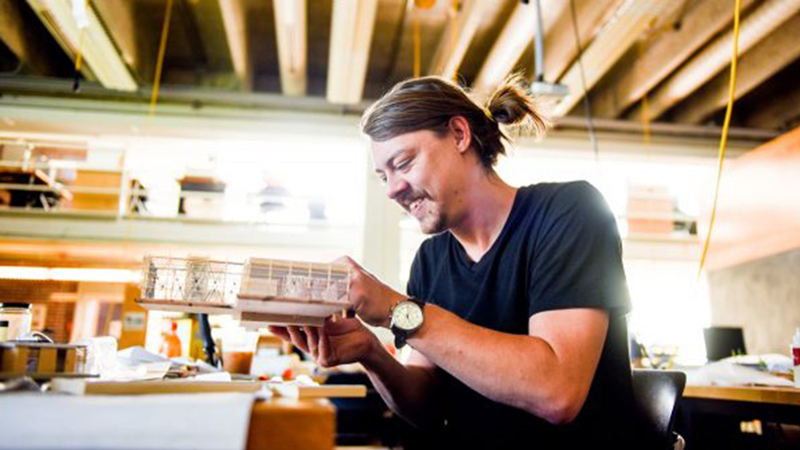 Growing up in Dallas, North Carolina, as part of a family of cabinetmakers and woodworkers, Joshua Putnam remembers being told, "If you learn a trade, you'll never get rich, but you'll never go hungry."
The advice stuck with him. Although becoming an architect had been a goal of his since childhood, Putnam first learned the furniture-making trade, working in California and then Nevada.
For several years, he traveled and honed his craft, while saving enough money to put himself through college. Long aware of NC State University's reputation and the prestige of the College of Design's architecture program, he made the choice to return to his home state.
In addition to providing a means of supporting himself, Putnam's background in woodworking has proven a helpful foundation for his studies at the College of Design.
"It was one of the best things I could have done to enhance my architecture education," he said. "Now I have this fundamental knowledge and design skill set, and they help each other – my woodworking is better because of my design knowledge and vice versa."
When Putnam speaks about the relationship between furniture making and design, his passion shines through. "A lot of the architects we study have some sort of affiliation with furniture. It's in our blood," he said. "I did not know that until I came to school here. I'm not going to compare myself, but it's nice to know my mentality works."
However, last summer, Putnam's plans were nearly derailed. He found that it didn't make financial sense for him to return to school for the college's fifth-year professional bachelor of architecture program. The B.Arch. degree is a prerequisite for qualifying for the Architect Registration Examination (ARE).
"I was going to work for a year or two and then come back," he said. "But you work, and you have responsibilities and bills and debt. That's just how the world works, and it's really easy to get used to that. My concern was that I would leave and I would never finish the professional architecture degree."
After sharing his situation with David Hill, AIA, professor and head of the architecture department, Putnam received transformative news. The College of Design offered him the Eduardo J. Catalano Scholarship, named for the renowned former chair of the Department of Architecture and established by Catalano's two children.
"It was a blessing, to be honest with you. I feel like 'life-changing' is a bit of a typical response, but it's true. It is so true," Putnam said.
The impact of a scholarship can extend past the recipient, he added.
"In my case, I'm the first person in my family to go to college," Putnam said. "That, in turn, sets an example. I have a 14-year-old brother. [The scholarship] says it can be done, regardless of the financial status of your parents or yourself."
The Catalano Scholarship has alleviated some of the pressure of a rigorous program, allowing Putnam to focus on academics and putting in the necessary studio hours to produce an exceptional thesis.
After five years of studying with a faculty he describes as world-class and committed to each individual student, he is confident about what his future will bring.
"Seeing a multitude of perspectives and people's responses to different things through my time here has really made me grow as a person. Architecture is so specific, and with the skill set that they teach us here, we're ready to hit the ground running," Putnam said.
After graduation, Putnam plans to continue working at the local architecture firm where he is currently employed. "It's a small firm and I'm delegated a lot of responsibilities," he said, calling the experience a "fast track to licensure."
Eventually, he would like to get involved in civic and cultural architecture. Securing such projects is highly competitive, but the reputation of NC State architects ensures that their work merits serious consideration.
"This has been a dream I've had since my very early childhood," Putnam said. "Now it's starting to become a reality."
This post was originally published in Giving News.