Design Students Make Science Accessible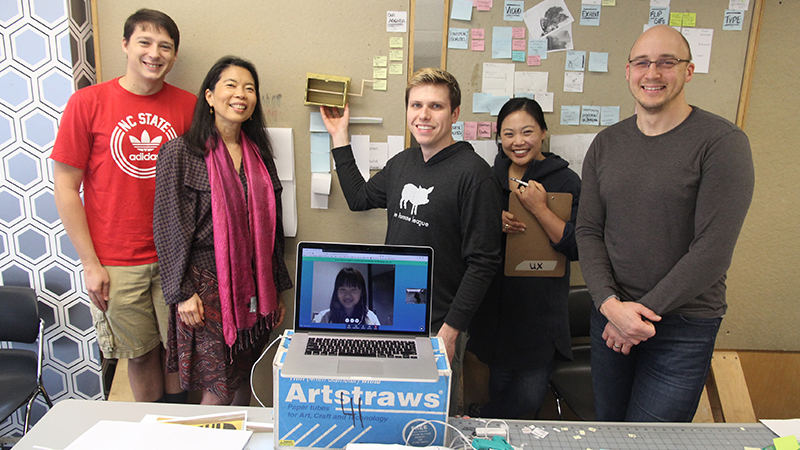 Graphic design students Matt Babb, Trevor Berreth, and Julia Paret are learning about condensed matter physics in their spare time. They are part of a collaboration between the College of Design and the College of Sciences, a multidisciplinary initiative aimed at interpreting complex scientific ideas with design, known as The Leading Strand. Together with Alexander Kemper, Ph.D., an assistant professor in NC State's Department of Physics, and Victoria Chi, teaching assistant professor of graphic design, Babb, Berreth, and Paret make up one of the physics team. This is one of six teams participating in The Leading Strand. These three design students have volunteered to create a visual representation of Kemper's nonequilibrium physics research in a way that conveys "the concept, the excitement, and the impact of the scientific work," says Kemper. Their design solutions, along with those from the other science and mathematics teams, will be on display at the Invisible Worlds: Bringing the Unseen into Focus exhibit, which is planned for spring.
The goal of the Leading Strand collaboration is to increase public understanding of and excitement for science through design. Paret says her team is trying to make science "relatable and aesthetic." All of the students have a science degree or a genuine interest in science. Babb is a graduate student in graphic design with a life science background, and Paret is a junior graphic design student whose first undergraduate degree is in earth science. For Berreth, a self-proclaimed, "science enthusiast," often explores opportunities in science that "expands my vision and fuels my creativity." Even with their science backgrounds, the physics team needs to meet frequently with Kemper, around two or three meetings a week, and have discussions and lab visits to make sure they understand the research they will be visually interpreting.
This physics team isn't trying to just copy Kemper's work. Babb explains that they want to create "an abstract that gives the feeling of the work but is not just a science lesson." Paret adds, "we're looking to use curiosity and experience-based learning to intrigue people and help them discover something more about the world." Kemper's research, Babb says, involves creating unstable electrons by hitting different materials with lasers and taking readings of how the electrons behave, specifically how quickly they fall from an elevated state. This happens so quickly, Kemper measures the time in femtoseconds, which is one quadrillionth of a second. Paret provides an analogy to help people comprehend this amount of time, "light travels between the moon and the earth in a second. In one femtosecond, light travels less than the width of a hair. You can't even comprehend how fast that is." To help illustrate what can be observed even in this fraction of a second, the team is creating an exhibit piece that allows the audience to slow down and speed up time. They started with the idea of a video where the user controlled the playback speed, but have moved onto flip books as an interactive way to control time and observe small detail changes.
Kemper's work with nonequilibrium physics could someday speed up MRIs or the rate at which fast electronics perform, but it still very early in the research process. "As scientists," Kemper says, "it is often quite difficult to communicate what exactly it is that we do. Normally, our methods to overcome this involve public talks at science cafes or museums… this collaboration is a very different approach. This time, the scientific world is informing a design project that the students are building from the ground up. This design project, where we work together with design students and faculty, is something brand new, which I am very excited to be involved in."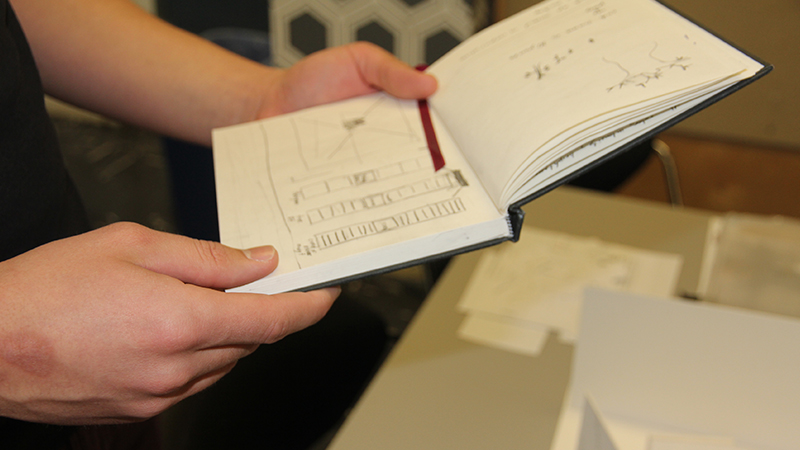 Babb and Paret echo Kemper's excitement about working in an interdisciplinary team. Paret says that working with Babb and Berreth has been a great experience and that their skills complement each other. Berreth, Paret says, is artistic and "finds ways to make the heavy material interesting and visually exciting." Babb also enjoys working collaboratively. "The best part [of this experience] for me is seeing how many of us from different backgrounds can work together as a team. The more you collaborate, the higher you can push or elevate a design. You wouldn't get anything nearly as rich if you didn't collaborate." While the project helps encourage an interest in science, Chi points out that the design students benefit from their extracurricular work as well. "The opportunity given to the students to work on this interdisciplinary project not only helps them cross the boundaries between design and science, but also makes them better prepared to address the barriers of science," Chi says.
Invisible Worlds is a collaboration between NC State University and The Leading Strand, which was founded by Amanda Phingbodhipakkiya to bring together design and science and deepen the understanding of what is possible. Phingbodhipakkiya is a visiting faculty member at NC State and is helping to facilitate the interdisciplinary teams of scientists and designers as they co-create the Invisible Worlds exhibit.
---
Staci Kleinmaier is a professional writer and photographer living in Apex, North Carolina. She uses words and images to tell stories. To see her work, visit www.stacikleinmaier.com.